Our earnings preview on JOY Global (NYSE:JOY) stated that the outlook of the company was not clear. Yesterday, after the earnings release, the same confusion was accurately depicted by the stock, which was down 6% pre-market but ended up being up 2.56% as the market closed.
The stock plummeted 6% pre-market, as JOY failed to meet estimates for earnings, and barely met revenue estimates. The stock recovered from the downfall, after CEO Mike Sutherlin said the U.S. and Chinese markets have bottomed, and are expected to rebound soon. He also declared that coal exports were stronger, as coal has recovered some of its global power generation market share. Natural gas prices are also expected to continue rising, giving a boost to coal demand in the near future. The company also plans to restructure operations, which will cost $20 million in the fourth quarter, and is expected to bring $40 million in 2013. The IMM and Letournea acquisitions have displayed favorable results for the company.
However, some news reflected some pessimism as well. There is an oversupply of commodities due to weak demand. Also, the Chinese electricity growth rate has declined. Global steel production, another of the end markets for the company's products, is expected to remain flat the next year. Global mining companies are slicing their CAPEX and focusing more on brownfield upgrades, rather than greenfield projects. Therefore, the guidance for earnings, revenues and book/bill ratio was slashed.
Press Release

The annual guidance for EPS was reduced from $7.15-7.45 to $7.05-7.2. Analysts estimate it to be $7.3. Also, the revenue guidance was decreased from $5.5-5.7 billion to $5.45-5.55 billion, below analyst estimates of $ 5.58 billion. Q2 book/bill ratio of 0.8x remained the same as the previous quarter, and down from the 1.3x level in F1Q'12. The CEO had earlier said that the ratio would reach 1x by the year end, but now admits that this is highly unlikely.
For 2013, revenues are expected to be $5.6 billion, slightly lower than the previous estimates of $5.8 billion. Also, an additional amount of $25 million might be spent in restructuring operations, which will have a pay-back period of 9 months.
Natural Gas
The shale gas boom led to a sharp decline in natural gas prices. However, recently, the market has witnessed a slight rebound in prices. Still, prices remain well below their peak level, and are almost 30% down YoY. JOY's shares went up when the CEO disclosed that the company expected a major upside for the stock, as gas prices continued moving up. However, bears have a lot more to say in this context. Firstly, the annual outlook till 2035 says that natural gas prices will rise in the coming years, but it will not be before 2015 that coal production will start to rise. Also, it will not be before 2015 that a rise in coal usage to generate electricity will materialize, as natural gas becomes a more expensive raw material.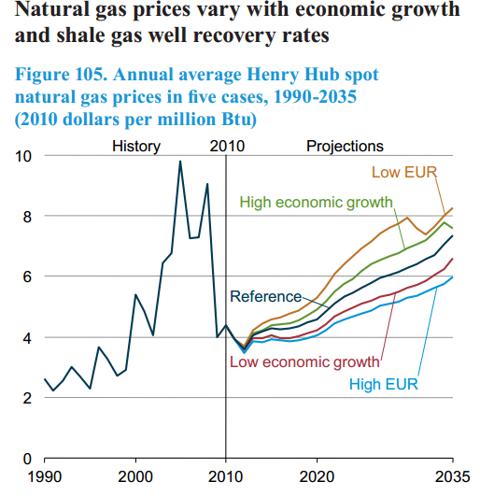 Source: EIA
There are a lot of factors that will influence the future spot prices of natural gas. The graph shows that in case of high economic growth, the shale wells will deplete faster, and the prices are likely to rise at a quicker pace. However, in the case of low economic growth, the supply of gas will keep on rising, and spot gas prices will keep depressing.
Approximately 2 cents per kilowatt hours of electricity generation are saved when natural gas is used instead of coal. Stats show that the use of gas is approximately 1.5 times cheaper than coal in electricity generation. The approximate breakeven price for natural gas turns out to be $6, where the cost of producing electricity from natural gas and coal will equate. However, this figure does not portray the advantage that natural gas enjoys over coal by being a more environmentally friendly source of energy.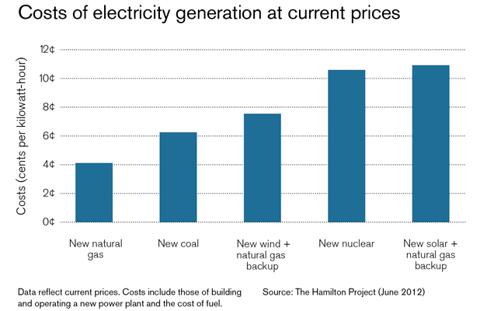 Source: EIA
Natural gas can also go up in case the U.S. increases LNG exports. However, bears say that this will take a lot of effort and funds to build the required infrastructure, like pipelines and terminals, to export gas. It will take approximately 5 years from now, going forward, to build the entire network of transportation, which could be capable of channelizing exports.
Coal Exports
The company is very hopeful that global coal exports are rising, especially given the demand from emerging markets like China. The following chart shows the same; there is a sharp spike after February 2012. The outlook for 2030 shows a positive rise in exports. However, the short term outlook shows a negative outlook as the U.S. Energy Information Agency (NYSEMKT:EIA) claims that coal exports will fall by 16% due to the Chinese economy slowing down, huge stock piles, and their increasing trend to export from Australia and Indonesia. The slowdown is already evident from the current decline of -2.6% in U.S. coal exports to China. The company believes that coal exports will be a major source of demand in the long run.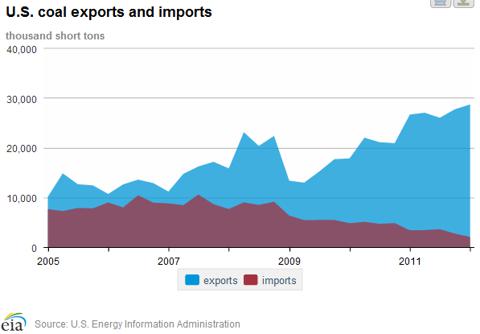 Source: EIA
* The data is up till 1Q2012
The company expects coal exports to rise by 12% in Europe, which may not be true given the debt crisis that the continent is facing. Also, growth in power generation in India is 11% up, which is considered to be a bright opportunity for JOY. As the country heads towards power expansion of 97 gigawatts in the next 3-4 years, JOY is expected to be the main provider of 300 million tons of coal needed for the project.
Electricity Generation
As stated in the earlier thesis on JOY, the U.S. economy is quickly adopting natural gas as a source of fuel for power stations, as a substitute to coal. The following chart shows the transition: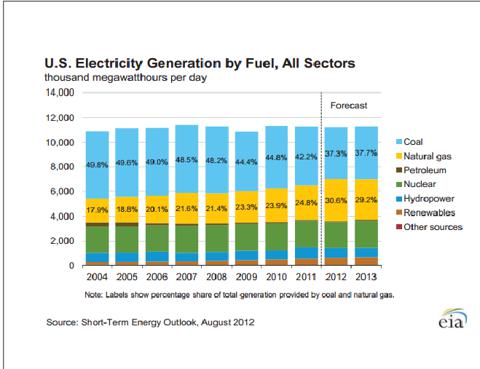 Source: EIA
However, electricity generation in the U.S. is itself down, as the demand for electricity has gone down 5.4% YoY for the first quarter due to unusually warm winters. Mostly, coal-fired plants had idle capacity. Therefore, a recovery in the demand for electricity will lead to a rise in the production of these plants, and hence increase coal demand.
China's electricity growth rate has declined this year. The growth rate of 3% was well below the growth rate of 11% for the last year. Also, hydropower generation is recovering in the country, adding to the woes of coal suppliers, including JOY.
Weak Demand in Commodities
Amidst the weak global economy, most of the commodities saw weak demand this year. However, the demand for commodities is stabilizing now, and is expected to remain flat for the next year, at least until the emergence of a catalyst that stirs the global economy.
Iron ore is in for a rebound some time sooner, as steel production is expected to be up by 3%-4%. Copper imports from China are expected to remain flat this year. Therefore, commodities remain oversupplied. Many Greenfield projects have been pushed after 2013.
Conclusion
The U.S. and Chinese economies may be ready for a rebound, but the recovery will be sluggish. Joy had anticipated the future trend of the U.S. economy, but it was the deceleration in the Chinese economy that surprised the company. Letournea and IMM have been successful projects, which have given the company exposure in oil and gas drilling machines, and access to the Chinese market, respectively. They will provide the company with a cushion against short-term headwinds.
As far as valuations are concerned, the company is experiencing higher margins: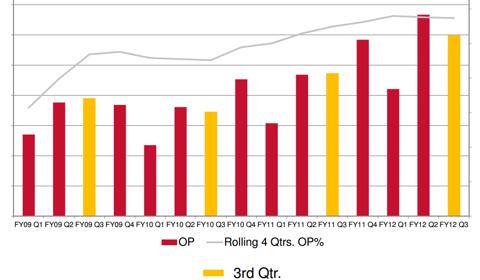 Source: Company s Presentation
One Joy Policy is helping the company streamline its operations, as an expense of $20 million in the fourth quarter this year will save the company $40 million in the next 6 months. Also, another $25 million will be spent in 2013, which will have a 9-month payback period.
The company seems to be over optimistic about its short-term prospects. However, the short term energy outlook tells us a different story, which has already been discussed in detail above. Therefore, we will recommend to short JOY in the short run, and wait for a catalyst to switch our position when there is a clear rebound in coal demand/coal mining capex.
Important catalysts include:
Recovery of U.S. and Chinese electricity demand.
Recovery of global commodities' demand.
Recovery of natural gas prices
Achieving target of One Joy program.
Disclosure: I have no positions in any stocks mentioned, and no plans to initiate any positions within the next 72 hours.
Business relationship disclosure: The article has been written by Qineqt's Industrials Analyst. Qineqt is not receiving compensation for it (other than from Seeking Alpha). Qineqt has no business relationship with any company whose stock is mentioned in this article.