The term "worthless," I suppose, is up for interpretation. The most logical definition in regards to stocks, however, seems to be businesses that don't generate any positive free cash flow for their owners. Consequently, since these businesses don't provide a positive rate of return for their shareholders (thereby earning a negative economic, or real return), they are bound to be liquidated or sold to a firm that sees a strategic acquisition opportunity.
As of now, Groupon (NASDAQ:GRPN) is in fact cash flow positive, but the quality of said cash flows are exceptionally poor and they are unlikely to be sustained.
Quality Of Cash Flows
From Groupon's most recent 10-Q:
Income Statement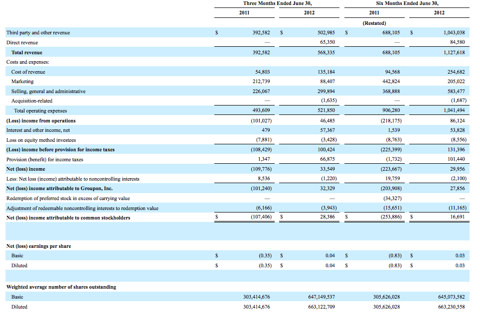 While income from operations was in fact up 87% to $86 million, this growth was more than offset by an astounding increase in the share count. Largely a result of the company's SBC, or share-based compensation program, the diluted share count has risen relentlessly since the company went public.
At the end of 2011, there were 362 million shares outstanding, compared to today's figure of 663 million. The end of the lock-up period drastically added to the float, and the stock has been sinking ever since; a major hangover effect from the artificially low supply.
The SBC program raises some serious concerns. These types of lucrative compensation plans can work sufficiently well for management (but oftentimes not the shareholders) if the company is solidly profitable and a performing share price. When the share price collapses, as Groupon's has, employees begin to worry about their compensation and it may be difficult to retain a talented marketing team - a factor that GRPN is wholly dependent on.
The takeaway from the income statement is that while top-line growth is impressive, management practices regarding its approach to shareholder dilution is extremely detrimental to the value of the business on a per-share basis.
Cash Flows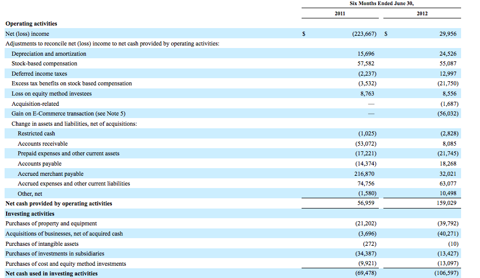 Stock-based compensation accounted for more than 100% of the OCF for the six month period ended June 30th, 2011. 33% of the OCF, and almost 50% of the FCF, for the six months ended June 30th, 2012 was also derived from SBC.
With nearly 50% of free cash flows currently coming from the issuance of stock options, investors in Groupon need rapid, quality income growth just to offset the share dilution, let alone grow shareholder value.
As Groupon's stock falls, it will be difficult to continue issuing options at the current pace, since the compensation is less attractive and potentially at risk of falling under various execution prices.
The last four quarters have produced about $320 million in free cash flow, but if we deduct SBC, FCF is closer to $210 million (35% lower). With a current market capitalization of $2.8 billion, GRPN is trading at 13.3 times my adjusted FCF. While this valuation isn't unreasonable on a historical basis, the quality of these cash flows and chances for long-term viability of the business are poor.
Business Practices And Economics
I highly recommend this article to readers. The report argues that Groupon is really a sub-prime lender, rather than a coupon or "daily deals" company. When you think about how the company does its business, this description makes far more sense.
From the article:
"They give loans to small businesses at a very steep rate (the price of the discount plus Groupon's commission). They get the money to fund these loans from credit card companies such as Chase Paymentech. Groupon is essentially a sub-prime lender that does zero risk assessment. And as word continues to spread about what a terrible deal running a Groupon is for many categories of businesses, the ones that will choose to run Groupons are the ones that are the most desperate."
Groupon also doesn't account very well for potential refunds - a trend that is set to get much worse. The company's restatement was largely a result of higher than anticipated refund requests. As the company ramps up it Groupons business for higher-value items, particularly travel related services, refund requests will pick up significantly since 1) more expensive Groupons incentivize requests much more than coupons of low-value and 2) many of these groupons do a poor job of disclosing the restrictions and fine-print.
Groupon may have a very difficult time maintaining and adding new merchant partners over the next few years. The merchants who participate in the Groupon program are often desperate to sell the product in question or generate business at the expense of profitability. These partners may enjoy the increased revenue growth from Groupon users, but the cost of the commission and discount price make the service a last-resort option.
In regards to barriers to entry, the popular opinion is that there are none in the daily deals business. While they are certainly very minimal, I concede that Groupon appears to have the most popular product and entrenched network. That being said, there are enough competitors out there (Google, Yahoo, LivingSocial, local papers etc.) that nip at Groupon's business and eliminate overall pricing power. This dynamic makes it nearly impossible for Groupon to pass on higher costs (in the form of commissions) to its partners, and also highlights the lack of a scalable business.
As Groupon expands, it must grow its sales infrastructure. This is reflected in the 60% increase in SGA costs for the six month period ended in 2Q 2012. Given the level of activity in the industry, the commissions it gives to the sales staff must be competitive. The travel, communication, and payroll costs are no small expense either.
So, Why Is Groupon "Worthless?"
At its core, Groupon is a non-scalable business with little pricing power and understated liabilities in the form of refund risks. To make matters worse, management compensates employees with stock options that are extremely dilutive to shareholders. This SBC is a significant portion of operating cash flows, despite the fact that it actually erodes value.
Over time, Groupon's lack of internal controls and dangerous venture into big-ticket coupons are going to result in huge unexpected losses. The accounting discrepancies the investment community has already seen may not have been physically large, but indicate that if management was to adequately account for its liabilities, the cash flow generation of the business would be far lower, if not negative (especially when accounting for money owed to merchants).
If unexpected losses don't get Groupon, the loss of struggling merchant partners, a non scalable business, low barriers to entry, and poor pricing power will. Investors often like to criticize Amazon for its huge costs related to its expansion. The difference with Amazon is that the elevated infrastructure expenses it is incurring today is truly a temporary issue; the company has a real possibility of being able to deliver anywhere in the US within a day or two, wiping out local competitors in the process and generating drastically improved pricing power and margins.
Groupon, on the other hand, will always have rapidly growing SGA costs-at least as long as it wants to grow top-line revenues. While Amazon has a choice regarding its CAPEX costs, Groupon has no such choice regarding its soaring SGA costs.
In conclusion, Groupon does not have a viable business strategy, unacceptably dilutes its shareholders, and will never be "wildly profitable" as its CEO once exclaimed. In fact, Groupon will never be very profitable at all, and we all know what happens to companies who don't make much money.
Disclosure: I have no positions in any stocks mentioned, and no plans to initiate any positions within the next 72 hours. I wrote this article myself, and it expresses my own opinions. I am not receiving compensation for it (other than from Seeking Alpha). I have no business relationship with any company whose stock is mentioned in this article.