Eric Marshall, CFA, co-manager of the Dallas-based Hodges Small Cap Fund (MUTF:HDPSX), has a bottom-up stock picking strategy that's put his firm on the map of top performers. We spoke with Marshall to get the scoop on his top stock picks.
Can you shed some light on your fund's stock picking strategy?
"Our philosophy is that stocks have prices, but businesses have values. We don't worry about foreign exchange and commodities or Greece and Spanish bond yields, we just invest in companies that are investing in business."
When asked if his stock picking strategy has any constraints based on ratios, dividend yields, or historical performance, he replied that his firm avoids the hard-fast rules and screens. "Sometimes the best investments are not the most obvious."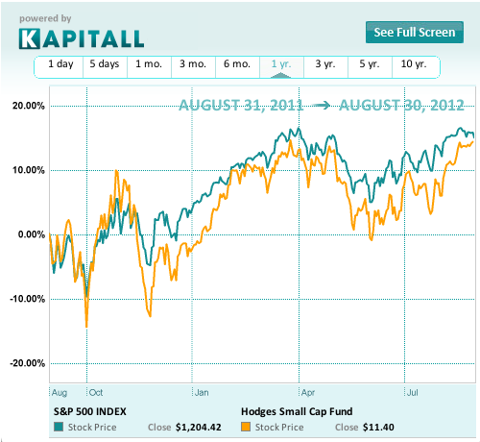 Can you speak about benefits of investing in small cap stocks?
For active investors small caps offer a less efficient area of the market. If the names are less followed information may not be fully digested in the stock price, so if you spend time doing homework you can really find some great bargains.
In general, smaller businesses are less affected by the global events than big name firms. "It doesn't matter what happens to EU bond rates overnight, they're just focused on growing their own business."
Do you have any industry favorites?
Hodges currently favors energy, consumer discretionary, technology, and financial sectors; and airline, media and agriculture industries. Favorites include Belo Corp (NYSE:BLC), Eagle Materials (NYSE:EXP), FelCor Lodging Trust (NYSE:FCH) and Faro Technologies (NASDAQ:FARO).
Hodges is also adding smaller financial stocks like Texas Capital (NASDAQ:TCBI) and Viewpoint (VPFG), which it avoided during the past 4 years.
Marshall explains that banks have better capital structures and more transparency than they used to, giving investors a great opportunity to capitalize on healthier banks. He also believes companies with niche technology for smaller hospitals, such as Computer Programs and Systems, Inc. (NASDAQ:CPSI), are well positioned.
Let's talk specifics. What stocks are most attractive and why?
The Manitowoc Company (NYSE:MTW), market cap $1.66 billion, specializes in construction cranes and food processing equipment, two completely uncorrelated products. Share price is near $12.5, "but we see a lot of value coming back in the next few years - to high teens, low $20s."
Texas Pacific Land Trust (NYSE:TPL) is one of the oldest traded companies on NYSE and created out of old Texas Pacific railroad in 1880 when it went bankrupt after the civil war. Today the firm passively sells off their millions of acres, receives gas royalties, pays dividends and buys back stocks. "It's not really exciting, but there is a lot of value." Today it is trading at $60, they have a 10th acre per share of land, the equivalent of buying land at $600/per acre - quite a bargain. And its claim to oil and gas fields and hard assets in the form of land should increase their value through inflation over time. As Marshall puts it, "we're buying land well under what we think is the fair market value."
Shoe Carnival (NASDAQ:SCVL) is a niche retailer in the family shoe channel. "They have a little over 300 stores and [are] growing the store base by 10% year. And we think they can grow their revenues faster than that. It's probably a good acquisition candidate for larger retailers like DSW (NYSE:DSW) that want to go after that family shoe space."
This brings up another good point about small caps: You often see smaller companies get bought out by larger companies to subsidize lack of organic growth in slower environments where revenues aren't growing that fast. "They kind of leverage fixed costs, and we saw some of this activity pick up this summer. It should continue to end of year, which bodes well for a lot of small cap companies."
Belo Corp. owns TV stations in various major metropolitan areas. The field has been depressed in past years but stands to do well. Among other means of benefiting include a recovery in car sales, which represent 20-25% of local advertising. "They will get aggressive with advertising soon, plus a very heated election season is coming, so these local stations are benefiting from money spent on political advertising." says Marshall. "It can probably do very well and bring in over $1 earnings per share [current EPS at $0.8]."
Cirrus Logic (NASDAQ:CRUS) They had a big run providing audio chips for the iPhone and iPad. "With the iPhone 5 coming out we believe they stand to gain market share and their revenue per unit for the iPad and iPhone we think is going to be on the rise. That will help grow the top line of the company. We started buying around $12-13 areas and we still like it long term."
Interactive Chart: Compare changes in market cap for the companies mentioned here.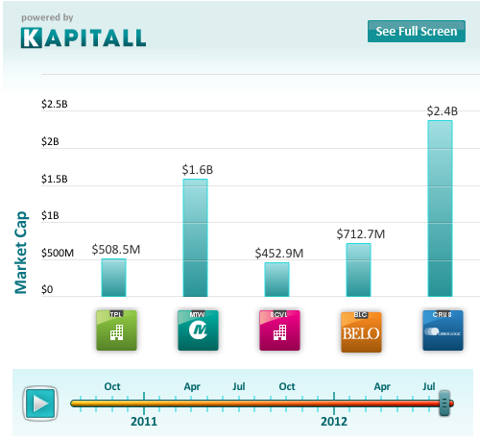 Most recent trades?
Most recent purchase: Hodges recently added to its position in Primoris Services Corporation (NASDAQ:PRIM), a contract infrastructure firm "that could have some upside. There's heavy insider ownership and high earnings power."
Hodges recently sold off its position in the premium mattress manufacturer Tempur-Pedic International (NYSE:TPX). "We've owned it since '09, and we bought in $20s, sold in $70s and $50s, and it's trading down in $30s today. The reason we sold that stock [is] because we [saw] pricing power deteriorate. The premium mattress business held up in recession but Sealy (ZZ), Serta, and other competitors that have spent years trying to get into that premium business, and they finally made it. As a result, Tempur-Pedic has had to do more promoting, which they never had to before, and offer discounts, which put pressure on their margins.
Use the Turbo-Chart to compare these recent trades to the Standard & Poor's 500 index (SPX)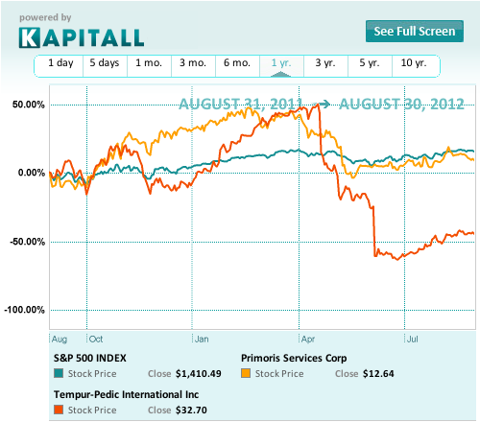 Business Section: Investing Ideas
Looking to emulate Hodge's Small Cap Fund's strategy and find other small-cap names where long-term growth opportunity abounds?
We list the fund's top 10 holdings below. List Average 1-Year Return: 55%
Compare 1-year returns: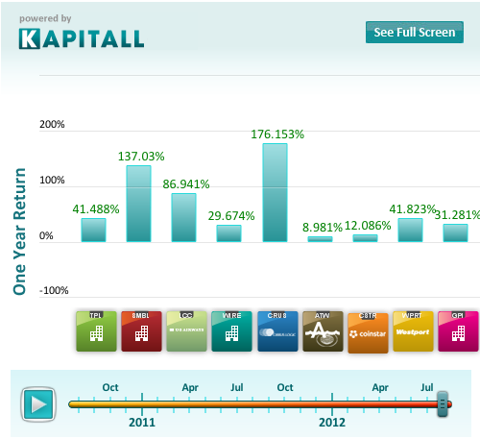 1. Texas Pacific Land Trust: Engages in the sale, lease, and management of land in the United States.
2. Smart Balance, Inc (NASDAQ: SMBL): Distributes various food products in the United States and internationally.
3. US Airways Group, Inc. (NYSE: LCC): Provides air transportation for passengers and cargo.
4. Encore Wire Corp. (NASDAQ: WIRE): Manufactures and sells copper electrical building wires and cables primarily in the United States.
5. Cirrus Logic Inc.: Develops high-precision analog and mixed-signal integrated circuits ((NYSE:ICS)). With the iPhone 5 coming out we believe they stand to gain market share and their revenue per unit for the iPad and iPhone we think is going to be on the rise.
6. Atwood Oceanics, Inc. (NYSE: ATW): Engages in offshore drilling, and the completion of exploratory and developmental oil and gas wells.
7. Coinstar, Inc. (NASDAQ: CSTR): Provides automated retail solutions primarily in the United States, Canada, Puerto Rico, the United Kingdom, and Ireland.
8. Westport Innovations Inc. (NASDAQ: WPRT): Provides alternative fuel, low-emissions technologies that enable engines to operate on fuels, such as compressed natural gas, liquefied natural gas, hydrogen, and biofuels.
9. Group 1 Automotive Inc. (NYSE: GPI): Engages in the marketing and sale of automotive products and services.
10. Cinemark Holdings Inc. (NYSE: CNK): Engages in the motion picture exhibition business.
Written by Rebecca Lipman. Author owns shares of Shoe Carnival and Texas Pacific Land Trust. Original article can be found here.
HDPSX is rated five stars by Morningstar and ranks in the top seven percent of its small-cap blend category for the past year and top one percent for the past three years (as of 7/13/12). Additional information about the fund is available at these links: http://www.hodgesfund.com/small-cap/ and http://quote.morningstar.com/fund/f.aspx?t=hdpsx
Disclosure: I am long SCVL, TPL. I wrote this article myself, and it expresses my own opinions. I am not receiving compensation for it. I have no business relationship with any company whose stock is mentioned in this article.