In my previous article about DirecTV (DTV) I wrote about how I saw the company's qualitative fundamentals. Now I'll take a look at the quantitative side. DirecTV is a U.S. based leading satellite-TV company, broadcasting pay-TV content in the U.S. and Latin America. Their revenue comes from monthly subscription fees, averaging about $100/month/subscriber for the U.S. and $60/month/subscriber for the Latin America market. Over the last decade or so, the business has seen impressive growth in terms of number of subscribers and average revenue per subscriber (ARPU for short). The independent DTV company turned profitable in 2005, with margins skyrocketing the next year, as illustrated below.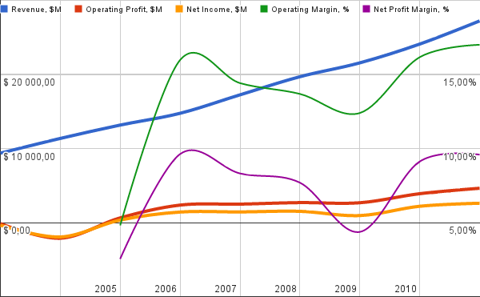 The margins came down during the recessionary period of 2008-2009, but have gone up again since then. In the beginning of the last decade, DTV had very little debt. The company has since releveraged their balance sheet, taking advantage of the historically low interest rates, as illustrated below. The blue and red columns together represent total assets.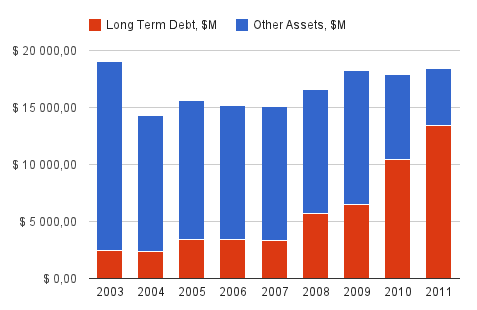 This chart might look frightening. However, for a company growing as fast as DTV, taking on debt during recessionary times like these might be a pretty good idea. When the times turn better, there's no need to get in line to get more expensive credit. For their latest round of 4 Billion dollar financing, they locked in rates of 2.4% for notes due 2017, 3.8% for notes due 2022 and 5.15% for notes due 2042. Talk about cheap credit!
Now let's have a look at the subscriber base. U.S. is where most of DTV's revenue comes from, but it's a relatively stagnant, saturated market. The Latin American branch (DTVLA for short) is where the growth and true potential lies. Below is an illustration showing the importance of DTVLA's contribution to the company's subscriber base, according to their latest annual report and a few older ones.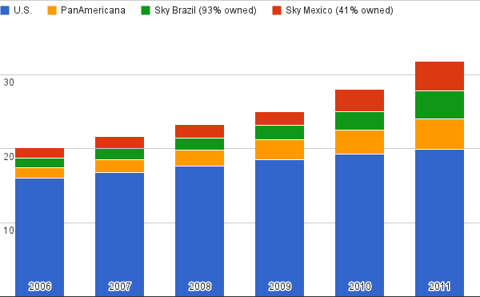 Sky Brazil and Sky Mexico are 93% and 41% owned by the company, respectively, and operate in their namesake countries. Panamericana is 100% owned by DTV and operates, according to their annual report, "in Argentina, Chile, Colombia, Ecuador, Venezuela, certain other countries in the region, and the Caribbean, including Puerto Rico" - basically almost everywhere in Latin America except Brazil and Mexico.
So DTVLA is clearly the driver of growth for DTV, but what's the potential? To put it simply: It's huge. The people of the growing Latin American middle class are notoriously fond of their favorite soccer teams, and DTV is perceived as a leader of sports broadcasting in all of their markets. As the biggest satellite TV operator in the world, DTV can leverage their knowledge and technology from the U.S. market and achieve huge cost savings from not having to design everything from scratch. A low penetration of cable providers outside the most urbanized areas gives DTV another competitive edge. For many people wanting to watch TV in Latin America, it's a choice between satellite TV or no TV.
To finish off the article, here's one more graph to give an idea of DirecTV's potential in Latin America (Subscriber numbers are as they stood at the end of 2011, according to DTV's annual report of 2011):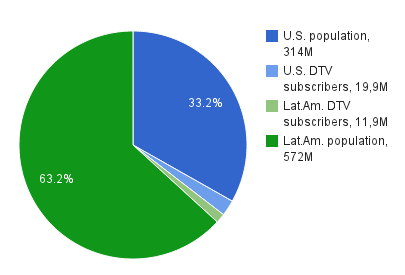 Disclosure: I am long DTV. I wrote this article myself, and it expresses my own opinions. I am not receiving compensation for it (other than from Seeking Alpha). I have no business relationship with any company whose stock is mentioned in this article.