By Sumit Roy
The natural gas inventory surplus rose last week for the first time since April.
Natural gas rallied after the EIA reported that operators injected 66 billion cubic feet into storage last week, slightly above expectations that were calling for a build between 60 and 64 bcf.
The injection was larger than the year-ago and five-year average builds of 55 bcf and 59 bcf, respectively.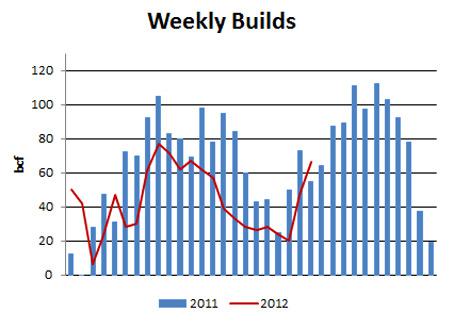 In turn, the natural gas surplus rose for the first time since April. At 3374 bcf, storage is now 413 bcf above the year-ago level and 375 bcf above the five-year average (calculated using a slightly different methodology than the EIA).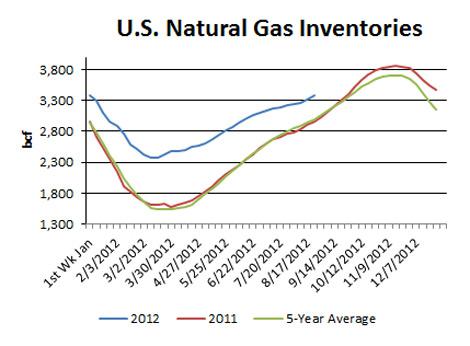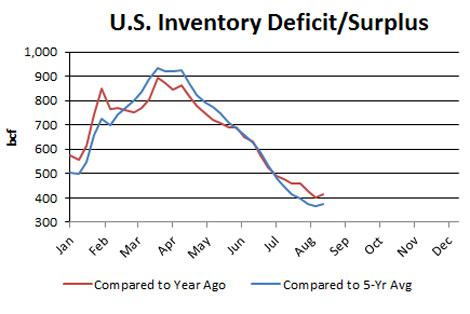 The relatively bearish injection can be explained by weather, as temperatures in the report week were much milder than normal. The NOAA estimates that there were 56 gas-weighted cooling degree days in the period, which is weather more characteristic of mid-September.
Temperatures are expected to revert to more seasonal levels in the coming weeks, which should allow the inventory surplus to resume its decline.
Turning to Canada, Enerdata reported that inventories in the country rose last week by 12 bcf to 651 bcf. That leaves storage only 37 bcf below last year's record high set during the first week of December. With three months remaining in this year's injection season, that old record will certainly be broken.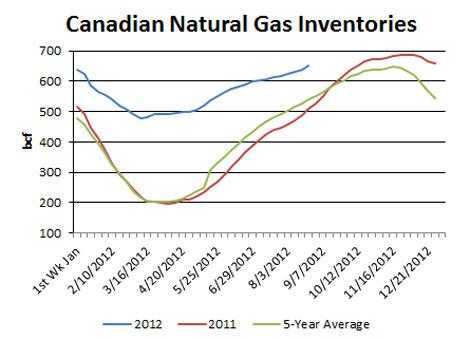 Canadian inventories are now 143 bcf and 112 bcf above the year-ago and five-year average levels, respectively.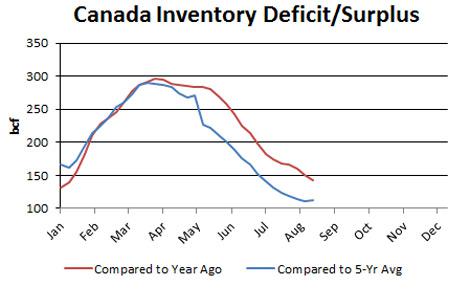 Natural gas prices are on the rebound today after the now-expired September contract touched two-month lows below $2.60/mmbtu. Given that the support level near $2.70 was thus breached, a larger correction may lie ahead.
Natural Gas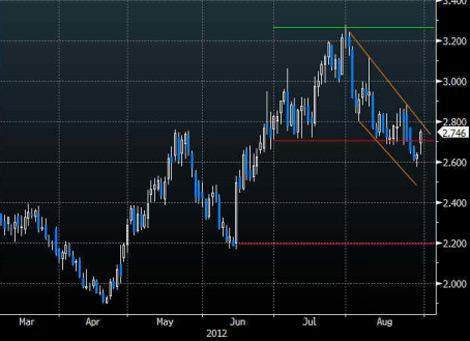 Bottom line: Despite our constructive view of natural gas fundamentals heading into winter, we would be wary of initiating long positions until prices show signs of bottoming. The next layer of solid support lies at $2.20.