Kennametal Inc. (NYSE:KMT) is a Latrobe, Pennsylvania based $2.9 billion mid-cap industrial goods company that manufactures a variety of machine tools and accessories. The company has solutions for the following: aerospace and defense; energy, chemical, and power; agriculture; mining; construction; transportation; durable goods; and specialty applications. Some examples of Kennametal's products are: metal cutting tools, super alloys, coatings, wear components, diamond compaction anvils, landing gear, fuel control valves, bulkheads, and much more.
The company is currently undervalued with a forward PE ratio of 7.7, a PEG of 0.68, and a price to book ratio of 1.79. The stock looks attractive for the long-term at its current price of $36, down from a 52-week high of $47.
Kennametal has a double-digit profit margin of 11.23% and an operating margin of 15.54%. It generated $289.58 million in operating cash flow and $150.8 million in free cash flow for the past twelve months. The balance sheet looks solid as current assets are more than 2 times greater than current liabilities.
Fitch Ratings declared on August 29 that it affirmed Kennametal's Issuer Default Rating (IDR) and senior unsecured debt rating as "BBB."
Kennametal pays a modest dividend of 1.8%. This reflects a recent increase in the payout of 14%. Although it is not a large yield, it is something to add to the company's stock appreciation.
During 2012, Kennametal derived 57% of sales from outside the United States. Its primary international operations are in Western Europe, Asia Pacific, India, Latin America, and Canada. For fiscal 2012, the company saw its global industrial production increase by 2.9%.
Analysts expect the company to grow earnings annually at 12.8% for the next five years. This follows an annual growth rate of 16.9% for the past five years. If dividends are reinvested, investors can expect their initial investment to approximately double in five years. This is based on the current undervaluation of the stock price and a 15% compound annual growth rate based on the 1.8% dividend and 12.8% annual earnings growth.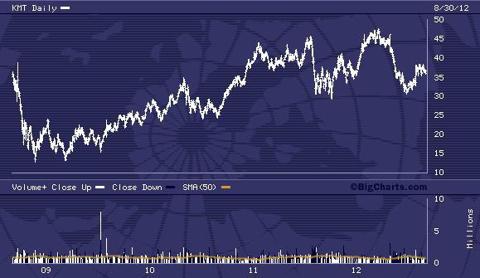 The completion of the Deloro Stellite Holdings acquisition took place during 2012. This $383 million purchase expanded Kennametal's infrastructure segment. Kennametal will continue to seek out new acquisition opportunities to grow the company and increase market share. The company continues to look for opportunities to expand existing product lines into new markets. It also looks for opportunities to add new products to new and existing markets.
Although the company is cyclical in nature which can cause large drops in price when the economy experiences a crisis, Kennametal should hold up well for the long-term. In fact, I would expect the company to significantly outperform the market over the next five years. I would consider this company as part of a balanced portfolio.
Disclosure: I have no positions in any stocks mentioned, and no plans to initiate any positions within the next 72 hours. I wrote this article myself, and it expresses my own opinions. I am not receiving compensation for it (other than from Seeking Alpha). I have no business relationship with any company whose stock is mentioned in this article.