While we focus more and more on the economic slowdown in China, let's pause and take a moment to see where we can make some money on the attempted soft landing in the Far East. Exceed Company Ltd. (NASDAQ:EDS) is a Chinese footwear and apparel company based in Hong Kong that offer products under its flagship Xidelong brand name. Exceed produces sports and leisure products that target young adults, which you are used to seeing from a company like Dick's Sporting Goods (NYSE:DKS) -- shoes, socks, pants, coats, etc.
Exceed, like many other Chinese stocks, has been a beaten up stock in the past year, down nearly 70% from its 52-week high of $5.45 last fall. The chart looks like a "house of pain" if you were in at $5. Now is a chance to ride a potential reversal. Exceed is trading up slightly today to $1.70 on nearly 10 times volume.
Click to enlarge images.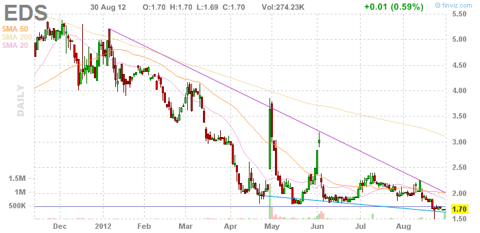 Highlights of the most recent second quarter, reported on Aug. 13, included strong revenue:
Revenue: $88.3 million
Net Income: 4.7 million
Net Cash: $124.3 million
Debt: $1.6 million
Cash on hand has never been a problem for the company -- while the stock price has plummeted -- leaving net cash per share (29.31 million shares outstanding) at around $4.24 today. Net receivables increased 43%, something I would like Exceed to use for a stock buyback in the near future.
Founder and CEO Shuipan Lin commented after the quarter:
As anticipated, our results in the second quarter were impacted by weakening consumer demand in China, which was largely attributable to the domestic and global economic slowdown. As a result, overall sales volume across our main footwear and apparel product lines decreased, resulting in a decline in revenue. In response to the prevailing market conditions, we began in the second quarter to proactively limit production and delivery of products to better manage inventory levels at our distributors. Despite the unfavorable operating environment, we managed to outperform our revenue guidance for the quarter, supported by our ongoing brand building and marketing initiatives which have continued to raise the degree of market recognition of the Xidelong brand name and the average selling prices of our products, especially in our footwear segment.
Lin added that strategies are in place to manage inventory levels and strengthen brand awareness, a proactive strategy already implemented by slowing down deliveries to third-party merchants last quarter. Inventory turnover levels decreased year over year from nine days to seven days. He added that the company will continue its "Fitness for All" campaign sponsorship. Third-quarter guidance of the net revenue range of $95.8 million to $102.1 million should be manageable, and I expect to see a profitable year-end close.
Although overall demand for the product is slowing in China, take a look at comments from this 2010 Chinadaily.com article:
According to UBS Securities, sports shoes priced between 170 and 250 Yuan (between $25 and 36.8) are best sellers in China's second- and third-tier cities.

Currently, most Nike sports shoes cost between 500 and 1,500 Yuan in China. They sell to mid- to high-end consumers in large cities. For an ordinary white-collar employee in Beijing, one pair of Nike shoes costing 1,500 yuan would account for nearly half of his monthly wages.
Half his monthly wages! Exceed's target market could very well be invading not just the white-collar workers in second- and third-tier Chinese cities, but also making its way up the income bracket as the economy slows and demand for high-end brands like Nike (NYSE:NKE) and Adidas AG (OTCQX:ADDYY) decreases. Chinese population growth is not slowing down and with more and more families struggling to make ends meet, they will turn to lower-priced alternatives, especially for their children, who seem to outgrow everything in a few months anyway.
I was able to find some Xidelong shoes here, priced at a reasonable 239 yuan (a bit over US$40). Take a look: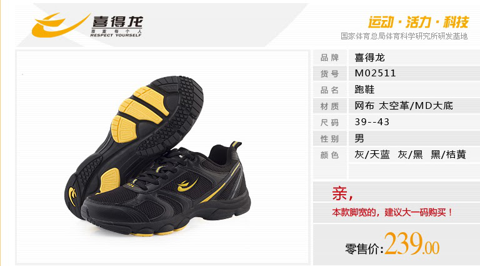 Along with the fundamentals, I want to confirm with some technical indicators: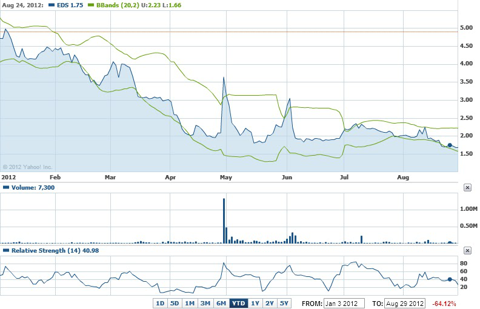 The RSI (14) of 35 indicates we are approaching oversold territory. I believe this has some to do with how thinly traded this stock is, along with the typical low-volume August we have seen in the broader market. Also, look for Exceed to break out from touching its lower Bollinger Band and trend upward from the $1.69 closing low. Remember to use limit orders here -- the bid/ask spread on this small-cap company is often large, and one trading block could push the bid down over 10%.
Stay patient. With Jackson Hole already priced in, I think we have seen the bottom in Exceed and we are in store for a double in the next year.
Disclosure: I have no positions in any stocks mentioned, but may initiate a long position in EDS over the next 72 hours. I wrote this article myself, and it expresses my own opinions. I am not receiving compensation for it. I have no business relationship with any company whose stock is mentioned in this article.