Emerging producers advancing to production have significant unrecognized value.  Uncertain credit markets have increased risk for exploration companies making it difficult for them to obtain financing and maintain momentum.  While major operators with higher visibility have enjoyed the benefits of higher metal prices, emerging junior producers should benefit from increasing market exposure as they generate cash.  Many of these companies (contained in our Special Report) include other assets not fully recognized in their current stock prices.
NovaGold Resources Inc: Moving To Full Production in 2008
NovaGold Resources Inc. (NYSEMKT:NG) should commence production at its Rock Creek Mine in Nome, Alaska in mid-2008, reaching full production later in the year.  The mine is anticipated to produce 100,000 ounces of gold on an annual basis, providing US$25 to US$30 million in net cash flow at current metal prices.  Having completed a significant level of preparation, NovaGold may produce between 25,000-50,000 ounces of gold by year end.
Rock Creek Mine, Nome, Alaska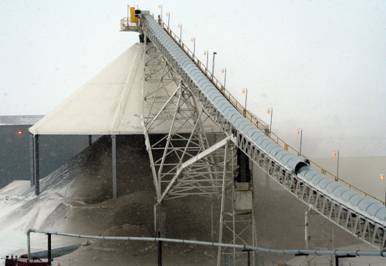 Source: NovaGold
The Rock Creek mine is located in a historic gold district with over five million ounces of past production.  NovaGold plans to spend US$7 million in 2008 for exploration in the Nome area, with the goal of extending mine life at Rock Creek to ten years.  Cash flow from Rock Creek should fund most of NovaGold's expansion and development work on its world-class Donlin Creek project, owned 50-50 with Barrick, and its 50-50 partnership with Teck Cominco at the huge Galore Creek copper-gold project.
Donlin Creek contains 31.7 million Measured and Indicated ounces and 4.2 million Inferred ounces of gold.  We anticipate conversion to reserve status with completion of a Feasibility Study scheduled for completion in 1Q09.  Donlin Creek project should produce 1 million to 1.5 million ounces of gold for a period of 25 to 30 years, making it one of the largest gold producing mines in the world.  Donlin Creek has substantial potential for expansion.  With 19,000 meters of drilling in the East Acma area, some of the highest grades and longest drill intervals to date, should increase the resource beyond the pit.  We believe this could ultimately bring the total gold resource to over 40 million ounces.
At NovaGold's Galore Creek copper-gold project, Teck Cominco has reported progress and expects to make a new go-forward decision later in 2008 under a modified development plan.  We see the transition to production, advancement to feasibility and permitting on Donlin and a new development plan for Galore Creek as potential major positive catalysts.
Etruscan Resources: Production Only a Prelude to Major Exploration
Etruscan Resources Inc. (OTC:ETRUF) poured over 2,200 ounces of gold in the first two weeks of June 2008, and should soon reach scheduled production of 6,700 ounces of gold per month.  Etruscan has invested in multiple back-up systems, including power generators and gear boxes.  They deferred production until the manufacturer was on site to oversee critical commissioning steps to increase the likelihood of unimpeded startup.  Etruscan should optimize production from satellite pits and increase gold resources in and around the Youga Mine.  As Etruscan controls more land than any mining company in West Africa, improving economics are important to provide cash flow to fund Etruscan's major exploration opportunities.
Blue Gum Project, South Africa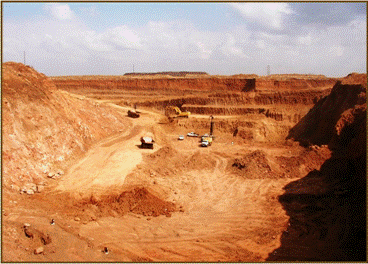 Source: Etruscan
Etruscan Diamonds, a subsidiary of Etruscan resources, recovered 5,465 carats from 209,231 m³ with an average value of $613 per carat, thereby generating revenues of US$3.4 million over the last six months.  Etruscan Diamonds is increasing capacity to 100,000 m³ per month, and is completing a pre-feasibility study to increase production to 260,000 m³ per month to be used in conjunction with completing an initial public offering and spinning out Etruscan Diamonds.  Etruscan Diamonds has significant potential for resource expansion in the Ventersdorp District of South Africa, and through its strategic partner African Romance, may receive a premium over wholesale prices by a factor of ten times or more.
Minefinders Corporation: Scheduled to Achieve Operating Profit
We recently visited Minefinders Corporation Ltd's (MFN) Dolores project near Chihuahua, Mexico, scheduled to pour its first gold-silver doré bar in four to six weeks.  Minefinders has cleared waste and stockpiled ore to accelerate production and is working toward operating profitability and mid-tier producer status in 3Q08.  Minefinders purchased all new crushing and screening equipment, as well as rolling stock, to provide a longer working life and operational efficiency.  Dolores has Proven and Probable reserves of 99.3 million tonnes, containing 2.44 million ounces of gold and 126.64 million ounces of silver. 
Dolores Mine, Chihuahua, Mexico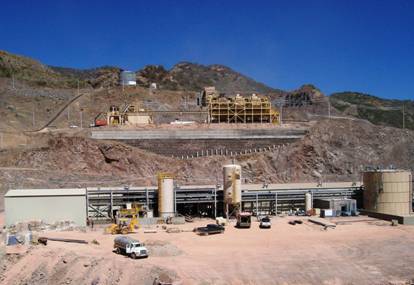 Source: Analyst
Dolores is designed to process 18,000 tpd over a period of fifteen years.  Minefinders is working on a Scoping Study for a 3,000 tpd mill and flotation plant to improve recoveries for higher grades beyond the third year of the mine plan.  We also anticipate additional drilling for expansion of the pit and evaluation of an underground mine program.  Dolores should provide funding for exploration to accelerate at its other silver and base metal projects in northern Mexico without exposure to funding issues.
Mercator Minerals: Exceptional Low Risk Profile
We recently visited Mercator Minerals Ltd. (OTC:MLKKF) approaching production at the first phase of their 50,000 tpd copper-molybdenum-silver milling facility Mineral Park Mine, near Kingman, Arizona.  Current production of cathode copper generates approximately US$2.0 million free flow cash per month.  Annual production over the first ten years is scheduled to average 56.4 million pounds of copper, 10.3 million pounds of molybdenum and 600,000 ounces of silver.  Silver Wheaton Corp. paid US$42 million up front to acquire silver production at US$3.90 per ounce.  At current metal prices, Mercator should repay capital costs within two years.
Mineral Park Mine, Kingman, Arizona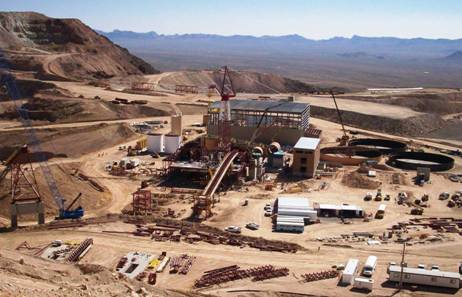 Source: Analyst
The Mineral Park mine has an exceptionally low-risk profile.  It is located in a mining friendly and stable political jurisdiction, with excellent access to infrastructure and availability of labor.  Having been a past producer, Mineral Park has not been impaired by permitting or environmental issues.  In addition, having produced copper-molybdenum concentrate, there is less metallurgical risk recovering metals.  Also, the strip ratio is estimated at only 0.18 to one, and at current metal prices the mine life could double over the current estimate of 25 years.
Acadian Mining: Operating Upside and Resource Expansion
Acadian Mining Corporation (OTC:ADAIF) has experienced weather related issues, and softening lead and zinc metal prices.  Though these factors led to results below management expectations in 1Q08, the company enjoyed its first profitable quarter.  Management is working to optimize operations, increasing processing to 2,400 to 2,500 tpd in order to achieve targeted production of 30,000 tonnes of zinc concentrate and 12,000 tonnes of lead concentrate in 2008.  This is about 32 million pounds of zinc and 17 million pounds of lead.  Acadian has claim of over 54,000 hectares in Nova Scotia, with a strike length of over 50 kilometers, with potential to more than double the projects current mine life of eight years. 
Scotia Mine, Nova Scotia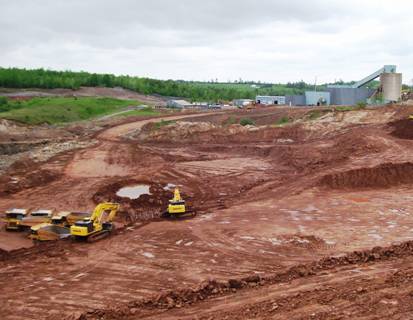 Source: Analyst
Acadian has received shareholder approval to spin-out its gold assets into Annapolis Gold Corporation, a publicly traded company, to include gold resources of its Scotia Goldfields project (including the Beaver Dam, Tangier, Forest Hill, and Goldenville properties) plus its 50% interest in the Fifteen Mile Stream gold project.  Existing shareholders will receive one share of Annapolis for every four shares of Acadian.  The plan for the Scotia Goldfields is to develop the first central processing facility in Nova Scotia with modern mining methods to be fed by ore from the satellite deposits.  Annapolis should be competitive with other gold projects, providing increased exposure and valuation of Acadian's current assets.
Disclosure: The author is long NG, ETRUF, MFN, MLKKF and ADAIF.  An affiliate of the author's employer provides corporate advisory services to NG, ETRUF, MFN, MLKKF and ADAIF.