With many states tightening the budget on higher education, the campus housing REITs are likely to outperform the residential housing sector. The increased housing demand for public universities has created a growing demand for campus housing - especially the second tier schools. For many of these schools, the growth in enrollment has been dramatic, outpacing the university's ability to build an adequate volume of beds to house students. This strong demand has created an opportunity for off-campus student housing REITs to fill the void while also providing scaled efficiencies for colleges across the country.
There are 631 total schools in the U.S. with enrollments of 5.7 million full-time undergraduates and tier 2 schools represent 248, or 39 percent of the total, which equates to 2.7 million full-time undergraduates, or 47 percent of the total students (source: Campus Crest Investor Presentation). Tier 2 schools have been particularly attractive to many Americans and foreign students given the broader domestic and global economic backdrop.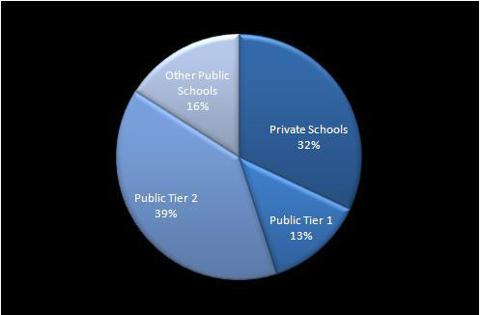 Click to enlarge
The demand for campus housing is driven not only by strong demand but also by shrinking supply. Many on-campus residence halls are in need of updating (due to obsolescence) facilities, and Campus Crest has positioned its unique campus housing platform to serve obsolete campus housing needs.
Jump on the Grove® Train Before It Leaves the Station
Campus Crest Communities (NYSE:CCG), based in Charlotte, was founded in 2004 to address the compelling supply and demand characteristics of the U.S. student housing market. In 2005, the company became a fully vertically integrated enterprise that included property management, development and construction divisions. Also in 2005, the company created and delivered its first Grove® asset in Asheville, North Carolina. This unique campus community was developed at UNC-Asheville and the popular Grove® brand became the prototype for a nationwide rollout of similar projects. In 2010, Campus Crest executed an IPO and listed its shares on the New York Stock Exchange. This month (August), the company completed its 39th Grove® property.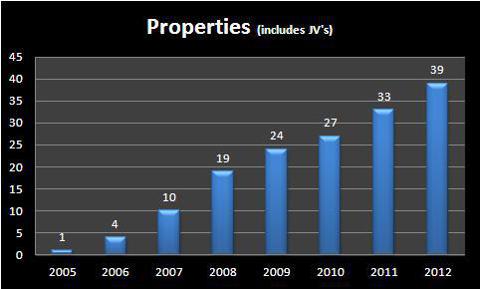 Click to enlarge
There are three campus housing REITs, and Campus Crest is the smallest of these specialty residential sub-sector companies. The combined market capitalization of the campus sub-sector is just under $6 billion (as of August 30th), representing a fractional 1.15 percent of the dominating $516 billion all-equity REIT category.
What Campus Crest lacks in size, it makes up in its dividend. Of the three campus sub-sector REITs, Campus Crest has the largest dividend yield at 6.05 percent. That is over twice the size of American Campus Communities' (NYSE:ACC) dividend (2.92 percent) and around 75 percent more than Educational Realty Trust's (NYSE:EDR) dividend (3.46 percent).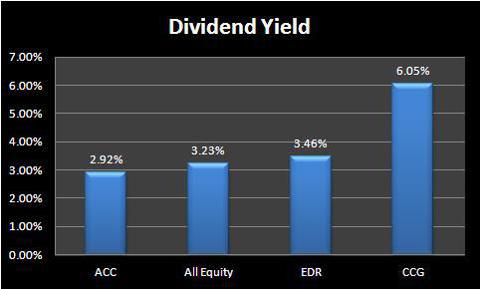 Click to enlarge
Also, Campus Crest has a uniquely sustainable model that has a vertically integrated operating platform. All of the company's properties are operated under the Grove® brand, and the "soup to nuts" integrated strategy enables Campus Crest to control all facets of the development and operational functions. This scaled development platform allows the company to "roll-out" consistent properties much like McDonald's (NYSE:MCD) rolls out fast food stores. This efficient strategy allows Campus Crest to not only control product quality but also to control delivery timing, as well as project costs and operational efficiency.
This very efficient operating platform allows Campus Crest to also scale its Grove® brand by creating a buzz amongst students, parents, college administrators, and more importantly - investors.
Campus Crest: Keep This Nationwide Roll-Out REIT on Your Radar
Although Campus Crest is not the leading campus housing operator, its scalable Grove® brand has some appealing investment attributes. To start with, the company has virtually brand new product as the weighted average age of the portfolio is 2.9 years. By originating assets organically (from the ground up), the vertically integrated platform allows the company to develop its prototype at a 15 to 20 percent discount (versus using a third party contractor and supplier). This differentiated operating model creates a price and quality advantage in the marketplace.
Another competitive advantage of Campus Crest is that the company has a built-in "barrier to entry" by locating its signature Grove® facilities in certain "desirability zones". Proximity to classrooms is an important attribute for occupancy, and Campus Crest assets are on average 0.7 miles from campus, within the market "desirability zone".

Click to enlarge
Campus Crest has a veteran executive team that consists of co-founders Ted W. Rollins, CEO and co-chairman, and Michael S. Hartnett, CIO and co-chairman. The two have over 54 years of combined experience in student housing development. The other executive team has a deep bench of talent in finance and development.
Campus Crest's balance sheet consists of $604 million in assets and $282 million in debt, comprised of $111 million in variable-rate debt and $171 million in fixed-rate debt (as of Q2-12). Recent capital market transactions include a $75.5 million follow-on equity offering in June 2012 (closed July 2012) and a $57.5 million, 8.0 perpetual preferred equity offering that closed in Q1-12. Also, the company refinanced its credit facility in Q3-11 and converted to an unsecured facility, also increasing the size to $200 million.
Campus Crest has a growing pipeline of projects (6 under construction) and several JV projects with experienced developers. By developing prototypical facilities across the country, Campus Crest is able to operate a highly efficient "franchise-like" platform that provides a uniquely scalable campus housing brand. The demand fundamentals are favorable for Campus Crest and investors should benefit from the growing efficiencies of the Grove® brand.

Click to enlarge
Campus Crest has a current price of $10.58 per share, and the company has a 15 percent discount to median NAV ($12.20 per share). The lack of institutional support is certainly driving the discounted market valuation and I consider the underperforming brand to be a potential "diamond in the rough." Also, the 8.0 percent preferred shares are worth investigating as the Grove® brand is gaining favor on many college campuses across the U.S.
Snapshot of Campus Crest Communities stock price since IPO: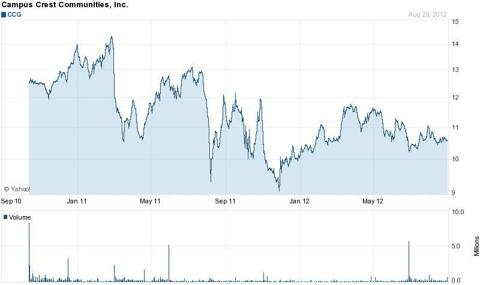 Click to enlarge
I recently wrote a Seeking Alpha article on ACC here.
Sources: CCG Website, SNL Financial, and NAREIT
Disclosure: I have no positions in any stocks mentioned, and no plans to initiate any positions within the next 72 hours. I wrote this article myself, and it expresses my own opinions. I am not receiving compensation for it (other than from Seeking Alpha). I have no business relationship with any company whose stock is mentioned in this article.