Thin-film solar power plant constructor First Solar (NASDAQ:FSLR) took a heavy knock on Thursday as the company announced that it would stop installing modules at its premiere Agua Caliente project. As the world's largest photovoltaic power plant currently under construction in Arizona, the highly profitable project had been advancing ahead of schedule as the company hastily worked through the excess supply of modules being shipped from as far away as its facilities in Germany and Malaysia. Shares fell $4.53 by the trading session's end as the company's stock dropped 18.7% to end at $19.67.
It many ways, it appears almost counterintuitive that the slowed construction news resulted in a sharp sell-off. For most companies, news that it is operating ahead of schedule would typically be viewed as beneficial. Yet the news for First Solar managed to stoke the fears of demand uncertainty going forward as the company eagerly worked through its project pipeline. After all, First Solar's unique advantage in its industry space has been the robust project pipeline that has allowed it to profitably operate, while its competition continued to take in losses. A quick comparison across the board shows the results of this healthy backlog.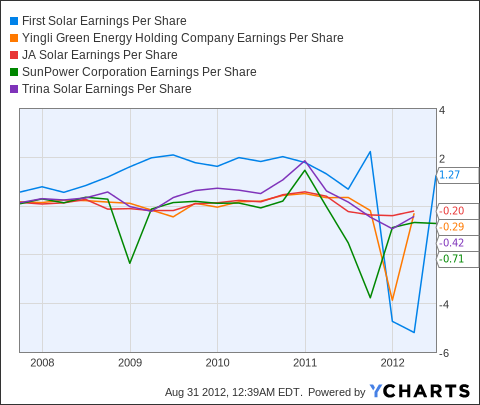 FSLR Earnings Per Share data by YCharts
| Company Name | Market Cap. | 2011YE Revenues | 2011YE Net Income | Price/Book Ratio | Fwd. P/E |
| --- | --- | --- | --- | --- | --- |
| First Solar | $1.71 Billion | $2.8 Billion | ($39.5) Million | 0.63 | 4.8 |
| Yingli Green Energy (NYSE:YGE) | $258.8 Million | $2.3 Billion | ($509.8) Million | 0.36 | N/A |
| JA Solar (NASDAQ:JASO) | $185.9 Million | $1.7 Billion | ($89.7) Million | 0.19 | N/A |
| SunPower Corporation (NASDAQ:SPWR) | $527.8 Million | $2.3 Billion | ($603.8) Million | 0.49 | 12.0 |
| Trina Solar (NYSE:TSL) | $314.5 Million | $2.0 Billion | ($37.8) Million | 0.33 | N/A |
Barring the large one-time restructuring costs that pushed the company into the red in 2011 as the company reinvented itself as a utility-scale system provider, First Solar remains a head above the competition on the basis of valuation and revenues. Looking forward, First Solar continues to remain the most profitable company in its market space as the company exploits its profitable project backlog. This could be seen in its low price-to-earnings ratio of 4.8.
Yet on the technological front, First Solar has begun to lose its edge when it comes to module efficiency and cost. For example, Sunpower's module efficiency has improved north of 21%, whereas First Solar's modules continue to linger around 15%. The large drop in polysilicon costs has also made it more difficult for the company to compete in bidding on new projects. Such fears over whether the company can extend its pipeline is what resulted in the market shock on Thursday. If First Solar is pulling in its revenue streams too fast, what will the outlook be when its projects run dry?
However, proponents of First Solar and the industry recognize that there remains a large amount of pent-up demand resting just beyond the horizon. For instance, in India, the recent power shortages served as a wake-up call to the nation as it strives to bring online a stable energy grid. India has since sped up the solar auction process and looks to double its existing capacity. The nation could possibly auction as much as 1,000 MW as early as the fiscal year's end. The nation has set a target for 20,000 MW of capacity by 2022, and currently sits on 1,040 MW of existing capacity (most of which was built this past year). For its part, First Solar has stated that it is looking to win 20% of India's solar PV sales.
India is not alone in its lofty solar ambitions. The Kingdom of Saudi Arabia has plans to bring online 41,000 MW of solar power by 2032, an ambitious plan expected to cost over $100 billion. While its possible that the Middle Eastern country might largely look inward towards bringing that capacity online, the scope of the project is sure to change policy in the region. In May 2012, First Solar announced plans to open a Middle East office in the United Arab Emirates in order to tap into the growing demand for power in the area.
As seen in these two markets alone, the trend towards large-scale utility power plants appears promising in light of the robust global demand now beginning to show its face. While investors may be laser-focused on their current fears regarding First Solar's mid-term future, the truth may be that the uncertainty is providing a long-term opportunity in light of a global shift towards solar power. With the difficult market of the present preventing (or at least delaying) additional competition from entering into the market, the leaders of the industry today are likely to remain the companies leading the way tomorrow. Therefore, this latest blip on Thursday that suggests First Solar may be eating its portion of the pie too fast should have little bearing on the tangible performance of the company looking forward. As earnings are likely to remain unaffected, the only true question investors should be concerned about is whether the company will be able to tap into the growing global demand now underway.
Disclosure: I am long FSLR. I wrote this article myself, and it expresses my own opinions. I am not receiving compensation for it (other than from Seeking Alpha). I have no business relationship with any company whose stock is mentioned in this article.