The bulk shipping industry has been hit by stormy weather for quite some time now, as a result of massive deliveries of new-building vessels. The over supply of tonnage has resulted in a depressed freight market and valuations of publicly traded shipping companies have followed suit.
Low valuations have naturally attracted bargain-basement investors. Yet despite all-time low prices, I believe that the risk of owning many shipping companies still outweighs their potential reward. With mounting losses and dwindling cash reserves, most shipping companies are merely fighting to stay afloat, hoping many times against hope that they will live to see another day.
In this series of articles, I will review a group of shipping companies operating in the dry cargo segment of the industry, arguably among the worst hit and most endangered species. Amid this gloom, I have decided to start on a positive note, reviewing Baltic Trading Limited (NYSE:BALT), a company I believe offers an attractive risk/reward profile at a dirt-cheap price.
Baltic Trading is a small shipping company that owns nine modern vessels ranging in size from 34,000 MT to 178,000 MT in DWT capacity. The average age per vessel was 2.7 years as of June 30, 2012. The company launched its IPO in March 2010, selling16.3 million shares at $14 per share. The same share could be yours today for $3.14, off its all-time intra-day low of $2.98. Baltic Trading has a market capitalization of approximately $71 million.
Click to enlarge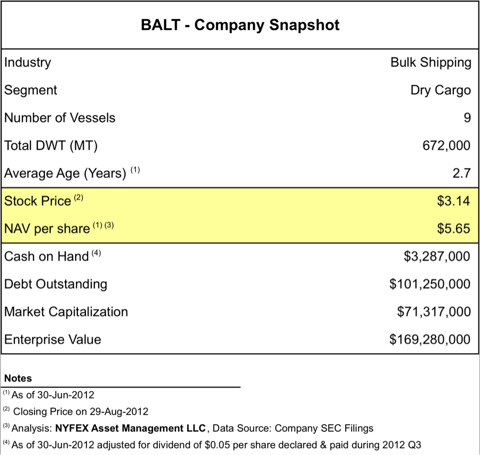 Click to enlarge
Baltic Trading is a subsidiary of Genco Shipping & Trading Limited (NYSE:GNK). Genco owns approximately 25% of Baltic, but due to a dual share structure, it exercises full ownership and managerial control. Baltic has acquired all its vessels on market-based transactions through independent third parties.
Baltic operates all its vessels on spot-market related charters with first class charterers. The strategy allows the company full spot exposure, but at maximum utilization rate, since the charterers are responsible for any waiting time between voyages.
Baltic has among the lowest debt levels in the shipping industry. Its debt outstanding matures in November 2016, with no scheduled debt repayments until November 2015. The company pays a margin of 300 basis points on its floating-rate debt.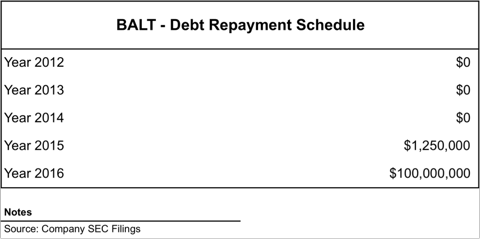 Click to enlarge
Baltic is in full compliance with all its debt covenants and I expect that it will continue to be in compliance even if this current depressed freight market remains for a while.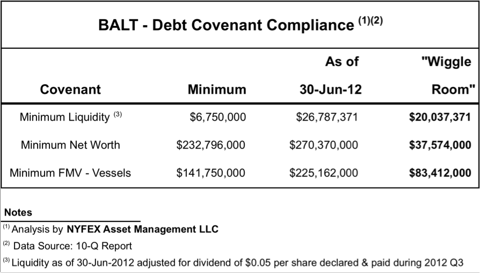 Click to enlarge
Since its inception, BALT has paid a variable quarterly dividend, based on its operating cash flow and available cash reserves. For the past two quarters, BALT has declared a dividend of $0.05 per share. However, I do not wish to recommend the stock for its dividend yield for two reasons.
First, since the beginning of 2011, the quarterly payment has resembled more a cash distribution and less a dividend (or distribution of earnings). Baltic has reported net losses for five of the past six quarters.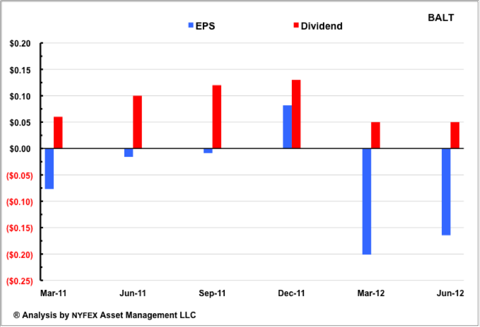 Click to enlarge
Second, for the past two quarters the company's fleet has generated an average daily TCE (Time Charter Equivalent: a measure of daily revenue per vessel) near its cash break-even level. If the current spot freight markets persists, I expect that BALT will not generate positive cash flow from its operations for the third quarter of 2012, and given its cash on hand, it will not be able to sustain a dividend beyond the next quarter.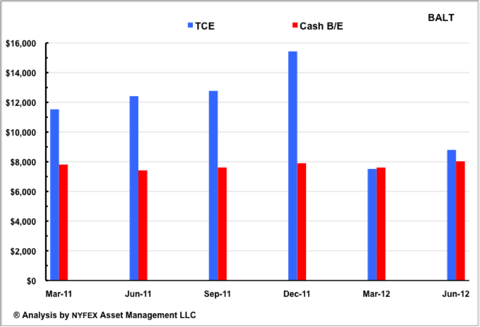 Click to enlarge
But I do like the stock, not as a dividend play, but as an asset play. An investor can buy the stock today at a discount to its net asset value (break-up value). Not only investors can buy a modern fleet at a deep discount to its value, they also enjoy the following comparative advantages: Low debt outstanding (which translates to low cash interest expense), favorable debt repayment schedule, covenant compliance, and one of the lowest operating costs and cash-break even levels in the industry.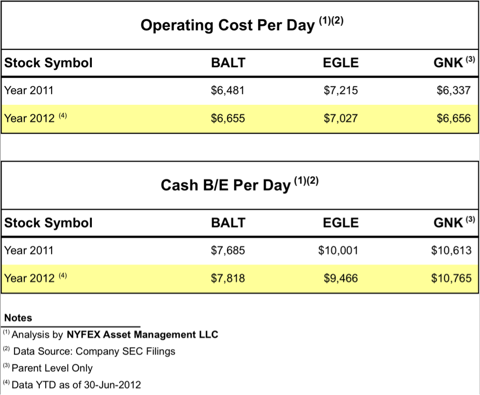 Click to enlarge
Now, Baltic Trading Limited may not be a suitable candidate for those who abhor volatility. With all of its vessels having exposure to the spot market, investors need to be braced for extreme volatility, including several quarters of accounting losses and even negative operating cash flows.
In addition, investors may not be comfortable with Genco's exercise of full ownership dan managerial control. They may be worried that Genco will try to unload (or should I say drop-down) some of its vessels to Baltic, not necessarily at an arms-length transaction. I would be concerned too. But given Baltic's strategy of distributing its cash from operations to shareholders, the company has very little cash available to acquire new vessels. I also find it extremely unlikely that it will (or can) tap public markets for fresh equity at the moment.
For the reasons above, I believe that Baltic Trading Limited offers a very favorable risk/reward profile to investors looking to add shipping industry exposure to their portfolios.
Disclosure: I am long BALT. I wrote this article myself, and it expresses my own opinions. I am not receiving compensation for it (other than from Seeking Alpha). I have no business relationship with any company whose stock is mentioned in this article.