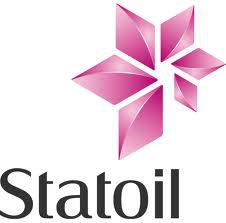 Statoil (NYSE:STO) announced it plans to lease 1,000 railroad cars to deliver Bakken crude from North Dakota to refiners. Statoil entered the Bakken play in a big way when it acquired Brigham Exploration (BEXP).
As I have written about, Bakken crude is selling for a discount due to lack of sufficient takeaway infrastructure. Phillips 66 (NYSE:PSX) recently purchased 2,000 railcars to transport discounted mid-con crude to its refineries. Statoil, as a producer, plans to use rail for the opposite reason - to bring more dollars per barrel.
It's a smart move for both companies. Bakken crude production has almost doubled in the last year. As the race to build pipeline infrastructure continues, my guess is the infrastructure won't catch up to production for quite sometime to come.
By September Statoil plans the capacity to move some 45,000 barrels of crude per day to refiners across North America. The railroad cars will be able to deliver Bakken crude to refineries on both East and West coasts, as well as the Gulf Coast and Canada.
This is great news for all Bakken producers. Not only will Statoil be able to receive bids from multiple refineries, which should nudge producer prices up, but obviously any oil that goes by rail won't be fighting as hard for pipeline access, which will help other producers.
Absent some strike issues, STO seems to be hitting on all cylinders. Statoil has seemed to announce a new massive discovery every few months the last couple years. I have covered STO in this Seeking Alpha article. I'll repeat the metrics here: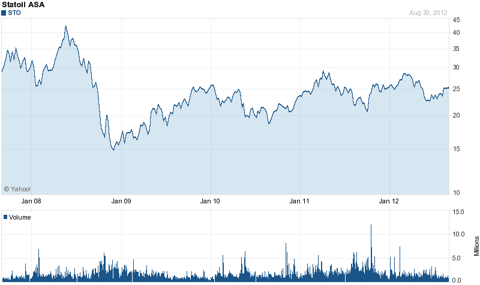 STO $25.21
Market Cap: $80.22 Billion
P/E (NYSE:TTM) 6.05
EPS : $4.17
Div: $0.91 (3.6%)
Whiting Petroleum (NYSE:WLL) and Phillips 66 are my favorite Bakken plays. Whiting, in particular, seem grossly undervalued considering their production growth (28% last quarter), PE (10), quality acreage, a drilling cost reduction program, and a market cap at just over $5 billion. Look for earnings at WLL to be up significantly in Q3 due to higher production and oil prices that have held up at nice levels. I can't believe a large integrated hasn't snapped up WLL at these levels. Especially after witnessing what QEP paid for its recent Bakken acreage.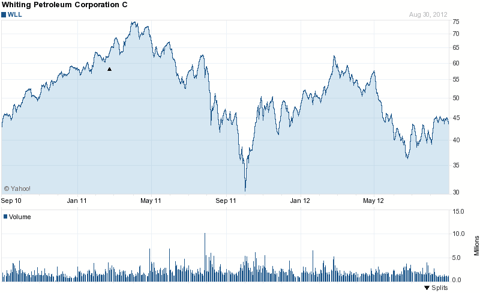 Phillips 66 has appreciated significantly since the spin-off from Conoco Phillips (NYSE:COP). The company's refineries are geographically advantage to take in the discounted Bakken crude and sell gasoline tied to the price of Brent. PSX is very profitable at the moment and the CEO has stated his intent to raise the dividend and reward shareholders.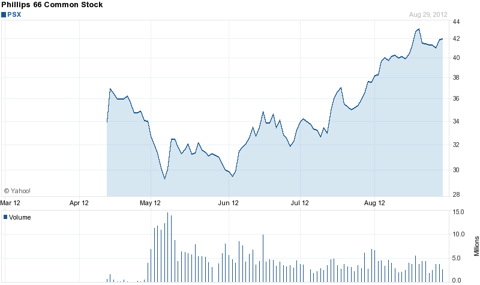 There are many ways to invest in the Bakken Boom. These are three real good ones. Good luck!
Disclosure: I am long STO, COP, WLL, PSX. I wrote this article myself, and it expresses my own opinions. I am not receiving compensation for it (other than from Seeking Alpha). I have no business relationship with any company whose stock is mentioned in this article.