Cirrus Logic (NASDAQ:CRUS), a key supplier for Apple (NASDAQ:AAPL), wowed with its revenue projection for next quarter. The unusually strong sales outlook supported the view that new Apple products are in the works.
OmniVision Technology (NASDAQ:OVTI), another Apple vender, is echoing Cirrus Logic's bold outlook. OmniVision is forecasting a jaw-dropping increase in next quarter's revenue to $355 million to $390 million, far higher than the consensus $269 million estimates. The revenue forecast is 38% to 50% higher sequentially. You don't boost your sales outlook without something big in the works. The company is a major supplier for Apple.
OmniVision's image-sensors are present in the new iPad but missing from the 4S iPhone.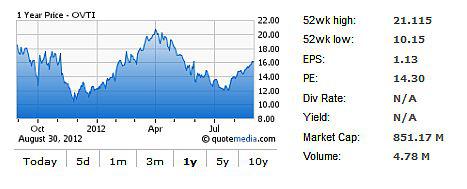 OmniVision's bullish forecast all but confirms it will be supplying the rumored iPhone 5. The optimistic sales outlook is yet another indication that Apple will be launching the iPhone 5 very soon.
Disclosure: I am long AAPL. I wrote this article myself, and it expresses my own opinions. I am not receiving compensation for it (other than from Seeking Alpha). I have no business relationship with any company whose stock is mentioned in this article.