It was inevitable. With Mel Karmazin now nearly done selling 60 million shares worth of vested options in Sirius XM (NASDAQ:SIRI) over the past 5 months, he has announced the planned sale of 30 million more vested options as of Thursday, August 30th.
Surprising? Not really. Such is the way with inevitable things. They typically can be seen from a mile away. I don't think many investors in Sirius XM expected Mel to hold on to his remaining options in the company as they vested. Exercise and sale of the previous 60 million share lot was explained as a sale for tax and estate planning purposes, and I fully expect that to be the reasoning behind the sale of the next 30 million share lot. For that matter once his final lot of 30 million shares vests, it's reasonable to assume that those will be sold in the same fashion.
With Mel's announcement of his first sales, there was much doom and gloom talk about him possibly losing faith in the company, or that he "saw the writing on the wall" and was cashing out before "the company went bankrupt" or the share price "dropped below a buck." Obviously none of this happened the first time, and investors who hung in there are staring a the highest share price in years for Sirius XM. Anyone who listened to the speculation and ignored the facts, now sits there burned.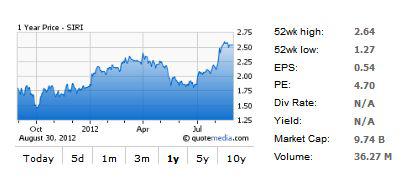 And the same will happen this time once the negative opinions start to fly around the net. The facts are plain and simple. Mel Karmazin is exercising his vested options and selling due to estate planning and charity work. Period. While he may be pushed towards selling due to some uncertainty going forward with Liberty Media's (LMCA) pursuit and eventual attaining of de jure control of Sirius XM, or because of possible tax law changes for 2013, I find it hard to believe he's selling these options because he feels the company is due to crash and burn. When one considers that Mel Karmazin is beyond the age at which most people retire, it just makes sense that he may wish to cash in his chips and move forward.
With that said, investors should expect this news to quite possibly cause a shake up in Sirius XM's share price and volume. There are also some considerations to take into account going forward. Depending on how you look at it, this either creates a buying opportunity for the longs, or a potential short-term trade for those who wish to trade the swings.
The first and most important thing to consider is that this has no effect on Sirius XM's company performance. Mel's sales will not affect subscriber numbers, or expenses, or customer churn rate. Keep that solidly in the front of your mind going forward.
What effects this may have are the following :
Uncertainty breeds volatility. The share price could swing down on this news as it is digested in the following trading sessions. Uncertainty breeds fear and fear breeds selling. That's important to consider. If you're long and aware of this, you can resist selling into the panic and perhaps pick up some more shares at a lower price, understanding it will likely rebound sharply.

Mel is selling 30 million shares. In doing so Mel is increasing the share count of Sirius XM by 30 million shares and thus diluting the stock by 0.4%, or 1 penny at Sirius XM's current value of $2.50. This is negligible.

In increasing the share count, Liberty Media will be forced to buy another 15 million shares (half of 30) in order to reach 50% and de jure control. This will cost Liberty Media another $37.5 million. Because of Liberty's pursuit of de jure control, the effects of Mel's sales are effectively cut by half, to half a penny.

Mel will need to pay $0.43 per share to Sirius XM out of the proceeds from sale of these options. This adds $12,900,000 to Sirius XM in the form of cash. Again, this reduces the impact of the sale as it bolsters Sirius XM's balance sheet.

Because of Liberty's forced buying, and part of the proceeds going back into Sirius XM's vault, the net effect on Sirius XM's share price is brought down to a much lower level of just under one third of a penny per share net effect. Negligible.
The effects of Mel's sales from a numbers standpoint will be absolutely minimal, but the news of the sales could be misinterpreted in the short term and cause what would be a temporary dip in the share price of Sirius XM. I would view any move down on this news as a possible buying opportunity for the longs, and for those with a bit of courage, a possible trade to pick up a few pennies. With support coming up fast and currently sitting at $2.48, I wouldn't look for a large overall decline except on some sort of gross overreaction from the masses.
Disclosure: I am long SIRI, LMCA. I wrote this article myself, and it expresses my own opinions. I am not receiving compensation for it (other than from Seeking Alpha). I have no business relationship with any company whose stock is mentioned in this article.