Edited by Adam Isaac
Zalicus Inc. (ZLCS) is a biopharmaceutical company involved in developing cures for a variety of different medical conditions. Zalicus creates new therapies for patients in need. The company applies its selective ion-channel modulation expertise and high throughput screening capabilities to discover novel therapeutics for both its internal product pipeline and its collaborators. Specifically, Zalicus's in-house drug development operations are focused on the pain and immune-inflammatory programs. At present, the company's pipeline holds Synavive, which is in Phase 2 development for arthritis treatment. Zalicus is also working on an ion channel program, which is currently still in clinical development, but is a leading candidate for pain treatment.
Exalgo
Exalgo (hydromorphone HCl) extended-release tablets were approved by the FDA on March 1, 2010. Exalgo is prescribed for the relief of modest to severe pain in opioid tolerant patients who require nonstop, around-the-clock, opioid analgesics for an extended period of time. Mallinckrodt Inc, a subsidiary of Covidien plc (COV), acquired the U.S. commercial rights to Exalgo in 2009. According to the agreement, Covidien is in charge of all commercialization responsibilities for Exalgo, as well as sales and marketing activities, within the United States. Exalgo was launched in April 2010, leaving Zalicus to collect layered royalties on the net sales of Exalgo by Covidien. In a further boost to Exalgo sales, the FDA recently approved a 32mg dose of Exalgo for prescription. This should allow the drug to bring in even more revenues and higher royalty figures.
Synavive
Synavive (Z102) is the most highly developed drug in Zalicus's internal programs. The company started a Phase 2b clinical trial last June called SYNERGY. The trial evaluates the effects of Synavive in patients with rheumatoid arthritis. The SYNERGY trial is completely subscribed, with a total 259 participants; top-line results from this trial will be released at the end of this quarter.
Z160
Z160 is an innovative oral N-type calcium channel blocker. Zalicus plans to start two Phase 2a clinical trials for Z160 during the current year for the cure of neuropathic pain. The first Phase 2a study for Z160 will be started this quarter for lumbosacral radiculopathy.
Z944
Z944 is a new, T-type calcium channel blocker. It is in the Phase 1 multiple rising dose clinical study, which was initiated in July 2012 and is currently in progress. On the successful conclusion of the multiple rising dose study, the company will move Z944 into Phase 2 clinical development trials during the first quarter of 2013.
Prednisporin
Prednisporin is a topical ocular drug that ZLCS has transferred entirely to Fovea Pharmaceuticals SA, a division of Sanofi (NYSE:SNY). The drug is in Phase 2b trials for recurrent allergic conjunctivitis. The company is entitled to receive $3 million as a milestone payment ahead of the start of Phase 3 study. Sanofi expects Prednisporin to be launched in 2015.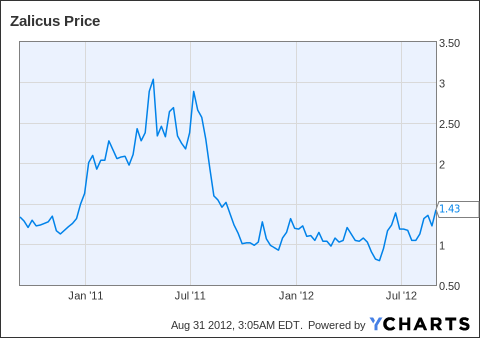 Stock Performance
In the last three months, Zalicus shares have gone up 50 percent. The stock is currently trading at about $1.43 and has a Beta of 2.33. ZLCS stock has a 52-week range of $0.72 and $1.70. The current market cap for Zalicus is almost $165 million, and the analysts have set a one-year price target of $4 for the stock.
Revenues
Zalicus does not market any products on its own, but instead prefers to use collaborators. From these collaborative arrangements, Zalicus derives considerable revenues through royalties and grants. Since its inception, the company has been accumulating losses, which now amount to $320 million. In the last quarterly earnings announcement, the company declared a loss of $10.32 million. Although the reported losses paint a somewhat dismal picture, the company does still have sufficient cash reserves (over $44 million) to meet its operating requirements until the end of the first quarter of 2014. Zalicus has also been cutting costs and reduced operating expenses by closing research operations in Vancouver and reducing its workforce by 16 people.
Basic Ratios
In recent months, Zalicus has been displaying a negative EPS. At present, the EPS for this company is at -$0.42 per share, which renders its P/E ratio meaningless. In addition, Zalicus has a P/S ratio of 16.47, which is fairly high when compared to the rest of the industry.
Meanwhile, the P/B ratio stands at 3.92 and the P/C ratio is at 4.01. Zalicus has a debt-to-equity ratio of 0.46 and an incredibly healthy current ratio of 2.58. The analyst community believes that Zalicus will experience earnings growth in the near future. To be specific, the expected growth for the EPS is 30 percent for the next year.
Summary
ZLCS is turning back after a recent rise, and I expect the stock to pick up again soon. In addition, higher royalty payments are due to the new FDA approval of an Exalgo dosage; this will likely increase company revenues considerably. Furthermore, there are two important upcoming events, both of which will contribute significantly toward the value of the stock. The first is an update of Synavive's SYNERGY trials and the second is the launch of Prednisporin Phase 3 trials. Both of these events hold great importance for the company over the coming months and will almost certainly accompany an increase in value.
Disclosure: I have no positions in any stocks mentioned, and no plans to initiate any positions within the next 72 hours. I wrote this article myself, and it expresses my own opinions. I am not receiving compensation for it (other than from Seeking Alpha). I have no business relationship with any company whose stock is mentioned in this article.