This market has recovered significantly since the typical "sell in May and go away" syndrome sparked a selloff lasting until June. Some notables since these lows include Powershares QQQ Index (NASDAQ:QQQ) rallying over 10%, mainly led by Apple (NASDAQ:AAPL), and the comeback of some beaten-down stocks such as Eaton Corp (NYSE:ETN) or Nike (NYSE:NKE) for example. However, as we approach the end of summer, the rally has slowed. Perhaps we are taking a breather- is it the Gulf's first major hurricane, or is there something more significant looming? The possibility of a double dip seems to be alleviated for now, and the European situation has been put on the back burner. However, I can't seem to ignore several scary technical signals that seem to be haunting this rally.
Scary Signal #1: S&P 500 Triple Top: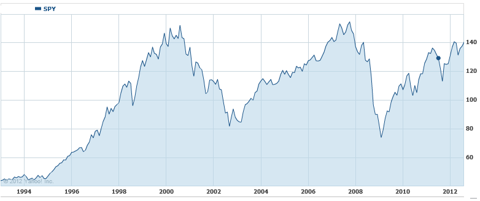 Click to enlarge
The S&P 500 is approaching a well defined triple top. Although there is still another push higher required to properly test the top, it seems to be on the minds of hedge funds and investors alike. I feel this level could be a significant ceiling. On the flip side however, If we can break through this ceiling, the sky is the limit. Time will tell.
Scary Signal #2: Apple
We all understand the huge impact Apple has on the market. Aside from its obvious weighting on the index due to its monster market cap, many feel it sets the tone for the market as a whole. When Apple pulls back, it seems many stocks follow. Obviously this theory can be debated all day, but notice how the market seemed to falter after Apple lowered guidance on April 24th: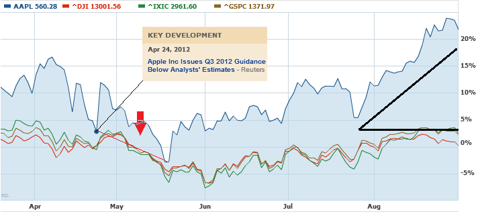 Click to enlarge
Next, compare Apple's huge run-up since August 1st versus the relatively flat performance of the indexes. With Apple now at or near all time highs, one has to wonder: How much longer can Apple carry this market?
Scary Signal #3: Transport Stocks
Many experts believe the market cannot make it much higher without the transports participating. We've all heard this endless mantra about the financials as well. I thought nothing of this, until I compared the major indexes, a major Financial Index (SPDR Financial XLF) and a major Transport Index (iShares DJA Avg. IYT). What I found was interesting: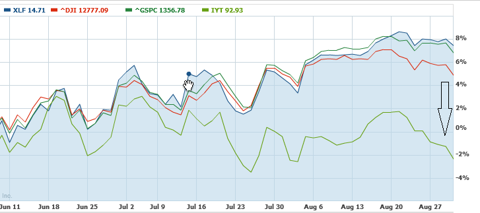 Click to enlarge
It seems the transports have drastically underperformed, while the financials have fully participated. Will the transports come back, fueling the next leg up in the rally? Seasonally, the transports are generally strong through the fall and into the holiday season, so perhaps an over-reaction to "scary signal #3" is unwarranted, or is it?
This theme of being scared is perhaps silly and childish to some, but then again so are the reasons why people choose to buy and sell stocks. When managing our portfolios, it's easy to over-react to Euphoria (Apple launch next month), and Fear (triple-top technical patterns). After setting emotion aside and evaluating the potential risk/reward following such a rewarding Summer, it's only prudent to lock in some gains and/or add some protection. We've been faced with scary signals before- all we can do is improve our reaction.
Disclosure: I am long AAPL, ETN. I wrote this article myself, and it expresses my own opinions. I am not receiving compensation for it (other than from Seeking Alpha). I have no business relationship with any company whose stock is mentioned in this article.