The most anticipated smartphone launch in history is drawing ever closer, and the prospects for AT&T Inc.'s (NYSE:T) growth look extremely promising. The iPhone 5, which is set to grace the world's stage on September 21, has been drawing quite a huge following, which AT&T expects to reap benefits from. This is due to the fact that this next generation smartphone will be locked to AT&T, and added to the fact that the first sales are most likely to be from here, increased revenue is on the horizon.
Apple Inc. (NASDAQ:AAPL), who is the maker of the iPhone brand, has enjoyed a somewhat unrivaled dominance in the smartphone industry, with Samsung (OTC:SSNLF) and Microsoft Corporation (NASDAQ:MSFT) being the source of its greatest competition. Through AT&T's partnership with Apple to market this brand new smartphone, the chances of increasing its market share are quite high.
Reports indicate that a vacation blackout has been scheduled for all AT&T staff, along with those from Verizon Communications (NYSE:VZ), as plans for the launch get into high gear. Rumors have been circulating that staff will be undergoing training to ensure that they can deal with most, if not all, customer issues, which goes to show the commitment to making this release a one-in-a-million gig.
The response from other communication heavyweights
However, it seems that other communication affiliated titans such as Microsoft do not plan to take this news lightly. Recent revelations have brought to light the fact that Microsoft and Nokia Corporation (NYSE:NOK) will be teaming up to take on the iPhone 5. The new smartphone from Nokia is expected to run Microsoft's new operating system Windows 8, which has stirred up a lot of interest among consumers. The date for this announcement could not have come at a better time, since it has been scheduled mere days before the official launch of the iPhone 5.
Qualcomm Inc. (NASDAQ:QCOM), on its part, has decided to strengthen its mobile courier network through a number of strategies. One being the recent acquisition of DesignArt Networks, a pioneer in small cell development technology. Based in Israel, this small cell solution provider will be able to cater to the growing market of people, looking to acquire high speed wireless infrastructure at cost-effective prices.
By placing itself at the center of this niche, Qualcomm will undoubtedly have had a head start in this highly lucrative business that may see it increase its consumer base in the United States. Qualcomm has also partnered with LG to offer the latter its latest Snapdragon S4 Pro platform to produce high end smartphones. Commercial availability of this new handset is expected to be somewhere around September - which is around the same time that the iPhone 5 is expected to launch. I am pretty sure this is not coincidental and it just goes to show just how much competition Apple and AT&T should be ready for.
In a move that could see the scales in terms of the number of data users in the United States tip to Sprint Nextel Corporation (NYSE:S) favor, it has continued with its bold unlimited data pricing packages. Whereas both Verizon and AT&T have been shying away from such packages and have instead chosen to offer capped data plans, they run the risk of losing their data-based clientele. Fact is not many people will be able to afford the new iPhone, and with data packages being limited, this could trigger a considerable drop in the number of AT&T's subscribers.
A word of advice from analysts
Although the iPhone 5 launch is seemingly set to take the world by storm, caution is advised to those who think that AT&T will definitely have greater returns. Things could turn out badly, much like what happened with Facebook's (NASDAQ:FB) IPO that has had investors incur great losses. If AT&T plans on riding the iPhone's fame to greater returns, then it should also be prepared to deal with the stiff competition expected from rival communication and electronic device makers.
Click to enlarge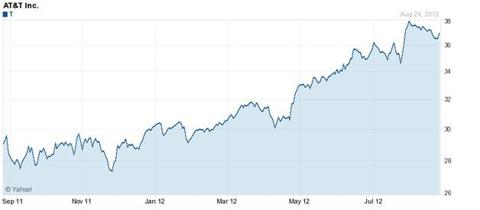 Click to enlarge
By looking at the chart above, you can see for yourself why I have a strong belief in AT&T. It has been on an upward trend for the past few months and has been able to overcome many challenges. I am still sure that even without this release playing a crucial part in its revenue generation, AT&T is a very worthwhile investment.
Disclosure: I have no positions in any stocks mentioned, and no plans to initiate any positions within the next 72 hours. I wrote this article myself, and it expresses my own opinions. I am not receiving compensation for it (other than from Seeking Alpha). I have no business relationship with any company whose stock is mentioned in this article.