AGCO Corp. (NYSE:AG) manufactures agricultural equipment and replacement parts. The company's brands include AGCO, Challenger, Fendt, Massey Ferguson, RoGater, Spra-Coupe, and Valtra. Products are distributed through a network of roughly 3,000 independent dealers and distributors in more than 140 countries.
In 2007, about 17% of sales were generated in the U.S., 57% in Europe, and 16% in South America. Other key geographic markets include the Middle East ,Asia, Australia, Africa, Canada and Mexico.
Tractors, which produced 68.1% of 2007 sales, represent AG's largest product category. Compact tractors, which have less have 40 horsepower, are ideal for small farms and specialty agricultural industries. Utility tractors produce 40-100 horsepower. They are typically found on small-to-mid-sized farms, orchards, vineyards, and facilities that raise livestock. The most powerful tractors boast up to 570 horsepower. They are designed for use on large scale farms and cattle ranches.
Combines handle harvesting, threshing, and crop cleaning. They generated 4.7% of 2007 sales. Equipment used for applying fertilizer and chemicals that protect crops produced 4.3% of sales. Various other kinds of machinery such as hay tools, forage equipment, planters, loaders, and diesel engines, produced 10.0% of sales.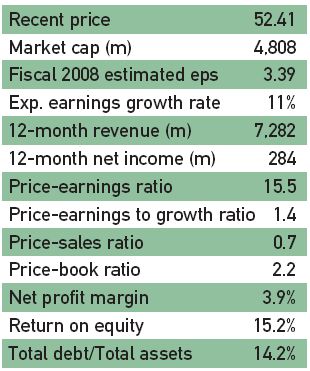 The company has benefited from the sharp rise in agricultural commodity prices, which have produced record amounts of income for farmers and increased worldwide demand for agricultural equipment. Led by Brazil and Argentina, 2007 sales in South America surged 50.5% in local currencies. The company's overall revenues jumped 25.6% to $6.83 billion. Greater demand for high-horsepower tractors was a key driver of growth.
Q1 2008 results were also strong with net sales jumping 34.1% year-over-year to $1.78 billion. Favorable foreign currency gains added about 13 percentage points to the top line. Sales in South America were up 44% in local currencies. North American sales gained 10% as strong results for high-horsepower tractors and combines offset weakness in compact and utility tractors. Coupled with cost-cutting initiatives, the more favorable sales mix boosted the operating profit margin by 185 basis points to 5.27%. Net income surged 154% to $62.3 million or 63 cents per share.
Investment risks include continued softness in demand for compact and utility tractors and government policies that could impede international trade by making products less price competitive. For example, by taxing grain exports,Argentina puts its own farmers at a disadvantage. Finally, AG's supply chain could be tested by unprecedented levels of demand and order activity.
Over the near term, sky high commodity prices will fuel demand for agricultural equipment. Farmers are deploying some of their increased income to replace and upgrade older and less productive machines. This trend is particularly favorable for the more profitable high-horsepower tractors. We expect worldwide business conditions for the agricultural industry to remain favorable. Fundamentals are particularly encouraging in South America where farm acreage continues to expand. AG's replacement parts business should also thrive as equipment utilization rates increase.