Once upon a time, there existed a giant telecom company called AT&T Corporation (NYSE:T) that was the target of a 1974 antitrust lawsuit, which eventually resulted in the company breaking up into seven regional operating companies called the "baby bells", a long distance company and a computer company called AT&T Computer Systems. While this antitrust lawsuit broke AT&T's national monopoly, the regional baby bells still held access-monopoly to the consumer's household through what is commonly referred to as the last mile in the telecom industry. Traditionally, the last mile is the copper line that leads into your house or business from the telecom network.
The Telecommunications Act of 1996 created a uniform national law that allowed new telecom companies called Competitive Local Exchange Carriers (CLECs) to compete against the incumbent baby bells like Verizon (NYSE:VZ) and SBC Communications, by giving these new telecom companies access to the "last mile" and the ability to resell the networks of the baby bells. This law led to a slew of new telecom startups like Covad and Allegiance Telecom, as well as spurred growth at companies like XO Communications and McLeod USA. After the crash of the dot com bubble and the ensuing "telecom nuclear winter" that resulted from the capacity hangover of the late 90s, most of these CLECs went bankrupt.
The problems that plagued the CLECs were not just limited to the huge debt loads some of these companies acquired in the quest to build capacity that would support the expected bandwidth hungry applications, but also extended to issues around their interaction with the incumbent telecom companies. For example, if you ran into an issue with your Covad T1 internet connection, the problem could be at your physical location (has to be serviced by the baby bell telecom), at Covad's end or at AT&T's end.
Despite these disadvantages, the surviving CLECs do provide service at reasonable rates and often tend to provide service much faster than the baby bells. In my personal experience, I have seen the baby bells ask for as much as a month to put in a new T1 line when compared to a week for a CLEC. Obviously in this day and age, when internet service is as critical if not more critical than having phones, a month can seem like an eternity for a new business or one that has recently moved to a new location.
Wireless service providers have started carving a niche for themselves that addresses not only the last mile problem but also promises faster installation (often in 48 hours) and better redundancy.
One such company that provides high speed wireless access to businesses is Rhode Island based Towerstream Corp. (NASDAQ:TWER). I came across Towerstream almost two years ago while doing some research on WiMax equipment provider Alvarion (NASDAQ:ALVR), and also mentioned the company in a blog post titled Hedging Your WiMax Bet. The company came to my radar once again a few months ago when a Towerstream sales representative out of their San Francisco office contacted me shortly after a Covad outage hit the San Francisco bay area. It looked like the company was pricing its products competitively and was aggressively expanding in major metropolitan areas.
A couple of weeks ago, I noticed that a Towerstream installation contractor was putting up a wireless access point for a neighboring business that had just signed up for their service. I checked out the access point and it was made by Canada based WiMax equipment provider Redline Communications [RDL.TO]. I started talking to the contractor and he was more than happy to answer my questions, and even tried to show me the line of sight from the access station to Towerstream's base station on one of San Francisco's skyscrapers. He told me that Towerstream is using three base stations (two in the City and one across the bay in Oakland) to provide redundancy in San Francisco. It was interesting to learn that he had his hands full with installations for Towerstream and could barely keep up. He mentioned that things were very slow a couple of years ago when Towerstream entered the San Francisco region, but after the company ramped up its sales team in California, installations have increased rapidly over the last few months. In terms of equipment, Towerstream is primarily using equipment made by privately held Aperto Networks and portfolio holding Alvarion (ALVR).
Stock History and Numbers
Towerstream became a public company through a reverse merger with a shell company called Universal Girls Calendar. This method of going public is both quick and cheap and has been gaining more respect in recent years. The stock closed its first day of trading on the Over-The-Counter Bulletin Board at $7.75 on January 26, 2007 and started trading on the Nasdaq at the end of May 2007. The stock has been on a slow and steady decline since going public and currently trades at $1.27 per share. The big WiMax joint venture announcement by Clearwire (CLWR), Sprint (NYSE:S), Google (NASDAQ:GOOG), Intel (NASDAQ:INTC) and Comcast (NASDAQ:CMCSA) helped energize the shares a little in May. While Clearwire has been getting all the attention as a WiMax service provider, TowerStream, which targets businesses instead of consumers, continues to remain under the radar.
Net revenue at Towerstream grew 31.7% to $2.08 million in the first quarter of 2008 when compared to the first quarter of 2007, while net loss widened to $3.61 million when compared to $1.64 million in the same period last year. Churn rate (customer discontinuing service) remained a low 1.35% when compared to 2.03% in Q4 2007 and 1.27% in Q1 2007. Beyond revenue growth, I think the most encouraging sign is that ARPU (average revenue per customer) for new customers increased to $842 when compared to $767 in the previous quarter. Gross margins decreased to 53.1% when compared to 58.1% in the previous quarter due to expansion into new markets. However, the drop in prices of WiMax equipment and economies of scale should help the company improve its gross margins in the future.
The company expects to become EBITDA positive on a per market basis by end of Q1 2009. With over $36 million in cash, just $2.5 million in long-term debt, healthy gross margins and a quarterly cash burn rate of under $5 million, the company appears to be positioned well to reach its EBITDA positive goal in 2009. Towerstream sports a market cap of $43.89 and an Enterprise Value (market cap - cash + debt) of $10.43. Assuming conservative sales of $8 million for 2009 (flat quarter over quarter growth), we get an Enterprise-Value-To-Sales ratio of just 1.30. The company appears to be very attractively valued at these levels provided it continues the sales momentum it has built in recent months.
click to enlarge image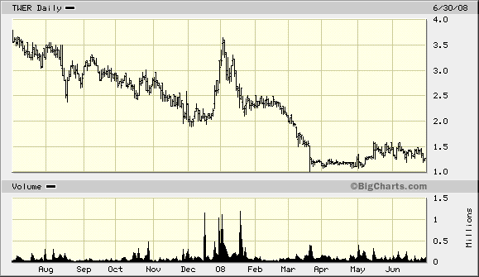 Conclusion
All the usual risks that go with investing in microcap stocks such as high volatility, low daily volumes, potential delisting, low visibility, etc.. are in play with Towerstream as well. Please do your own due diligence before taking any actions.
Disclosure: I am adding 10,000 shares of Towerstream to the model portfolio (one of our strongest position sizes to date) and also plan on initiating a position in my personal portfolio after this newsletter goes out to subscribers.