Almost five months after writing about Umpqua Holdings (NASDAQ:UMPQ) in a section of the February investment newsletter titled Umpqua Holdings: Can the free cookies last?, I have decided to make the leap and add Umpqua Holdings to our model portfolio.
Like the rest of the financial sector, and especially regional banks, in recent weeks, the stock has taken a hard hit. The stock is now down over 28% from when we added it to our watchlist on February 1st at a price of $17, and down more than 50% from its 52 week high of $24.80. The weakness in the housing sector is far from over and we may be at the brink of a bear market, but things appear to be stabilizing at Umpqua.
In an encouraging sign, Umpqua saw a decrease in both non-performing loans and non-performing assets last quarter. The company got a boost last quarter from the $12.6 million sale of Visa (NYSE:V) stock and the reversal of a $5.2 million litigation reserve the company had set up in the fourth quarter related to Visa's settlement with American Express (NYSE:AXP). With such one-time gains unlikely when the company reports second quarter results, year-over-year comparison with second quarter 2007 earnings of $19.91 million is going to be tough.
However, comparisons will start getting better in the second half of this year, and since investors are "forward looking", it may be a good idea to initiate a starter position in Umpqua at this point and pick up more after second quarter results are announced later this month.
Umpqua's dividend yield of over 6% is also attractive and the CEO has reiterated over the last two quarters that he does not see a need to cut the dividend.
 click to enlarge image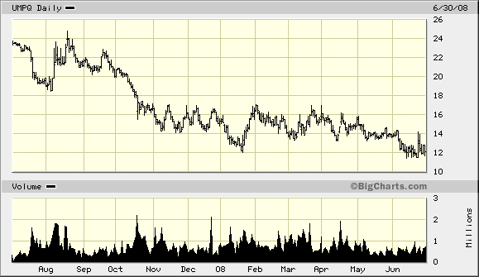 I had an interview scheduled with the CEO of Umpqua Holdings, Ray Davis, last Friday, but then had to reschedule the interview because it was so close to the end of the second quarter. I hope to be able to interview him after second quarter results are released on July 17th.
Disclosure: For now I am going to add 500 shares of Umpqua to the model portfolio and will also initiate a position in my personal portfolio after this newsletter goes out to subscribers.