Questcor Pharmaceuticals, Inc. (QCOR) has delivered six straight quarters of positive earnings surprises with an average beat of 17.1%. Most recently in the second quarter of 2012, this biopharmaceutical company announced year-over-year earnings and revenue growth of 210.0% and 145%, respectively.
With a continued increase in earnings estimates and a long-term growth projection of about 39.5%, this Zacks #1 (Strong Buy) looks like a solid growth pick. Increased promotional efforts and growing acceptance of key product H.P. Acthar Gel should ensure strong top- and bottom-line growth.
Solid Second-Quarter Results
On July 24, Questcor reported second-quarter earnings per share of 65 cents, beating the Zacks Consensus Estimate by 6.6% and year-ago earnings by 210.0%.
Net sales jumped 145% year over year to $112.5 million, surpassing the Zacks Consensus Estimate of $109 million. This is the first quarter in the company's history when sales crossed the $100 million mark.
Sales were driven by expanded usage of Acthar, which is approved for 19 indications including idiopathic nephrotic syndrome and multiple sclerosis exacerbations. Acthar vials shipped were up 94% year over year to 4,710.
Meanwhile, shares worth $156.1 million were repurchased during the second quarter with approximately 4.7 million shares remaining under the company's share buyback program.
Acthar Shows Promise
With Questcor expanding two sales forces and building a third in rheumatology, Acthar sales should continue increasing. The company estimates that the nephrotic and multiple sclerosis indications alone represent annualized sales of $200 million each. Three factors should work in Acthar's favor: (1) the product's clinical profile, which provides benefit to difficult-to-treat patients who fail to respond to other therapies; (2) modest market penetration; and (3) the expanded sales force, which will increase physician reach.
Acthar also has the potential to be developed for additional indications, which bodes well for long-term growth.
Earnings Estimates on the Rise
Following the release of second-quarter results, earnings estimates have been moving up steadily. The Zacks Consensus Estimate for 2012 rose 3.8% to $2.74 per share over the last 7 days, implying year-over-year growth of 126.6%. The Zacks Consensus Estimate for 2013 increased 3.1% to $3.70 per share over the last 7 days. This implies year-over-year growth of 35.0%.
Valuation Looks Reasonable
Questcor looks attractive on a PEG basis. Given a long-term growth projection of 39.5%, the PEG ratio comes in at 0.4, a 60% discount to the benchmark of 1 for a fairly priced stock. Moreover, the company's ROE of 71.3% is significantly higher than the peer group's ROE of 29.6%.
Questcor is currently trading at a forward P/E of 15.5x, reflecting a premium of 18.3% compared with the peer group average of 13.1x. On a price-to-book basis, shares are trading at 19.8x, a 633.3% premium to the peer group average of 2.7x. However, based on the company's strong performance and fundamentals, the premium valuation is justified and well supported by its long-term earnings growth projection, which is higher than the peer group average of 27.7%.
The Chart
Questcor is currently trading above its 200-day moving average of $41.18.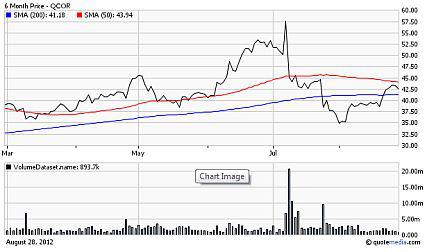 Anaheim, California-based Questcor Pharmaceuticals focuses on the development of treatments for serious and difficult-to-treat autoimmune and inflammatory diseases. The company's main areas of focus are neurology and nephrology. Its key product, Acthar, is approved for 19 indications though a major part of sales are generated from the nephrotic syndrome, multiple sclerosis (treatment of acute exacerbations) and infantile spasm indications. Questcor's other marketed drug is Doral (insomnia).
Incorporated in California in September 1992 as Cypros Pharmaceutical Corporation, the company changed its name to Questcor Pharmaceuticals, Inc. in November 1999. Questcor, which has a market cap of $2.60 billion, operates in the U.S.