When looking for large gains with risk capital, beaten down, small-cap technology stocks that have a compelling long-term story are usually a pretty good way to get them. I have found three small cap technology stocks that fit these characteristics.
1. Applied Micro Circuits Corporation (NASDAQ:AMCC)
There is a lot of buzz surrounding Applied Micro Circuits, particularly in light of the recent demonstration of its custom ARM (NASDAQ:ARMH) based X-Gene CPU for the data-center. While Applied Micro's financials aren't particularly impressive, with the company most recently posting a 32.10% contraction in revenues year-over-year and widening losses on the bottom line, there is a compelling story here.
While it is not at all clear that servers with ARM-based chips in them will see significant traction going forward, especially given how Intel was able to squash much more powerful RISC-based competitors in the past, this is a good takeover play at a market capitalization of just $331M. A number of semiconductor companies such as Nvidia (NASDAQ:NVDA) and Marvell (NASDAQ:MRVL) have expressed interest in breaking into the server chip market via ARM designs. Further, Advanced Micro Devices (NYSE:AMD), with its recent acquisition of SeaMicro, could be very interested in broadening its server portfolio with ARM designs.
Trading near 52-week lows, the stock seems to be at or near a bottom here. Further, the company has $97M in cash and no long-term debt, so it can continue to finance its R&D activities for a good while longer without the need to issue further equity or debt.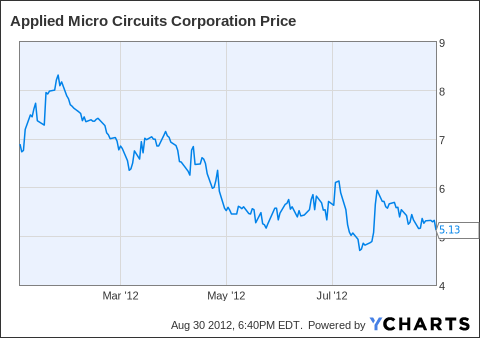 2. MIPS Technologies (NASDAQ:MIPS)
MIPS is a designer of low power CPUs for embedded applications. While the firm's chips have not seen particularly strong traction in the mobile space that is dominated by designs based on ARM Holdings' intellectual property, the company remains ambitious in its attempts to make progress in the space.
The company's stock saw a fairly violent move from the $5 range into the $6-7 range in April on speculation of a takeover.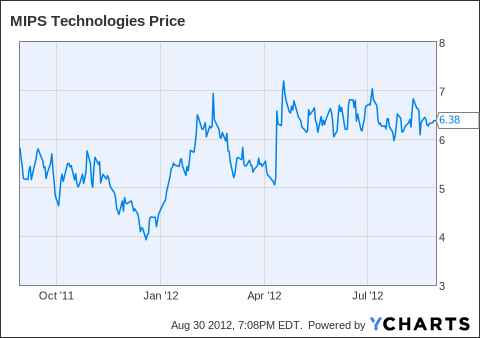 A takeover doesn't seem too farfetched, given that the company's market capitalization of a mere $340M makes it well within reach of the major semiconductor companies. However, as the software ecosystem in the phone/tablet ecosystem is heavily biased towards ARM, and with Intel (NASDAQ:INTC) throwing its considerable resources into bringing x86 mobile, it is unclear which company would be interested. The company's patents could prove valuable to a company looking to build a patent portfolio relating to low power microprocessors.
Assuming an acquisition isn't in the cards, MIPS has an attractive cash position of $110M, or roughly 30% of market capitalization, and no long-term debt. Further, the company recently signed a long-term licensing agreement with Broadcom (BRCM), which significantly contributed to the positive upside surprise when the company pre-announced its earnings.
3. InterDigital Corporation (NASDAQ:IDCC)
InterDigital, according to the business description on Yahoo Finance;
"engages in the design and development of technologies that enable and enhance wireless communications. The company offers technology solutions for use in digital cellular and wireless products and networks, including 2G, 3G, 4G and IEEE 802-related products and networks."
After seeing a rather huge run in mid-2011 after rumors of Google (NASDAQ:GOOG) acquiring the company surfaced, the rumors and stock price faded back down to re-rumor levels. However, most recently, Intel announced the purchase of 1,700 patents relating to wireless technologies from the company, giving the company's stock a jolt and starting what appears to be an upward trend.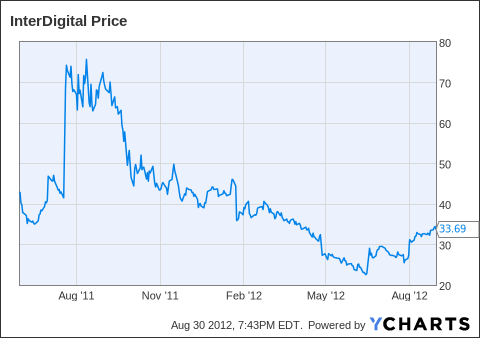 Turning to the fundamentals, the company has $524M in cash and about $196M in long-term debt, indicating that the company is in solid financial health. The company's trailing-twelve-month revenues were $294M and gross profit on that revenue was $230M. This may seem high relative to the company's $1.44B market capitalization and quarterly revenue growth of only 2.90% year-over-year, but it is very difficult to value patents, especially in a hot field such as wireless technology. The Apple (NASDAQ:AAPL) suit against Samsung (OTC:SSNLF), and Nokia's (NYSE:NOK) revenue stream from its slew of patents have only further underscored the potential value of a strong patent portfolio.
InterDigital is trading near the bottom of its 52-week range of $22.37 - $72.83, and with the potential of more significant patent licensing and/or purchasing deals, there could be significant upside ahead, especially as the company's stock has hefty 15% short interest. The risk here and a likely reason for the high short interest is that the patent portfolio's value is unknown.
Disclosure: I am long INTC, MRVL, AMD, NVDA. I wrote this article myself, and it expresses my own opinions. I am not receiving compensation for it (other than from Seeking Alpha). I have no business relationship with any company whose stock is mentioned in this article.
Additional disclosure: I may initiate long positions in AMCC and/or IDCC within the next 72 hours.