Now that BCE Inc. (NYSE:BCE) and the Ontario Teachers Pension Plan-led buyout consortium have "finally" reached a financing agreement, investors can feel confident that the deal will go through as originally priced, says Desjardins Securities analyst Joseph MacKay.
In a note to clients, Mr. Mackay said:
Given the bank financing is now fully in place, we are moving our target price to $42.75 from $39.25, which reflected the possibility of the transaction being repriced.
He said he expects both radical retooling at BCE to begin this summer now that Michael Sapia is out and George Cope is in as the new CEO effective this Friday.
He wrote:
BCE has a number of key decisions it needs to make, including a decision on wireless technology, the build of IPTV, the loss of a material number of residential wireline customers to cable and potential asset sales.
To get the financing deal announced Friday done, both BCE and Teachers made concessions.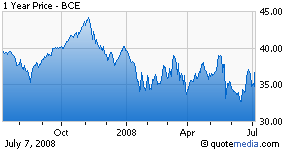 Mr. MacKay said the buyers appear to have agreed to pay 25 basis points more the debt costs and the stronger covenants. In return they were able to extend the closing to Dec. 11 and also eliminate BCE's dividend in the interim, which should result in about C$1.5-billion of incremental cash that can be used to finance the transaction.
BCE shares rose almost 13% to C$39.64 on Friday.