Petaquilla Copper Ltd. (OTC:PTQLF) shares doubled in early Monday morning trading after Inmet Mining (OTC:IEMMF) announced a bid for Petaquilla late Sunday night.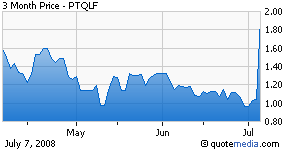 The stock was up 102% or C$0.98 to C$1.94 yesterday morning.
Inmet said it will pay C$2 for Petaquilla, a Vancouver-based emerging copper producer presently developing its copper deposit in the Republic of Panama.
Inmet said certain institutional shareholders owning 15,079,000 Petaquilla Copper common shares, or 9.38%of the Petaquilla Copper issued and outstanding common shares have agreed to tender their common shares to the offer, which will be open for acceptance by the remaining shareholders for at least 35 days.