Below is an updated look at our trading range screen for the 30 members of the Dow Jones Industrial Average. A description of how to read the trading range charts is included at the bottom of the screen.
While the Dow as a whole has been relatively flat over the past week, our screen clearly shows that upside momentum has stalled for the time being. Last week at this time there was just one oversold Dow stock (NYSE:VZ), but now there are five (BA, HPQ, INTC, KO, VZ). Thirteen Dow stocks were overbought last week at this time, while just nine are overbought now. United Tech (NYSE:UTX), Cisco (NASDAQ:CSCO), Home Depot (NYSE:HD) and Kraft Foods (KFT) are the most overbought of the bunch.
Looking at year-to-date performance, Bank of America (NYSE:BAC) remains in the lead with a YTD gain of 44.60%. Home Depot (HD) ranks second with a gain of 34.78%, while Disney (NYSE:DIS) ranks third at 32.91%. American Express (NYSE:AXP), AT&T (NYSE:T) and Wal-Mart (NYSE:WMT) are the only other Dow stocks that are up more than 20% year to date.
There are five Dow stocks that are down year to date -- Alcoa (NYSE:AA), Boeing (NYSE:BA), Caterpillar (NYSE:CAT), Hewlett-Packard (NYSE:HPQ) and McDonald's (NYSE:MCD). HPQ is down by far the most with a decline of 34.63%. Will Hewlett be the next stock to be dropped from the Dow?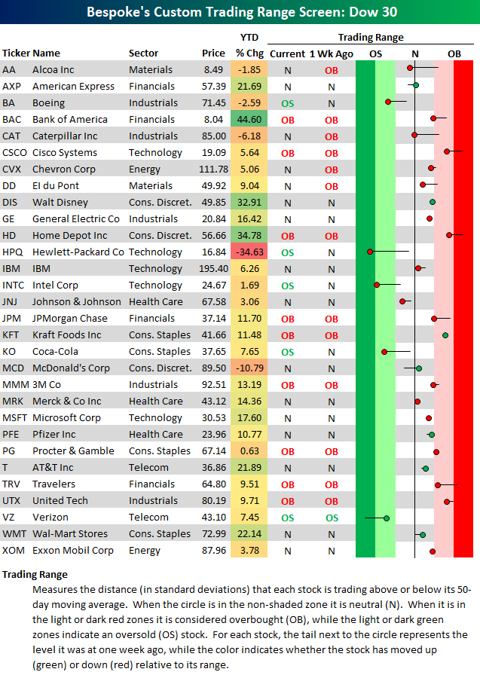 Click to enlarge