The rising use of generic prescriptions is an opportunity that value investors can take advantage of today. The growing market for generics is generating new sales and increased share value for Mylan (NASDAQ:MYL), or Mylan Laboratories. Mylan's specialty is in manufacturing and marketing generic versions of popular prescription drugs.
There is a good chance that some of Mylan's products may be in your medicine cabinet. The company currently offers generic versions of over 200 popular prescription drugs, and it is adding more all the time. In the last six months, Mylan added twelve more products to its catalog, including:
Fluorouracil Cream 5%
Amlodipine Besylate/Benazepril Hydrochloride Capsules
Ibandronate Sodium Tablets
Escitalopram Tablets
Fluvastatin Capsules
That means Mylan actually stands to profit from the so-called "patent cliff," the situation that occurs when the patents on popular drugs run out. This includes Singulair or montelukast sodium, the Merck (NYSE:MRK) asthma and allergy drug that rang up $1.43 billion in sales in the second quarter of 2012. Mylan and Teva Pharmaceutical Industries (NYSE:TEVA) were among the companies that had generic versions of Singulair approved by the Food and Drug Administration (FDA) early in August.
News reports indicate that the FDA has authorized Mylan to make and market a chewable montelukast sodium tablet. Industry observers believe that the generic versions will take as much as 90% of Merck's Singulair business away.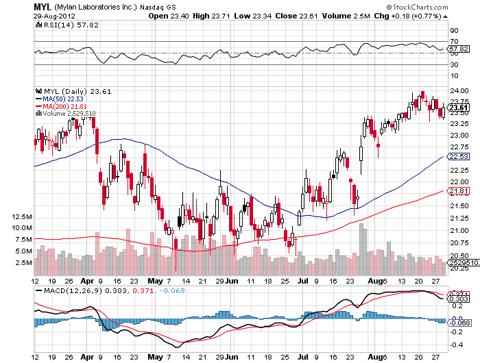 Generics might be cheaper, but they have certainly paid off for Mylan. As of August 29th, the company had an earnings per share ratio of $1.29 for shares that were selling for $23.31 apiece. Mylan saw its margin price rise from just under $21 at the end of July to $23.61 on August 29th.
Opportunity in Japan
Singulair's fall off the patent cliff is not the only thing driving up Mylan's price. The company has entered into a deal with Pfizer (NYSE:PFE) that will enable it to produce, market, and distribute drugs under the Pfizer brand name in Japan. Both the Pfizer and Mylan brand names will appear on the pills and salves they sell there.
Japan is the world's third world's largest market for drugs, after the European Union and the USA. Japan is one of the world's best markets for generics because the government-run health insurance system there pushes the use of generic drugs. Japan is also a big opportunity for Mylan because it has an aging population, and the Japanese are avid consumers of healthcare. The average Japanese goes to the doctor 15 times a year and consumes twice as many prescription drugs than the average American does. Since Mylan plans to market 350 products under the Pfizer name in Japan, it stands to make a lot of yen out of this deal.
Japan is not the only opportunity on the horizon for Mylan. The patent cliff will prove even more profitable in the next few years. Thomson Reuters forecasts that patents for 15 different heart drugs that brought $83 billion in sales in 2011 will expire in the next five years. In addition to Singulair, the patents for Pfizer's Lipitor and Bristol-Myers Squibb's (NYSE:BMY) Plavix are set to expire this year. Plavix and Lipitor had sales of $20 billion in 2011. Thomson Reuters predicted that half of the prescriptions for those drugs will be replaced by generics.
This means that Mylan's market is growing at a time when conventional pharmaceutical houses are having trouble coping with a changing business landscape. Mylan has new opportunities to greatly increase its revenue because it will soon be able to offer some of the world's most popular prescriptions in generic form.
It can take advantage of the proven strategy of discounting to drive sales. Generic drug makers like Mylan can sell products like Lipitor and Singulair at prices that amount to 10% of the cost of the brand name product and quickly capture most of market.
Obamacare = Opportunity for Mylan
The U.S. government and insurance companies are among the forces that will help Mylan expand its market share. Medicare and many private health-insurance plans mandate the use of generic prescriptions if they are available as a cost saving measure. This will mitigate efforts such as Pfizer's discount coupons for Lipitor.
Mylan can expect even more sales in the U.S. when Obamacare goes into effect in 2014. That law will require Americans to sign up for health insurance or pay a penalty starting that year. It also requires companies that employ more than 50 people to provide health insurance to workers. A health insurance exchange being set by the state of California is designed to enroll as many as two million uninsured people in that state on health insurance. That's just in one state - Obamacare covers the entire nation.
This law will increase the number of Americans with the means to buy drugs at a time when a lot of popular prescription drugs are going over the patent cliff. I think Mylan is going to see a huge expansion in its market in the near future. As the number of people with insurance increases, so will Mylan's customer base.
Disclosure: I have no positions in any stocks mentioned, and no plans to initiate any positions within the next 72 hours. I wrote this article myself, and it expresses my own opinions. I am not receiving compensation for it (other than from Seeking Alpha). I have no business relationship with any company whose stock is mentioned in this article.