Rogers Communications Inc. (NYSE:RCI) shares were down 6% through mid-afternoon trading yesterday, amidst an overall market malaise that has driven the S&P/TSX Composite Index which, at the time of writing, was down 300 points and counting.
Rogers investors could be reacting to blogger comments that Apple Inc. (NASDAQ:AAPL) may ship less 3G iPhones to Canada as a result of Rogers Communications Inc.'s "unfair" iPhone data prices.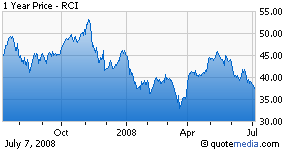 Or, maybe the selloff is because Genuity Capital analyst Dvai Ghose downgraded his rating on the stock from "buy" to "hold" and slashed his price target from C$54 to C$45 per share on fears that Rogers Wireless will over time see its dominant position eroded.
In a note to clients he said:
With the [wireless spectrum] auction coming to a end, it seems as if Rogers Wireless is set to see 2-3 new competitors in major market.
He added that an indepedent like Globalive could challenge Rogers low cost advantage and disrupt the market.