by Mike Burnick
Recently, many investors have begun to speculate that the bull run in crude oil prices has reached bubble-like proportions. Some folks are saying that "speculators" have driven the price of crude to unsustainable levels and a painful correction is just around the corner.
There's one sub-sector of the energy industry that would actually benefit big time from such an oil correction: Refiners.
Since 2001, the price of a barrel of oil has risen more than 600% to a recent high of US$145. The price of unleaded gasoline however has jumped "only" 300% or so over the same time frame to a recent price of US$4 per gallon.
Stuck Between High Taxes and Refining Costs

That math just doesn't add up if you're in the refining business. Not surprisingly, the price of oil is the biggest factor that determines the price of gas. In fact, crude oil accounts for 75% of the total cost of gasoline. The other next two biggest factors (at about 10% each) are taxes, and refining expenses.
There's no way to avoid the taxes. One of the Presidential candidates proposed temporarily suspending Federal taxes on gas recently. But then someone pointed out that nobody would fix the potholes or widen the lanes on the interstate highway system if they stopped collecting gas taxes. That comment effectively silenced the idea.
So with taxes pretty much a "fixed cost" and crude prices escalating, the companies that refine oil into unleaded gasoline and diesel have been caught in a squeeze play. And it has decimated their profit margins.
In fact, profits at U.S. refinery operators plunged 98% in the first quarter because they were caught behind-the-curve on skyrocketing oil prices. Refiners have been raising prices to be sure. But they just haven't been able to hike prices for gasoline, heating oil, and jet fuel fast enough to keep up.
Keep an Eye on the Crack Spread
...to Know When Refiners are a BUY Again
As a result, refinery stocks in the S&P index have been clobbered. These stocks have sunk 40% even as oil prices set new record highs. But the key to refinery profits is what's called the crack spread.
The crack spread is the theoretical profit margin a refiner should earn from processing three barrels of crude into two barrels of refined gasoline and one of heating oil. That spread has plunged 38% over the past year. And it's taken industry profits down the drain along with it.
But crack spreads, like so many relative price relationships in financial markets, are constantly shifting from peak to valley and back again. Last year the crack spread for refiners was almost US$23, today it's just under US$14 — a big shift.
click to enlarge image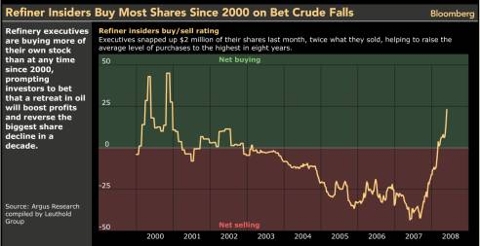 As you can imagine, this huge shift has come from crude oil's unusually strong advance. Falling crude prices however can actually be a boon to refiners. "You really want to own refiners when oil's going down, and not straight up," according to Cambridge Energy Research.
But now energy sector fortunes may be reversing. At least that's what smart-money investors, including industry insiders and hedge fund mangers, are saying.
In the last month alone, refining company executives have purchased US$2 million worth of their own shares, according to Bloomberg. That's more insider refiners buying than at any time since 2000. In fact before March of this year, insiders had been very consistent net-sellers of refining stocks — "dumping more shares than they bought every week since 2003.
"Anyone right now buying the refiners would have to be banking on a pullback in oil prices," according to one fund manager interviewed by Bloomberg.
A Lower-Risk Way to Make Money Off a Widening Crack
Buying the refinery sector right now just might be your best bet among the various energy sector plays, especially considering the "speculative" overbought state of crude oil futures at the moment.
Unfortunately, there's no ETF I know of that gives you a broad based bet on the refining sector, at least not yet. Several leading refiners including Valero Energy (NYSE:VLO) and Tesoro Corp (NYSE:TSO) are among the stocks with big recent insider buys, according to Bloomberg.
This should even make a good "pairs-trade" strategy for you. Typically a pairs-trade involves going long one stock or ETF — in this case a refiner. Meanwhile, you would sell-short another major, integrated oil firm like say, Exxon Mobil (NYSE:XOM) at the same time.
But here's a pairs-trade twist that goes long-long — perfect for retirement accounts.
Buy the ProShares UltraShort Oil & Gas (NYSEARCA:DUG), which is designed to go up in price as the overall energy sector declines. At the same time, buy your favorite refiner, and earn potential gains as the razor thin crack spread widens again.
Disclosure: none