Despite renewed optimism from the Street that the BCE Inc. (NYSE:BCE) buyout is all but a done deal following Friday's announcement that the private equity buyers led by Ontario Teachers Pension Plan had reached a financing agreement with the banks, shares in the telecom giant continued to trade at almost 8% below the C$42.75 per share offer price.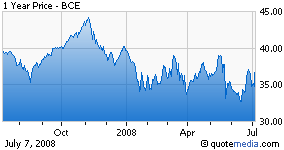 After rising almost 13% to $39.64 on Friday, BCE's stock price has actually fallen back C$0.25 to C$39.37 on Monday afternoon.  
One industry observer said the stubborn discount could be based on concerns regarding a portion of the financing required to close the C$34-billion deal.  While around C$21-billion appears to be banked in, he said about C$11-billion of the financing is currently a bridge that needs to be replaced by secured and non-secured debt sold in the market.  By extending the deadline until Dec 11, 2008, it gives the banks more time to do that, but according to the observer, it's still going to be a tough sell, given current credit markets.
The observer said:
It could still remain as a bridge, but because no one is privy to the new credit agreement between Teachers and the banks, I'm not sure what would happen if they can not raise the C$11-billion.  My guess is that the banks have to take it on, because this is a signed and sealed commitment but you never know.
The observer also noted the discount could be attributed to ongoing concerns surrounding Citigroup's (NYSE:C) future. If Citigroup – one of the banks involved in the financing – goes bust because of its subprime woes as some people have been speculating, that would leave a funding gap and a "big problem,"  the observer said.
The Street, meanwhile, appears unanimously convinced the deal will close at the original C$42.75 price. Analysts from Desjardins Securities, Canaccord Adams, Genuity Capital, Credit Suisse and Scotia Capital all have C$42.75 price target and "hold" recommendations.