I made a call on Bolt Technology (NASDAQ:BOLT) on theupdown.com 126 days ago. Since then it is up 23.46%. BOLT was one of last year's most exciting stocks. Their expertise in geophysical products is what drives their business. I believe this stock will be bought with oil exploration and production needing to be picked up dramatically over the next couple of years. Bolt also provides industrial products. Every part of their business is marine based, including but not limited too, air guns, energy source monitoring systems, underwater electrical connectors, air gun synchronizers and controllers, miniature industrial clutches, brakes and sub-fractional horsepower electrical motors.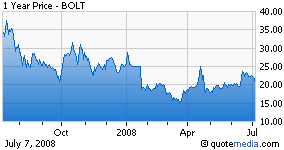 Fiscal 2007 was another great year. Revenues, operating income, net income and operating income margins were all records. The president of the company stated this was driven by growth in their air gun and other seismic techologies. This has been driven by a global move to find energy due to high commodity prices. Countries like India are now trying to find oil off of their coasts, as it has now become cost efficient to do so. I do believe that this will continue as countries scramble to get their oil infrastructure on-line and producing before the price moves back down to more reasonable levels.
There is also the situation of the big three U.S. oil majors (Exxon, Chevron, ConocoPhillips) and the possibility of the opening of some areas of the United States' offshore for drilling. I do not believe that they will open a large section of the shoreline, but look for deeper drilling farther offshore with drillships. Even though these ships will take awhile to get built and up and running, the seismic technology BOLT can provide will be needed right away.
BOLT remains a debt free company even after their acquisition of Real Time Systems. This acquisition allows BOLT to sell its products instead of buying them. They also share customers, which should help with the overall synergy within the company. Going back to my thoughts on the US offshore being opened to drilling, in August of 2007 the western Gulf of Mexico lease sale was awarded for the second largest amount in the last nine years. The deepwater bids were for all-time highs.
If we look as sales from 2005 to 2007, we will see a large amount of growth with respect to geophysical equipment. In 2005, sales were $15.551 million. In 2006, this increased to $29.393 million and last year the number was $46.929 million. The airguns that BOLT sells cost anywhere from $10,000 to $32,000 apiece while 60 to 70 can be mounted at a time per vessel. If we look at sales, this company has broad exposure to the foreign markets. In 2005, they received 48% of their sales from countries outside the US. In 2006, this number increased to 71%, while increasing to 72% last year.
BOLT competes with ION Geophysical (NYSE:IO) and Sercel Inc. With respect to IO they have outperformed. IO has been no slouch, as over the past two years they have grown a little under 100% while BOLT has grown 150%. In the short term BOLT has pulled back more, but I believe this opens up a buying opportunity. Their current technology is based on 12 patents that aren't set to expire until 2020. Be careful with this stock as it is high risk. 50% of their revenue comes from only 4 customers.
BOLT's valuation is resonable as they sell for 12.94 times earnings. This company has grown almost 135% a year for the last five. This year's current estimated growth is 32.8%. This leaves the one year PEG ratio at around 0.39. Even in a stock linked to a commodity that is moving like oil is, there are very few reasons that this stock should be selling so cheap, with this type of growth. I do believe this stock is still a buy.
Disclosure: None