One of the hottest stocks to IPO in the last 12 months is Michael Kors Holdings (NYSE:KORS). The luxury handbag maker has been quickly gaining market share from competitors and drawing the attention of investors. Shares have been bid up and currently trade at 63 times trailing 12 months earnings.
I am certainly not an expert in fashion or women's handbags. Additionally, because my wife enjoys these luxury purses and I am well aware of the cost, I have no real interest in this industry. If anything, I am intrigued by the margins luxury retailers enjoy and ultimately want to have ownership in these corporations. Certain times as investors we can be swayed to purchase a company because we like the product, not because the investment is attractively valued. I feel confident this bias has been overcome.
My purpose in writing this article is to understand whether Michael Kors products are "timely" purchases made by consumers so they can have the hottest fashion item, or the beginning of a "timeless" luxury retailer that will remain an iconic brand like Louis Vuitton (OTCPK:LVMHF), Coach (NYSE:COH), or Burberry (OTCPK:BURBY). Since this company has limited financial data available, I will highlight the potential growth opportunities that may lie ahead as well as the risks involved in ownership of this stock.
North America
For the fiscal year ended March 31, 2012, North America contributed to just under 91% of net revenue. For the next few years this geographic location will continue to drive earnings for the company and should warrant the most attention from investors. The company plans to double its store base over the current fiscal year and is gaining significant market share on rivals like Coach in the department shore channel. Looking through Coach's recent earnings release, you can see margin compression as they are being forced to offer more promotions in order to compete.
The name Michael Kors is becoming wildly popular as the company sells not only luxury handbags that range from $200-$800, but also less expensive items such as watches, jewelry, fragrances, and clothing to name a few. Consumers of every level can show off a Michael Kors purchase; the same cannot be said for other luxury retailers. Fossil (NASDAQ:FOSL) actually manufactures the watches and jewelry for Michael Kors, and while I think Fossil makes a variety of quality products, it is certainly not equal in quality to other high-end jewelers -- think Tiffany's (NYSE:TIF) or Movado (NYSE:MOV). These "lower cost" items are what leads me to believe the company could be a fashion fad and not a lasting legacy. Most high-end luxury retailers' roots began by making extremely high quality products from expensive materials -- the craftsmanship and quality then grew the company. Michael Kors appears to have its hand in all levels of products, and as the company really begins to take off they may not achieve the brand recognition they desire.
Asia and Europe
Asia is home to many tremendous growth opportunities for Michael Kors. Japan, the third largest economy in the world, is one segment worth watching over the next few quarters. Currently less than 1% of revenue comes from this country, but the 190% quarter-over-quarter revenue growth is worth noting. The Japanese are very well accustomed to luxury handbags: Rival Coach currently has 180 stores open in the country and more on the way. Below is a comment from CEO John Idol during the most recent earnings call:
Japan will be an important market for us, and we are taking a long-term view for the development of this region. As one of the largest luxury goods markets in the world, we believe that the Michael Kors brand will resonate with the Japanese fashion consumer. At the end of the first quarter, we had 19 retail locations in Japan. We are on track to open 10 locations this fiscal year, and we believe we can ultimately have 100 retail stores, including concessions, in this region.
One of the most exciting stories to discuss is China. With an emerging middle class and growing taste for Western culture, Michael Kors could really make an impact in this country. The company has seven retail stores open in China and is still in the early phases of creating and building brand awareness. Michael Kors will need to play catch-up as rival Coach has 96 locations in China and is rapidly expanding over the next few years. The race to gain market share in this region is rapidly in motion.
Given the current state of many European countries and citizens, you wouldn't think this is a bright spot to grow the brand. However, Michael Kors is seeing tremendous results: Last quarter it reported revenue of $33 million, up 110% quarter over quarter. From, again, the most recent earnings call, Idol said that in "the retail environment across Europe, overall, we have not seen an impact to our operations. We are uniquely positioned to build a pan-European accessible luxury accessory business."
Risks
I think the basic risks of Michael Kors are somewhat obvious: cyclical consumer spending behavior, changing fashion trends, high level of competition, and supply chain/inventory management, to name a few. However, there are some important points to be aware of before you become a shareholder. Hidden in the recent 20-F filing (not your typical 10-Ks and 10-Qs) are some noteworthy disclosures about the stock (emphasis added):
We are not required to comply with all of the periodic disclosure and current reporting requirements of the Exchange Act. The determination of foreign private issuer status is made annually on the last business day of an issuer's most recently completed second fiscal quarter, and, accordingly, the next determination will be made with respect to us on Sept. 29, 2012. If more than 50% of our ordinary shares are directly or indirectly held by residents of the United States on Sept. 29, 2012, we will no longer be considered a foreign private issuer. There is a significant risk that we will lose our foreign private issuer status on Sept. 29, 2012. As a result, the regulatory and compliance costs to us under U.S. securities laws as a U.S. domestic issuer could be significantly higher.

As of March 31, 2012, our Principal Shareholders collectively own approximately 35.5% of our ordinary shares. As a result, our Principal Shareholders will have the ability to significantly influence the election of our directors and the outcome of most Company actions requiring shareholder approval, including a merger with or into another company or a sale of substantially all of our assets. The interests of our Principal Shareholders may conflict with our interests or those of other shareholders.

Our corporate affairs are governed by our Memorandum and Articles of Association, the BVI Business Companies Act 2004, and the common law of the British Virgin Islands. The rights of our shareholders and the fiduciary responsibilities of our directors under British Virgin Islands law are not as clearly established as they would be under statutes or judicial precedents in some jurisdictions in the United States. In particular, the British Virgin Islands has a less developed body of securities laws as compared to the United States, and some states (such as Delaware) have more fully developed and judicially interpreted bodies of corporate law. As a result of the foregoing, holders of our ordinary shares may have more difficulty in protecting their interests through actions against our management, directors or major shareholders than they would as shareholders of a U.S. company.

Section 303A of the NYSE Exchange Listing Rules requires listed companies to have, among other things, a majority of their board members be independent and independent director oversight of executive compensation, nomination of directors and corporate governance matters. However, a "foreign private issuer" is permitted to follow its home country practice in lieu of the above requirements. We are currently a foreign private issuer, and, as such, we may follow British Virgin Islands law, the law of our home country, with respect to the foregoing requirements, which does not require that a majority of our board consist of independent directors or that we implement a nominating or corporate governance committee.
Conclusion
In my opinion, shares of Michael Kors may be a "timely" investment, but not a "timeless" investment. You can't deny the growth story this company delivers, and although the growth comes at the cost of increased risk, shareholders who purchased near the IPO date have been handsomely rewarded. Given the numerous opportunities I stated earlier, it may be wise for certain investors to begin building a position in Kors and adding to it over time as more financial information is revealed.
Investors seeking a "timeless" investment strategy should steer toward a proven company, such as Coach. Coach has established itself as a quality producer of luxury goods, and the worldwide marketplace is quickly acquiring their products. Following the recent fiscal year-end, shares are also trading at a reasonable valuation.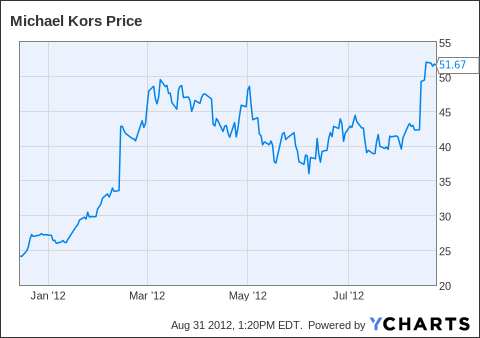 Source: All data reported and graphed is taken directly from Michael Kors SEC filings and press releases.
Disclosure: I have no positions in any stocks mentioned, and no plans to initiate any positions within the next 72 hours. I wrote this article myself, and it expresses my own opinions. I am not receiving compensation for it (other than from Seeking Alpha). I have no business relationship with any company whose stock is mentioned in this article.