Edited By Marianna Avilkina
Enbridge Inc. (NYSE:ENB) is one of the largest organizations in the business of generating, transporting, and distributing energy. With operations in both the US and Canada, Enbridge operates the world's longest crude oil and largest liquids pipeline systems. Additionally, it occupies Alberta Oil Sands, the world's third largest proven crude oil source, and distributes gas to more than 1.9 million customers. Enbridge's sources of earnings and economic growth are diversified among liquids pipelines, gas pipelines, gas distribution, and international investments. Furthermore, the company is exploring avenues for growth that would further diversify and assist its existing core enterprises.
In order to cement its place in the oil and gas market, Enbridge has been steadily diversifying and expanding its operations by tapping into clean energy and broadening its delivery network. More than $10 billion worth of projects were placed into services in 2009-2010. In addition, $30 billion in other projects are under development for the period of 2011-2020. Since 2009, and on the back of these initiatives, EPS has shown steady growth at an average rate of 16.3 percent, due to a strong, positive income stream trend.
Enbridge's financial results have largely been possible because of the respectively high oil demand from the United States, the company's biggest customer. Due to a combination of clean energy advances and financial results, Enbridge has been ranked 71st on the "2012 Global 100 list of Most Sustainable Large Corporations of the World" by Corporate Knights.
Financial Situation
In 2011, Enbridge saw significant cash flow growth as a benefit of certain infrastructure projects begun in the previous year. That same year also saw an EPS of $1.30 per share, similar to the 2010 level. However, in contrast to the previous year, 2011 saw Enbridge's operating activities generating an additional $852 million, bringing total cash increases for the year to $2.703 billion. Moreover, profits from financial activities have funded the company's ongoing growth initiatives throughout 2011 and into 2012, including capital expenditures of $2.516 billion.
Enbridge's board has increased the 2012 dividend by 15 percent, following similar increases in 2010 and 2011. One particularly notable, encouraging point for investors and shareholders is that Enbridge has never reduced its dividend during the last 60 years of being listed on the Stock Exchange. Meanwhile shareholder earnings were $991 million, or $1.32 per share, in 2011, compared to $963 million, or $1.30 share, in 2012. Keeping in mind the announced 2012 dividend increase, the expected payout for this year is near the upper end of the range. Conversely, in 2011, financial activities included the issuing of preference shares in their entirety at $926 million. That same year, revenue generated by oil and gas transportation services increased by 18.78 percent, as a direct result of the company's projected growth levels aimed at transportation services expansion, as well as increases in the scope of the liquid and natural gas businesses.
Company Stock and Dividend Profile
Enbridge's current market capitalization stands at $31.6 Billion. Companies with similar business structures within the energy industry are Magellan Midstream Partners (NYSE:MMP), Enterprise Products Partners (NYSE:EPD), Kinder Morgan (NYSE:KMI) and Transcanada Pipeline (NYSE:TRP). Compared to its peers, Enbridge ranks in the middle in terms of market capitalization.
Since 2009, Enbridge's stock value has been increasing steadily, thereby demonstrating a strong, positive trend across the United States stock market. Compared to the market data, Enbridge has a comparatively strong history, encouraging investor confidence in the company's well-being.
The figure below shows that Enbridge's stock price remains well above the main stock indices. In fact, the high-dividend yielding partnerships performed much better than the rest of the market in the last 5 years.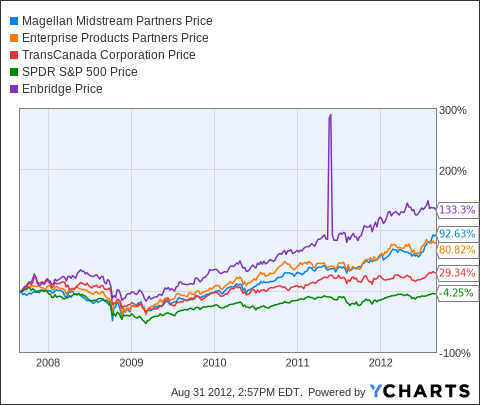 Data by YCharts
As of the time of writing, Enbridge's price-to-earnings ratio is 50.03, compared to the industry average of 28.9. The 52-week range covers from $29.73 to $42.06. Furthermore, Enbridge's Beta of 0.407 signals that the company's stock price is weakly volatile to market price changes, demonstrating that Enbridge remains a safe investment. However, lesser returns should also be expected with such low risk.
Over the past five years of dividend growth, Enbridge has had a strong dividend yield of 2.8 percent. For the past 60 years, Enbridge has been paying dividends to its investors. Moreover, since 1996, the dividend value has been constantly increasing and currently stands at $1.30 per share. Over the last three years, the dividend value has grown by approximately 15 percent per year.
TheStreet Ratings Agency ranked Enbridge's stock as "Hold." However, Zacks average brokerage recommendation is "Moderate Buy," so there is still reason to consider an Enbridge purchase.
It must be mentioned, before any recommendation can be made, that over the first two quarters of 2012 Enbridge's performance has been somewhat alarming. Most notably, for the second quarter running, Enbridge exceeded expectations for revenue generation but showed a below par performance on its EPS. In the first quarter 2012, the EPS dropped to $0.35 and in the second quarter 2012 it fell to $0.01.
Present Economic Outlook
In 2010, Enbridge successfully invested $7 billion for the integration of new growth products into its existing services. Namely, this budget was aimed at the Alberta Clipper project, which received a $3.5 billion investment, making it the largest liquid pipeline project in the company's history. Also receiving $2.3 billion was the Southern Lights Pipeline project.
In the following year, Enbridge successfully restocked its project inventory by securing around $8 billion in new infrastructure projects across such businesses as Liquids Pipelines, Canadian gas midstream, Texas gathering and processing, offshore Gulf of Mexico gas processing, green energy generation, and transmission of power. Currently, Enbridge has approximately $13 billion secured in projects for the company's commercial growth, which are scheduled to come into service between 2011 and 2015.
In early 2012, the company had over $13 billion in secured projects oriented toward commercial growth; these are all expected to become operation by the end of 2015. Furthermore, to enhance its 13 percent share in US daily oil imports, Enbridge is promoting onshore exploration as well as gas projects. The strategic positioning of gas reserves provides Enbridge with access to the entirety of North America, from northeast British Columbia to areas offshore of the Gulf of Mexico. In 2011, the company established a strong position in the natural gas business on Canadian Midstream due to $1.1 billion invested in Cabin Gas Plant development, a natural gas processing facility in the prolific Horn River Basin, and a natural gas play in northeast British Columbia. However, midstream gas infrastructures in western Canada have proven to be a changeable source of gas extraction and utilization. Yet, this investment goes hand-in-hand with Enbridge's sustainable business model and comes with potential for future economic growth.
Summary
Over the past two years, Enbridge has demonstrated strong financials, but at the same time, its current indicators are manifesting a short-term drop in performance. This signals challenges to the company's current activities. Enbridge's long-term stability is expected to come from the expansion and exploration strategies planned for the next ten years. Unfortunately though, with the recent oil spill in Wisconsin, the $3.2 billion expansion plans will more likely negatively impact company performance. Ongoing legal and environmental costs will add to the company's already escalating operational costs. Currently, the company is expecting a notable decline in EPS, revenues, and share value. For these reasons, investors should exercise caution as regards Enbridge. My recommendation is to hold shares for future growth but watch for sharp movements in earnings.
Disclosure: I have no positions in any stocks mentioned, and no plans to initiate any positions within the next 72 hours. I wrote this article myself, and it expresses my own opinions. I am not receiving compensation for it (other than from Seeking Alpha). I have no business relationship with any company whose stock is mentioned in this article.