Commodity experts are focusing attention on the coffee market after heavy rains damaged crops in Brazil. Gains may be brewing for the exchange traded note iPath Coffee ETN (NYSEARCA:JO).
Coffee for December delivery traded at $1.67 per pound, while coffee delivery for July 2014 traded at $1.90 per pound, reports Trang Ho for Investor's Business Daily. This indicates a shortage in the near future.
The iPath Pure Beta Coffee ETN (NYSEARCA:CAFE) is another exchange traded note that follows coffee futures.
"The rally Monday was mainly driven by short covering due to fears Hurricane Isaac would disrupt shipments from South and Central America into New Orleans, the earthquake in El Salvador and traders closing out positions ahead of the Federal Reserve's scheduled speech Friday," Jack Scoville, vice president of the PRICE Futures Group said.
Some analysts are expecting coffee to reach $2.50 per pound over the next year, and up to $4 per pound over the next two years.
Brazil accounts for one-third of the globe's coffee supply, and the recent damage to the Arabica crops will cut the country's production by 10 million, to 45 million bags next year, reports Ho.
The biggest risk to an investment in a commodity such as coffee is a recessionary climate. This would weaken demand. JO has slumped 30% year to date and 45% in the past 12 months. JO trades below both its 50- and 200-day moving averages, which is very bearish, reports Ho.
"Also, the likelihood of El Nino-reduced Robusta crops in Vietnam and Indonesia next year will further exacerbate this impending supply squeeze," Shawn Hackett, president of Hackett Financial Advisors wrote. Commercial traders - the so-called smart money - have loaded up on coffee contracts. Hackett says he hasn't seen them this bullish since 2003 and 2008.
iPath Dow Jones UBS Coffee Subindex Total Return SM Index ETN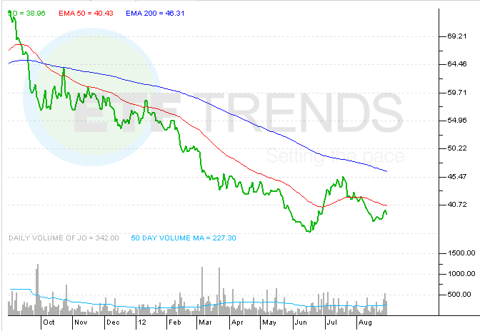 Click to enlarge
Tisha Guerrero contributed to this article.
Disclosure: I have no positions in any stocks mentioned, and no plans to initiate any positions within the next 72 hours. I wrote this article myself, and it expresses my own opinions. I am not receiving compensation for it. I have no business relationship with any company whose stock is mentioned in this article.