It's one of those things that make you go "hmmmm..." Sirius XM (NASDAQ:SIRI) has seen its share price virtually stagnate just north of $2.50 due in large part to Liberty Media's (LMCA) purchases of shares in its pursuit of de jure control. The recent buying prices have all been averaged at around $2.50 per share when you consider their purchases as listed on this website here.
Consider the chart for the past week and the volume of shares traded compared with the amount Liberty has acquired. It's quite clear that Liberty is buying anything over that $2.50 strike price that passes through as a sale. Retail, institutions, short sellers - if you're selling the bid, Liberty is buying.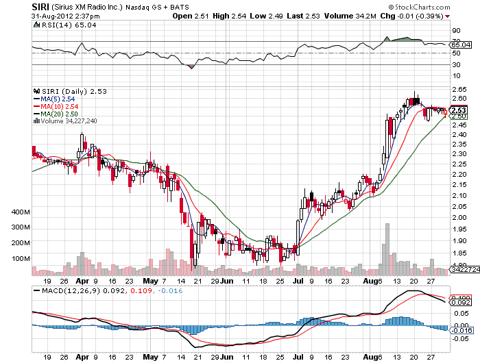 Even the 5, 10 and 20 day moving averages have now converged at the $2.50 level.
So this begs the question, why? It appeared that shares were due for a correction just two short weeks ago from the rapid rise that ensued after Sirius XM's Q2 conference call. Left untouched and to the ways of the market, the share price would likely have corrected right down to the low $2.30s. So why did Liberty not wait for a correction to lower levels before buying again?
I think the answer may lie within one or more of the following ideas, and I think these ideas are important for investors to consider moving forward.
First and foremost, the more shares Liberty has secured, the fewer it needs to purchase. Because of this Liberty most likely would be willing to pay higher prices for the last few shares that it needs. Think about it. If you need 750 million shares of something, each penny more that you have to pay is an additional $7.5 million out of pocket. Thus another 25 cents per share costs you another $187.5 million. That's not a small sum of money. But let's say you have already secured 600 million shares and only need another 150 million. Paying 25 cents per share more only costs you another $37.5 million. Need only 50 million shares? Reduce that to $12.5 million.
Second, consider if you own a large stake in a company. Let's say you own nearly 49% like Liberty owns in Sirius XM. If you are looking to buy that final 1% to reach a point of control, you are likely more concerned about the future value of your 49% stake than the cost of the 1% you are buying. In Liberty's case, every penny in Sirius XM that goes up, the value of Liberty's stake increases by not $1 million, but rather by roughly $31.5 million. 25 cents worth of increase for Sirius XM now results in an increase in the value of Liberty Media's stake of $787.5 million. As you can see, paying an extra $12.5 or even $37.5 million in order to preserve the value of your present holdings makes quite a bit of sense.
And I think that is exactly why Liberty has been buying at current prices. It is preserving the value of its underlying stake and in doing so it is allowing consolidation to happen, and for the technicals of the stock to creep up to the share price. Anyone who sold? Liberty now has your shares, and it isn't selling. Anyone who attempted to trade? Liberty now has your shares, and it isn't selling. Shorts? Liberty now has your shares, and it isn't selling.
For the stock to drop now would require bearish sentiment, and that's highly unlikely while Liberty is still buying, and while Sirius XM is performing as well as the company outlined in its Q2 call. Rather than allow the share price to drift lower to the $2.30's, Liberty preserved the price here north of $2.50. In doing so, it preserved the value of its stake, and it acquired nearly all of the shares needed to reach a stone's throw away from that coveted de jure control designation.
There's another thought to consider here. Many have argued that Liberty will receive a return on its investment after it performs a reverse Morris trust with its shares of Sirius XM. The suggestion? That the shares Sirius XM buys back will come first from the Liberty Media pool, and not the open market. It's a likely scenario, and what is in Liberty's best interest if and when this happens? A higher share price. They'd likely prefer the share price to be as high as possible when this happens. I believe throwing a bit of extra money in now, and bolstering that price, will pay off for Liberty in spades down the road.
Why are these important thoughts for investors to consider? Because I don't think there will be much of a decrease in share price or opportunities for a much lower entry point. The name of the game will be share price stagnation, or share price appreciation going forward. If I were Liberty, at this point I'd much prefer share price appreciation, and because of that I might be willing to pay another 25 cents, or even 50 cents per share, for the last lot of shares I needed.
While I invest in Sirius XM because I believe in the company and feel that Sirius XM is doing well, I can't ignore Liberty Media and what will likely be best for Liberty. Because of this, I expect the share price may very well move up to $2.75, or even $3, suddenly and soon. If you've fallen asleep with the last week of consolidation, wake up!
Enjoy your Labor Day weekend. Things could get interesting starting on Tuesday.
Disclosure: I am long SIRI, LMCA. I wrote this article myself, and it expresses my own opinions. I am not receiving compensation for it (other than from Seeking Alpha). I have no business relationship with any company whose stock is mentioned in this article.