With the explosion in the popularity and significance of smartphones and mobile computing overall, patent litigation in the intellectual property space has become a large business. Companies such as Apple are trying to dominate the market by asserting their patents against their competitors. We designate these companies as "giants". In addition there are companies whose sole purpose is to control, license and enforce patents. These companies at one time may have had inventions of their own or have acquired control of patents. These companies we designate as "trolls".
Here is a graphic description of patent suits from the phonearena.com website in January 2012 shown below: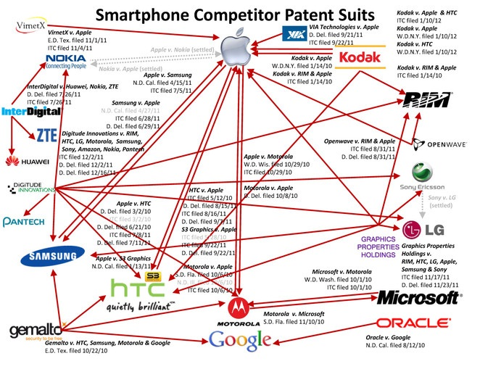 As you can see, the litigation landscape is already complex and will only continue to grow in complexity as the size of the smartphone/tablet business continues its rapid expansion. With the recent Apple (AAPL) patent win in the "Superbowl of patent litigation" for a cool $1.05 Billion, Samsung (SSNLF.PK) needs some shark repellent much like Google needed when it bought Motorola and when Microsoft (MSFT) bought the AOL patent portfolio and sub-licensed a portion to Facebook (NASDAQ:FB). Microsoft has licensed the Apple portfolio and should be happy with its decision. Has Apple become the newest flavor of a patent troll ? Samsung certainly thinks so as you can see from their "internal memo" regarding the loss with Apple and they go as far as saying they will be vindicated.
While some analysts, like Mark Newman at Bersnstein, remain bullish on Samsung, we believe that Samsung should look to acquire a "troll" such as Interdigital (NASDAQ:IDCC) which is currently just above $33 per share and well below its 52 week high of $72.83. IDCC recently sold 1700 patents to Intel (INTC) for $375 million in cash. As of the end of 6/30/12 Qtr, IDCC had current assets of $622 million with liabilities excluding long term charges of approximately $200 million, leaving a net cash position of $422 million on a relatively clean balance sheet. Adding the $375 million from the sale to Intel, IDCC's cash before taxes would total $797 million, which is more than half of its current market cap of $1.4 billion. Considering just the cash and the 17,800 patents remaining in IDCC's portfolio, strategic purchasers such as Samsung or Google should view IDCC as a bargain at its current low price.
In fact, IDCC may want to beef up its position in the "troll" space. Recently, Vringo (VRNG) acquired patents from Nokia and attracted Mark Cuban as an investor as well. VRNG has an ongoing patent case with Google and recently won a favorable ruling in a key Markman hearing. Favorable Markman rulings in patent litigation have become much harder since the KSR Supreme Court decision on April 30th 2007 which drastically changed the rules of patent litigation.
Vringo is a pipsqueak in the patent land of giants but could become large quickly with a win against Google or the other co-defendants in the patent lawsuit : AOL (NYSE:AOL), IAC/InterActive Corp. (IACI), Target Corporation (NYSE:TGT), and Gannett Co (NYSE:GCI). An award in this case could certainly be larger than Apple's $1 billion win given the focus of the case on the search/advertising business model which is at the heart of giant Google's revenue stream.
Disclosure: I have no positions in any stocks mentioned, but may initiate a long position in VRNG over the next 72 hours. I wrote this article myself, and it expresses my own opinions. I am not receiving compensation for it (other than from Seeking Alpha). I have no business relationship with any company whose stock is mentioned in this article.
Additional disclosure: As the new quarter begins,we are looking at possible Long positions in VRNG and IDCC.