InterDigital, the King of Prussia-based wireless company, saw its shares jump by about 5% last week when the S&P and NASDAQ were down by around 2%. The reason for this optimism was the news that InterDigital (NASDAQ:IDCC) and Nokia (NYSE:NOK) have agreed to end two legal proceedings in the U.K.

In July 2005, Nokia asked a London High Court declare InterDigital's intellectual property as non-essential to UMTS (3G standard encompassing WCDMA and HSDPA). InterDigital, in turn, filed a suit against Nokia in December 2006. The companies recently decided to drop these lawsuits. The terms of the agreement are unknown. Besides, the companies continue to be at loggerheads in front of the ITC in the U.S. While this settlement does not reflect a sudden friendliness or alliance between the two warring companies, it is certainly a good sign for both parties.

For Nokia, it means lesser distractions from its focus of retaining and growing its mobile market share and its fight to match new niche players like Apple (NASDAQ:AAPL). For InterDigital, ending the U.K. disputes quickly was becoming important. Its legal disputes with tier-one handset vendors were dragging their feet, and pulling down the company's intrinsic value with them.

I also see the amicable end to the U.K. disputes as a sign of more good news to come. For both companies, this is a good data point for their ITC-related licensing negotiations. If the companies can agree on the ITC litigation as well (which I presume will revolve around the exact 'per-unit royalty' that InterDigital will then collect from Nokia's 3G phones), then the wireless IP-house will widen its 3G footprint. It will also carry this momentum forward into the ITC litigation/negotiation discussions with Samsung for more favorable results.
As I have said before, I don't doubt that IDCC has important 3G IP.  The question really is when the industry will be interested in this technology, and how much it is willing to pay. It is possible that we will know the answers to many of these questions over the next few months. Earlier coverage on InterDigital can be found here, here and here.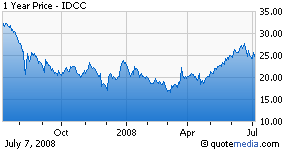 For me, and many other InterDigital investors, this week will answer some other questions to bring more good news. This Friday, I will watch out for the many 3G iPhone teardowns that will follow its worldwide release. If my analysis is right, we will see InterDigital's 3G protocol stack inside the new iPhone. IDCC is guaranteed per-unit royalty from Infineon for each of its 3G chipset sold. I will let you guesstimate what it means to InterDigital's revenue for the next few quarters!
Disclosure: Long IDCC at the time of writing.
[Disclaimer: All thoughts expressed by Vijay Nagarajan in his articles are his and do not necessarily reflect those of either Atheros Communications or TensorComm Inc.]