Color me impressed.
Nokia's (NYSE:NOK) new Windows 8 models were leaked on Twitter this morning. The account belongs to a historically dependable source for impending mobile releases, and no one seems to be questioning its authenticity.
The Nokia Lumia 920 and 820 line look like little handheld advertising billboards for Windows (NASDAQ:MSFT) Phone 8. I don't know what I like better: The screens or the multi-colored cases. The selection of lipstick red, yellow, purple and cyan brings back memories of the multicolored, Jolly Rancher-like iMac release. Apple (NASDAQ:AAPL) co-founder Steve Wozniak caused a brief firestorm back in April, when he praised Windows Phone as "feeling like a friend and not a tool." And that was the Nokia Lumia 900 running Windows 7.5 "Mango."
The Lumia 920 ("Phi")
A Nokia executive confirmed that the company was working on a smartphone with the exact same footprint as the Lumia 900, but with a larger 4.5-inch display. Originally code-named "Phi," the smartphone has also been rumored to include a dual-core processor, expandable storage, NFC and 4G LTE connectivity. Based on previous reports, the Lumia 920 will exclusively run on AT&T's (NYSE:T) network.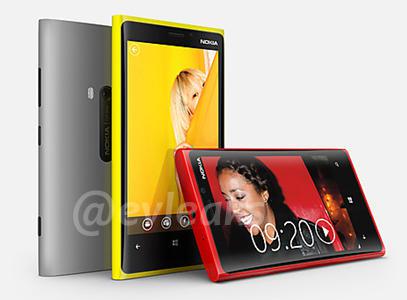 The Lumia 820 ("Arrow")
The second image appears to be the mid-range Lumia 820 (code name: "Arrow"), which is equipped with a 4.3-inch display and Carl Zeiss camera lens. Nokia is scheduled to hold a press event with Microsoft in New York on September 5.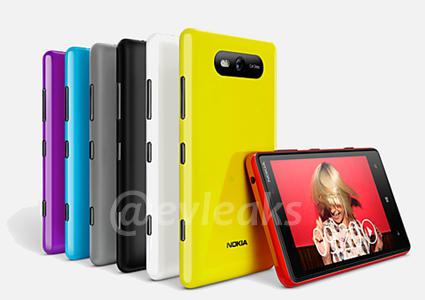 Carriers Line Up
In the United States, AT&T and T-Mobile have been fans of the Lumia, due to the Microsoft's lower platform subsidies. Apple charges carriers more for its phones than Google (NASDAQ:GOOG) or Microsoft, though the phones are sold at similar prices across all three platforms.
During the latest earnings call, Nokia CEO Stephen Elop shared that the company had sold 4 million Lumia 900 handsets -- double Nokia's Q1 sales. But now Verizon (NYSE:VZ) looks to be stepping up to the plate.
According to Michael Soper of Technology Business Research:
Verizon stated that it would like to promote WP8 similar to how it promoted Android in 2009. Additionally, AT&T, T-Mobile USA and U.S. Cellular voiced support for the platform, and Leap Wireless was having discussions with Microsoft about prepaid WP8 devices. If consumers respond positively to the platform, Sprint, too, will get behind it.
Neil Shah, Senior Analyst at Strategy Analytics, said:
We estimate Nokia shipped 6.9 million Lumia smartphones with the Microsoft Windows Phone operating system cumulatively worldwide during the first three quarters after commercial launch, from Q4 2011 to Q2 2012. This compares with 3.7 million units of the rival Apple iPhone family in its first three quarters during 2007, and 1.3 million units for the Samsung Android family in its first three quarters during 2009.
Not a shabby start for the Nokia/Microsoft partnership.
Both Oppenheimer and Avian have recently upgraded their forecasts for the company due to the Windows 8 release, from Underperform to Perform and Neutral to Positive, respectively.
Bottom Line
With the company's stock trading well below its book value, a new product line, attractive dividend yield, and massive patent portfolio (Nokia's 30,000 patents alone are worth between $5-13 billion), Nokia is, at the very least, a compelling asset play. The downside is limited, and the upside is many multiples of it.
Disclosure: I am long YHOO, AAPL, S. I wrote this article myself, and it expresses my own opinions. I am not receiving compensation for it (other than from Seeking Alpha). I have no business relationship with any company whose stock is mentioned in this article.