On September 7, lululemon athletica inc. (NASDAQ:LULU) reports 2Q12 results. The Street expects:
Revenue: $286 million
EPS: $0.31
Q3 revenue guide: $304 million
In Q1, LULU delivered an impressive quarter in which revenue grew 53% y/y to $285.7 million. Most notably, ecommerce is gaining momentum, with its revenue growing 179% y/y to $38.4 million; this could lead to margin expansion as online sales further ramp up.
Click to enlarge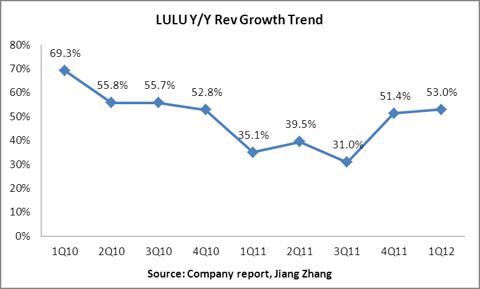 Comp sales continued to show resiliency, despite macro weakness, and were up 25% on a constant dollar basis.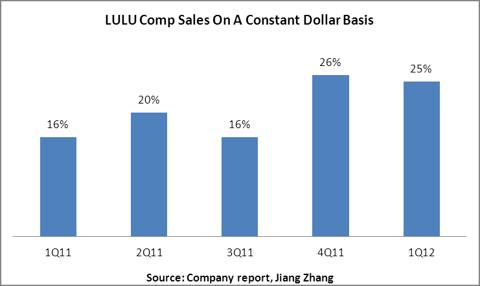 In my view, management's Q2 outlook of low double-digit comps, $273-$278 million in sales, and $0.28-0.30 per share is a bit conservative, given LULU's strong comp momentum and inventory positioning.
At the William Blair's Growth Stock Conference, CEO Christine Day and CFO John Currie gave investors some color on the company's strategy going forward.
Innovation will be a key growth driver for LULU, as it continues to attract consumers and fend off competition. In 2012, LULU continues to expand merchandise capsules to eight compared with two to three in prior years. Recall that capsules are small batches of new product categories that the company hopes to use to apply to other merchandise to roll-out on a bigger scale.
For North America, management looks to expand to 300 well-located stores in the US, compared with 112 now, and 50 in Canada, compared with 42 now, so that productivity can increase from high sales volumes.
LULU also continued to expand internationally with the recent opening of its first showroom in London right on time during Olympic Games. The company looks to open its second showroom in Hong Kong at the end of the third quarter. Showrooms are essential for LULU to test the new market, build brand awareness, and gather critical consumer data to map out international expansion.
For 2012, management is comfortable with $1.32-1.34 billion in revenue and EPS of $1.55-$1.60.
Finally, I view the recent noise over LULU's quality not a major concern, given that product returns were not significant. However, I am mindful of increasing competition from Athleta, which is invested by The Gap, Inc. (NYSE:GPS), given that Athleta prices comparable items 15%-30% lower than those of LULU. While I do not view Athleta to be a major threat in the near term, since it lacks the brand equity that LULU has, Athleta may be a long-term threat to LULU if consumers become indifferent over brand-names and focus more on price.
Disclosure: I have no positions in any stocks mentioned, and no plans to initiate any positions within the next 72 hours. I wrote this article myself, and it expresses my own opinions. I am not receiving compensation for it (other than from Seeking Alpha). I have no business relationship with any company whose stock is mentioned in this article.