ConAgra (NYSE:CAG) has lost about 33% of its value this past year in comparison to the Dow Jones Industrial Average trouncing of 20%. I had always been taught that defensive issues such as food companies actually were supposed to thrive in down markets, yet CAG shares took a beating that was 65% worst than the overall market.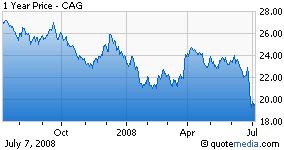 In other words, its relative strength was meager to say the least. CAG's price demise is even more absurd when you factor in its low Beta of .76 (how the shares trade in relation to the overall market)—If you do the math, CAG should have been down only 15% rather than 33% ( .76 beta x .20 DJIA loss=.15). To say the shares have been beaten down is an understatement, as they haven't been this low in 12 years.
The future: Analysts are expecting 2009 earnings of $0.98 on revenues of $12.4 billion, equating to a forward PE of 12. CAG's one year mean price target is $24. Both Davenport and Bear Sterns have bullish research opinions while Stifel Nicolaus, Prudential and Bank of America each have neutral ratings.
The numbers: CAG's cash position is only $140 million while its debt load is a hefty $4 billion, however the company expects to cut that debt significantly from future asset sales. The shares are selling at about 1.77 times book value. The dividend currently yields a respectable 3.9%. Fiscal 2007 sales were up 4.7%. This sales bump along with successful cost cutting efforts helped CAG's gross margin improve 150 basis points to 26%, positively impacting earnings by almost 47%,from $1.03 to $1.51.
Encouraging developments: CAG has recently announced the sale of its commodity trading operations unit to Ospraie Special Opportunities Fund for $2.1 billion ($1.6 billion cash and $500 million in notes). Management has highlighted that their shares represent compelling value and as a consequence, intends to utilize the Ospraie proceeds to repurchase up to $900 million of its own shares in the open market as well as pare down debt.
Insiders are buying: Insiders must smell value, as five Officers just purchased $650,000 worth of shares on 7/3/2008, at an average of $19.53 per share.
The bottom line: CAG appears to offer a superior risk-reward picture at this juncture. The company's upside potential appears greater than its downside risk. If insiders are buying, that's a good sign as these folks have more knowledge of the company's prospects than anyone. Follow the smart money, follow the insiders.
Disclosure: Long