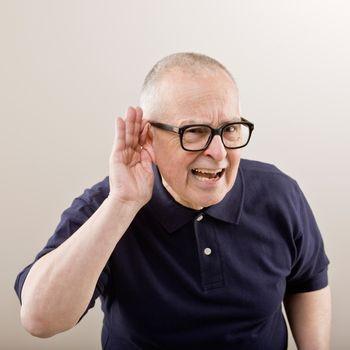 I hear that from my wife all of the time. She can call it selective hearing, but I don't really listen to much of anything other than what most people think of as "background" noise.
I have CNBC on all day and, although I may not always appear to be listening to the untrained eye behind that hidden web cam, osmosis is a powerful process.
It was enlightening to learn that the market's initial reaction to the release of Ben Bernanke's Jackson Hole speech was related to an algorithm that assigns weights to words and the frequency of their occurrence. That initial response was then replaced by a very different initial response once real people, with real eyeballs and inferior computing processes actually read the transcript.
The market then skyrocketed based upon the interpretation of the words that were ostensibly contained near the closing paragraphs of the speech.
I listened, I read, I even used my selective recall derived from my selective hearing and didn't really sense that there was much new that was being said.
On Thursday (August 30, 2012), the market closed on its triple digit lows over fear of what the speech would contain. Yet when I awoke on Friday morning, the futures had erased that entire loss without the basis to have changed opinion.
No wonder people are crazed. No wonder you need insurance. No wonder it's not worth listening. Most of all, it's not worth believing everything you hear and then predicating either fear or invincibility based on anyone's guess.
Interestingly, as I pointed out just last week that the market waits a day to react to the release of FOMC minutes. Today, CNBC reported that after Bernanke's speeches, the market reacts immediately. It certainly did today and it certainly did in the precious metals market.
Having long time positions in ProShares UltraShort Silver (NYSEARCA:ZSL) and now deep in the money ProShares Ultra Silver (NYSEARCA:AGQ), I was a little distressed to have seen some decoupling in the ETF from both the metals and USD/Euro.
There was actually a day last week that silver price was down quite significantly, yet AGQ rose and ZSL went down. That's not supposed to happen. The usual relationship between a strengthening dollar and weakening metals was also missing in action for a number of days.
I may not listen very closely, but I do observe, and this sequence of events last occurred precisely 6 months ago and took about a month to get back to normal. In the meantime, what is meant as a protective hedge is acting more like a drain. Fortunately, every talking head is seeing continuing soaring prices in precious metals. At least that offers some solace for those on the short side.
In the meantime, despite a strong close to the week, the S&P 500 was still down and the EU saga will soon begin anew.
The past week was one that wasn't overly kind to heavy objects, like equipment, although it was kind to those heavy precious metals and especially those extra heavy rare earths, all but two of which are heavier than gold and silver.
Just as there really didn't appear to be much surprise in Bernanke's text, I'm not quite certain why suggestions of a slowdown in China should have caused smart money to flee the heavy stuff. We've been hearing of slowdowns in the People's Republic since the day the 2008 Beijing Olympic Games concluded. Besides having had plenty of time to get used to that concept and despite the fact that Chinese official economic statistics are always of questionable credibility, the reaction was marked.
This week's selections have little in the way of theme, perhaps reflecting the theme-less market of late. As usual, potential selections are divided in Traditional, Momentum and Double Dip Dividend categories. (See details)
Last week, two of the three of my Evil Troika stocks made the list, but only Halliburton (NYSE:HAL) made the cut when it came time to send subscriber alerts. In hindsight, BP (NYSE:BP) should not have been left by the wayside, as it finished the week right where it started, which is the covered call writer's ultimate fantasy.
While BP was languishing and waiting for the call that never came, its cousin Transocean (NYSE:RIG), the third of the Troika, was purchased. It wasn't part of the script and only briefly showed the weakness that having sold $47 calls would have predicted was in store. At the moment, that seems like an unnecessarily cautious decision.
At some point, the fear of heavy objects has to end and this week seems to be as good as any. Besides, BHP Billiton (NYSE:BHP) goes ex-dividend on September 5th and since Australia doesn't celebrate our Labor Day, it has no problem releasing earnings on Monday. At least that gets that potential confounder out of the way and one extra day for the love affair to begin anew.
I suppose that if I really wanted to find a theme, Praxair (NYSE:PX) would be the antithesis of anything heavy. Obviously, even the industrial gas business has to be sensitive to economic booms and busts, but Praxair has traded in a very narrow range of late and it too goes ex-dividend this coming week.
Although I don't look at charts very often, Stanley Black & Decker (NYSE:SWK) is approaching its 50 Day Moving Average from above and is near the bottom Bollinger Band. I tend to like that combination, and guess what? It goes ex-dividend along with Praxair and BHP Billiton.
Finally, among the Traditional stocks this week is Dow Chemical (NYSE:DOW). Again.
I'm not certain why I keep listing it. It seems to be a more reliably bought stock when trading in the $29-30 range and selecting the strike that is closest to its purchase price. While my $32 shares are languishing, the $29 and $30 purchases have performed as expected, including spinning off dividends, premiums and occasionally being assigned. I especially like it when the shares are assigned, as long as I can buy them back soon afterward in a nearby range.
After having had some bad recent experiences on the Momentum side of things, especially with Facebook (NASDAQ:FB) and silver, I have some trepidation, but Coach (NYSE:COH), which is an existing holding and goes ex-dividend this week, continues to look so good that I would consider chasing its price a bit and even selling the out of the money September strike. I don't do that very often, unless I'm convinced that the overall market is headed higher.
I don't have that sense for the market as a whole, but I may be willing to average up in this case.
This week all of the Double Dip Dividend selections would have made the list without benefit of the dividend lure. Perhaps this week's theme might just be "take the dividend and try to run."
Traditional Stocks: BHP Billiton, British Petroleum, Dow Chemical, Praxair, Stanley Black & Decker
Momentum Stocks: Coach
Double Dip Dividend: BHP Billiton (9/5), Coach (9/6), Praxair (9/5), Stanley Black & Decker (9/5)
Remember, these are just guidelines for the coming week. Subscribers will get Trading Alerts if these appear to be reasonable actions, as trading begins next week. If you're on your own, please adjust accordingly with market movement and you'll have the makings of a healthy income stream for the week with reduced risk.
Disclosure: I am long AGQ, ZSL, DOW, COH, HAL, RIG and may initiate positions in BHP, PX, SWK and BP. I wrote this article myself, and it expresses my own opinions. I am not receiving compensation for it (other than from Seeking Alpha). I have no business relationship with any company whose stock is mentioned in this article.