BP p.l.c. (NYSE:BP) has been struggling because of many issues, but especially those pertaining to the 2010 Macando Spill - an incident I think most of us are well aware of. But despite this looming black cloud, I still decided to purchase calls on August 6. At that time, technical support, as I will soon summarize, trumped any fundamental weakness in the company, or so I thought.
Technical Analysis: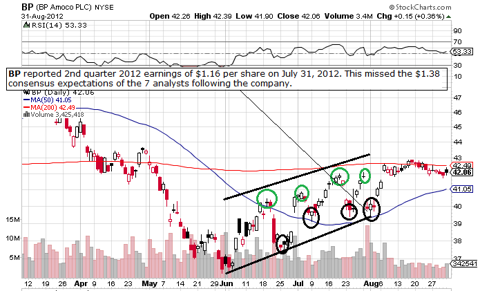 I identified a clearly defined upward trend originating in June and continuing through all of July. I noticed 4 higher highs (green circles), and 4 higher lows (black circles). The fourth higher low, which was the successful test resulting from the disappointing earnings report on July 31, was the ultimate confirmation I needed on this chart. I then checked the longer-term chart:
Click to enlarge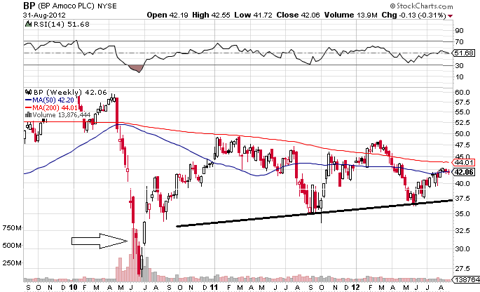 We can clearly see the vicious onslaught resulting from the 2010 spill. What impressed me though was how the May 2012 pullback finished higher than the one in October 2011. Also, the June-July rally looked significant, even on a three-year chart. At this point, I saw no reason why the trend wouldn't continue technically.
Possible Negative Events?
Even though I was sold on the technicals, as always I thoroughly investigated BP's calendar- I found no evidence of a court ruling or any other similar possibly detrimental announcement due in the near-term. Also, the earnings report on July 31, a volatile event, was in the rear-view mirror. So after checking for possible negative catalysts or events, the coast was clear.
Buy
On August 6, I bought the January 2014 Calls at the 45 strike in which I paid 2.68 in premium per contract. With time decay basically not a factor on these leaps expiring in over a year, this was a lower risk contract to use as a substitute for getting long the stock. Buying calls is very similar to buying stock in that you can participate to the upside; however, less capital is required to make profits.
Sell
As you can see in the chart, BP has stalled at $42.50 or so, and I have since sold the position - luckily for a handsome 20% profit. This trade based on technical trends was perhaps overwhelmed by the fundamental influences of: Hurricane Isaac pausing BP's large share of gulf production, or possibly the recent BP gasoline recall debacle.
Summary:
Technicals can be used as effective indicators of when to buy and sell, but fundamentals and adverse events are factors clearly just as important, and should not be underestimated.
Disclosure: I am long BP. I wrote this article myself, and it expresses my own opinions. I am not receiving compensation for it (other than from Seeking Alpha). I have no business relationship with any company whose stock is mentioned in this article.