As more and more varieties of bond ETFs are coming to market, investors now have many choices to form good and diversified fixed income portfolios. These portfolios can be used for income generation purpose or as a part of the overall investment portfolio.
It is well known that momentum exists in stocks and multiple major asset classes. It is less known and practiced in fixed income or bond investing, partly due to the reason that investors have not had instruments to gain exposure to various bond segments (or assets). In a recent research paper titled 'Hot Hands' in Bond Funds by Derwall, Jeroen and Huij, Joop, it is shown that investing based on past performance momentum in bond funds could earn statistically significant returns.
We have maintained a momentum portfolio live since 2010. The portfolio has the following bond ETFs as candidate funds:
| | | |
| --- | --- | --- |
| TIP | iShares Barclays TIPS Bond | |
| MBB | iShares Barclays MBS Bond | |
| SHY | iShares Barclays 1-3 Year Treasury Bond | |
| IEI | iShares Barclays 3-7 Year Treasury Bond | |
| TLT | iShares Barclays 20+ Year Treas Bond | |
| BSV | Vanguard Short-Term Bond ETF | |
| BND | Vanguard Total Bond Market ETF | |
| BOND | PIMCO Total Return ETF | |
| BLV | Vanguard Long-Term Bond Index ETF | |
| CSJ | iShares Barclays 1-3 Year Credit Bond | |
| CFT | iShares Barclays Credit Bond | |
| CIU | iShares Barclays Intermediate Credit Bd | |
| LQD | iShares iBoxx $ Invest Grade Corp Bond | |
| JNK | SPDR Barclays Capital High Yield Bond | |
| PCY | PowerShares Emerging Mkts Sovereign Debt | |
| BWX | SPDR Barclays Capital Intl Treasury Bond | |
| WIP | SPDR DB Intl Govt Infl-Protected Bond | |
| LTPZ | PIMCO 15+ Year US TIPS Index ETF | |
Notice some of ETFs were added along the time. For example, PIMCO Total Return Bond ETF was added several months ago when it was available.
The list was carefully constructed so that each fund represents a unique asset class. The portfolio employs a momentum strategy that ranks the candidate funds based on the average of the last 1, 3, 6, 12 month total return (dividend and distribution reinvested). Only the top two funds are chosen each month and equally weighted in the portfolio. Notice cash is always used as a substitute when one or two of the top two funds are not doing well.
The following shows the back tested and live (since 2010) performance of the portfolio, compared with two other well known bond mutual funds;
Portfolio Performance Comparison (as of 8/31/2012)
*: NOT annualized
**YTD: Year to Date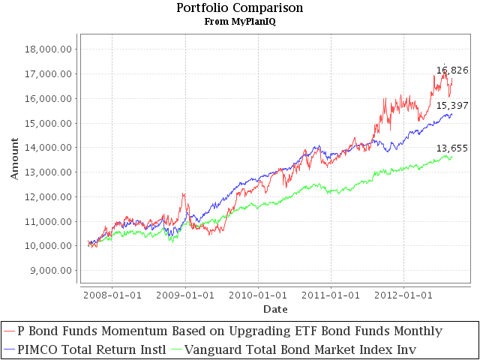 It should be noted that the performance of P Bond Funds Momentum Based on Upgrading ETF Bond Funds Monthly before 2007 is not very meaningful as many of those ETFs were not available before that.
The portfolio's performance is stellar, especially in the past 1, 3, 5 years. See this link for the latest and year by year detailed performance comparison since 2003.
We also point out that the portfolio has much higher volatility than normal bond funds, this is partly due to the volatile nature of bond ETFs, as well as concentrated positions (only two ETFs were chosen).
As of today, the portfolio has a rebalance that calls for exposure in emerging market bonds and long-term Treasury bonds. Given the bubbling state of bond prices, this portfolio is positioned in the risky extreme (both emerging market bonds and long-term bonds are very sensitive to credit, interest rate and geopolitical risks).
It is encouraging to see that investors now have many fixed income instruments at their disposal. A systematic strategy like the momentum strategy used in this portfolio is one of them that investors can explore and monitor to improve their investments in fixed income.
Disclosure: I am long BOND, TLT, BND. I wrote this article myself, and it expresses my own opinions. I am not receiving compensation for it (other than from Seeking Alpha). I have no business relationship with any company whose stock is mentioned in this article.