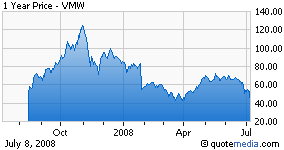 In a shocking development, VMware (NYSE:VMW) Tuesday morning announced that the company's board has ousted co-founder Diane Greene as president and CEO, handing the posts to Paul Maritz, who had been running the cloud computing division at VMware parent EMC (EMC). Maritz previously spent 14 years at Microsoft (NASDAQ:MSFT).
The company did not give a reason for the management change.
VMware also said that 2008 revenue will be "modestly below" its previous guidance of 50% growth over 2007.
VMW Tuesday morning was down $12.39, or 23.3%, to $40.80; EMC is off $1.29, or 8.5%, to $13.85.