The verbal analysis of financial statements, specifically the use of word counts, can provide useful insights not available by more conventional means. This article examines the use of the word "believe" in the financial statements of banks. The findings: some banks have a far more extensive belief system than others. Bank of America (NYSE:BAC) stands out like a sore thumb.
Statistical Analysis
The following table was developed by applying word counts to the most recent 10-Q for the big five Wall Street banks, as well as five large regional banks.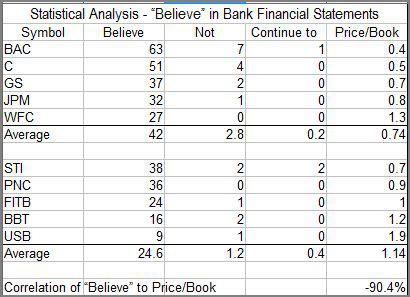 "Believe" includes all occurrences of the word, to include "believes". "Not" and "Continue to" reference belief phrases.
This metric allows us to assess the importance of management's belief system to the accuracy of the financial statements, and to investors' confidence in the numerical implications of the resulting product.
Notice the symmetry: Citigroup (NYSE:C), Goldman Sachs (NYSE:GS), JPMorgan (NYSE:JPM) and Wells Fargo (NYSE:WFC) display progressively higher price/book ratios, and progressively lower "believe" counts. The strong negative correlation speaks to the point: the more management asks investors to believe, the less they believe it. Oh ye of little faith!
Looking beyond the big five, the same pattern holds true among large regional banks. Investors would do well to check out SunTrust Banks (NYSE:STI), to see what it is that management believes, but the market questions.
Bank of America
After developing the above table, the going gets tougher. What is it that BAC management believes that is so suspect? Is it possible to compare their beliefs to objective criteria of reality? Here are some beliefs, again from the 10-Q:
We continue to believe that our interpretation of the governing contracts is consistent with past practices between the parties and our contractual obligations. For further discussion of our experience with the GSEs...

We do not believe that the $3.1 billion in demands received are valid repurchase claims, and therefore it is not possible to predict the resolution with respect to such demands.

We have informed FNMA that we do not believe that the new policy is valid under our contracts with FNMA, and that we do not intend to repurchase loans under the terms set forth in the new policy.

We believe that the provisions recorded in connection with the BNY Mellon Settlement and the additional non-GSE representations and warranties provisions recorded have provided for a substantial portion of our non-GSE representations and warranties exposure.

Finally, although we believe that the representations and warranties typically given in non-GSE transactions are less rigorous and actionable than those given in GSE transactions, we do not have significant experience resolving loan-level claims in non-GSE transactions to measure the impact of these differences on the probability that a loan will be required to be repurchased.

We believe many of the defaults observed in these securitizations have been, and continue to be, driven by external factors like the substantial depreciation in home prices, persistently high unemployment and other negative economic trends, diminishing the likelihood that any loan defect (assuming one exists at all) was the cause of a loan's default.

We have performed an initial review with respect to $5.7 billion of these claims and do not believe a valid basis for repurchase has been established by the claimant and are still in the process of reviewing the remaining $2.6 billion of these claims.

The GSEs have claimed compensatory fees significantly in excess of the amounts that we believe can be claimed under the governing contracts and legal principles.

The Corporation believes that the longer a loan performs prior to default, the less likely it is that an alleged underwriting breach of representations and warranties had a material impact on the loan's performance. Historically, most demands for repurchase have occurred within the first several years after origination, generally after a loan has defaulted. However, the time horizon in which repurchase claims are typically brought has lengthened primarily due to a significant increase in GSE claims related to loans that had defaulted more than 18 months prior to the claim and to loans where the borrower made at least 25 payments.
A great many of these beliefs are suspicious, because they conflict with the beliefs of GSEs, injured parties, or courts of law. Certainly, the market is not buying into them. Brian Moynihan, in some dark moment of inner doubt, may even falter or waiver. By and large, a man believes what puts food on the table. That which puts millions of dollars in the paycheck must therefore be even more credible.
Hidden Beliefs
One is tempted to speculate as to whether there may be some unspoken and unexamined master belief, which serves as a foundation and support for the entire system. Could it be that "we," "management," and/or "the corporation" continue to believe that wins in litigation go to the party with the deepest pockets? That justice is for sale to the highest bidder? That interminable dilatory legal quibbles can permanently defer a final verdict?
MBIA Believes Otherwise
MBIA (NYSE:MBI) is involved in substantial litigation with BAC as an adversary. An examination of MBIA's 10-Q shows 49 "believes," as against a Price/Book of 0.8. The market is giving far more credence to MBIA than to BAC, based on this word count analysis.
Investment Implications
Clearly, if Moynihan's belief system stands the test of time and the ongoing test of litigation, substantial gains will be possible for those who share his faith.
I am not in that number.
Disclosure: I am long MBI. I wrote this article myself, and it expresses my own opinions. I am not receiving compensation for it (other than from Seeking Alpha). I have no business relationship with any company whose stock is mentioned in this article.