Six days ago, Apple Inc. (NASDAQ:AAPL) won a landslide victory in a San Jose courtroom against arch-rival Samsung (OTC:SSNLF). At the time, I remarked: "If Google and its Android licensees thought Apple was a threat then, just wait until the next few months. Apple's legal department is about to paper over Silicon Valley with cease and desist orders."
The view among many Wall Street analysts was more guarded. The Wall Street Journal opined about an "Apple Tax". Consumer Reports noted:
Even if the injunction is imposed, it's worth noting that the phones in question are at least a year old, making them middle-aged (if not elderly) as smart phones go.
The consensus was while this was definitely a set back for Samsung, it wasn't necessarily a mortal wound for Samsung, because the infringement charge didn't involve the flagship Galaxy S III.
Well, it does now.
Amended Complaint
According to Apple Insider, the amended complaint now includes Samsung's whole line of mobile devices:
The Galaxy S III, Galaxy S III - Verizon, Galaxy Note, Galaxy S II Skyrocket, Galaxy S II Epic 4G Touch, Galaxy S II, Galaxy S II - T-Mobile, Galaxy S II - AT&T, Galaxy Nexus, Illusion, Captivate Glide, Exhibit II 4G, Stratosphere, Transform Ultra, Admire, Conquer 4G, and Dart smartphones, the Galaxy Player 4.0 and Galaxy Player 5.0 media players, and the Galaxy Note 10.1, Galaxy Tab 7.0 Plus and Galaxy Tab 8.9 tablets.
Click to enlarge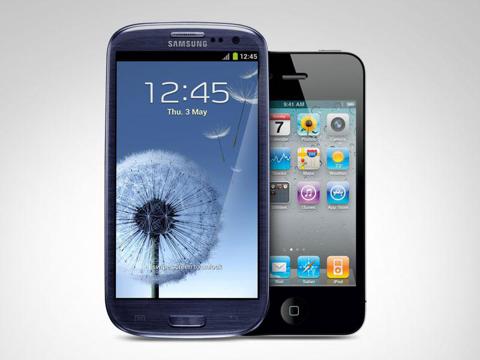 The patents involving the alleged infringement include:
U.S. Patent No. 8,074,172 - "Method, System, and Graphical User Interface for Providing Word Recommendations"
U.S. Patent No. 5,946,647 - "System and Method for Performing an Action on a Structure in Computer-Generated Data"
U.S. Patent No. 8,046,721 - "Unlocking a Device by Performing Gestures on an Unlock Image"
U.S. Patent No. 8,086,604 - "Universal Interface for Retrieval of Information in a Computer System"
Samsung Caves
The August 28th, Wall Street Journal headline, "Samsung Will Fight Efforts to Bar Sales of Smartphones" sounds like fighting words, but they're not. They're the beginning of a heroic, wholesale capitulation. The words "Samsung will fight" can actually be read in two different ways. To Western ears, WSJ's headline sounds like "bring it on!", "you'll never take me alive, coppa!" and "give me liberty, or give me death!" The implication is that Samsung will take its case all the way to the U.S. Supreme Court.
But look a little closer, and you'll discover that what Samsung really means is that it will file to block the injunction.
Failing that, the company will appeal the injunction.
Failing that, Samsung will redesign all of its mobile devices, beginning with the OS.
Conclusion
Apple is a bear-killer in this environment. The stock has broken through a key resistance level at $650, and with the release of the iPhone 5 and iPad mini just around the corner, I expect AAPL to trade in the $700-$725 range by the holidays.
Disclosure: I am long AAPL, YHOO. I wrote this article myself, and it expresses my own opinions. I am not receiving compensation for it (other than from Seeking Alpha). I have no business relationship with any company whose stock is mentioned in this article.