One of my favorite technology stocks on the market is Qualcomm (NASDAQ:QCOM). I have been bullish on the stock for a while, and even wrote a piece about my stance on the stock back in June. Since then, the company's shares have risen a healthy 12% as of the most recent closing price. In this article, I want to follow up my previous article with a more rigorous fundamental analysis coupled with commentary on a number of recent, key developments.
Recent Developments
A number of interesting developments have happened with Qualcomm since my last article. First and foremost, Taiwan Semiconductor Manufacturing Corporation (NYSE:TSM) is allegedly seeing yields of its 28nm parts north of 80%, which should allow for more 28nm parts to be shipped to customers, including Qualcomm, whose big issue in the most recent quarter was a supply shortage of its 28nm parts.
However, the firm is apparently still hungry for capacity, as reports suggest that it recently made a $1B offer to TSMC in exchange for guaranteed capacity. The offer was rejected, but Qualcomm also recently inked deals with United Microelectronics Corporation (NYSE:UMC) and Samsung (OTC:SSNLF) for capacity, seemingly mitigating the issues that hung over the company in recent quarters.
On the product side, the firm's Snapdragon S4 is incredibly competitive, and since the company designs both its own cores and system-on-chip solutions, it has an advantage in both differentiation as well as time to market over competitors such as Nvidia (NASDAQ:NVDA) and Texas Instruments (NYSE:TXN).
On a per-core basis, it is easily the fastest smartphone CPU available, and is proving to be quite popular. Research In Motion (RIMM) is allegedly using the Snapdragon S4 in its upcoming BlackBerry 10 based phones, Nokia (NYSE:NOK) currently uses a Qualcomm chip in its Lumia and will likely continue to use Qualcomm parts, and LG is using the Snapdragon S4 Pro in an upcoming high end phone.
Qualcomm's bread and butter business, baseband chips (3G, 4G: LTE, etc.), is also doing quite well. In 2011, Qualcomm held 45% share, significantly ahead of its nearest competitor, Intel (NASDAQ:INTC), which came in at 15% of market share. The firm holds a significant number of patents in this area, and should maintain healthy performance here.
The Financials: Built Like A Fortress
Qualcomm is a very financially healthy company. The firm has $13.39B in cash and short-term investments and a mere $1.35B in long-term debt. Further, the company has been growing its cash reserves quite nicely, doubling its cash and short-term investment positions in just 3 years.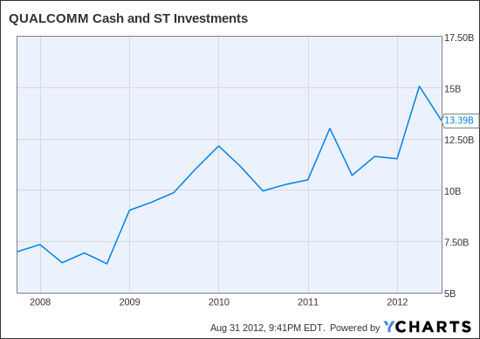 QCOM Cash and ST Investments data by YCharts
Further, lest the firm appear to be hoarding cash in order to offset stalling growth, the company's revenues and net income have actually seen quite healthy growth over the years. At the end of FY 2010, the firm reported $10.99B in revenues and $3.25B in net income ($1.96 diluted EPS). In FY 2011, these grew to $14.96B and $5.03B ($2.52 diluted EPS), representing 36% and 35% year-over-year growth, respectively.
Now, taking a look at the projected revenues and net income for FY 2012, the company is guiding for $18.7B - $19.1B in revenues and $3.61 - $3.67 in earnings per share. At the midpoint of this guidance, the guidance yields $18.9B in revenues and $3.64 diluted EPS, or 27% revenue increase and 44% diluted EPS increase.
Valuation: Stock Still Appears Cheap
One of my favorite "quick" ways to determine if a company is undervalued, overvalued, or priced just right is to take a look at the price to earnings ratios of both the company and its industry peers. Some of Qualcomm's primary competitors in its market segments are Broadcom (BRCM), Nvidia, Texas Instruments, and Marvell (NASDAQ:MRVL). Without further ado, here are some nice charts examining these metrics: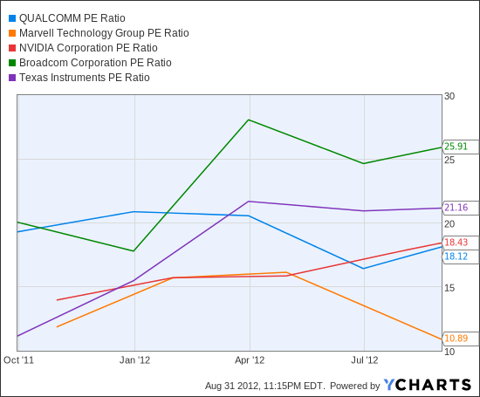 QCOM PE Ratio data by YCharts
Qualcomm's P/E seems to sit right smack dab in the middle of its peer group. However, in terms of revenue growth, Qualcomm is at the front of the pack: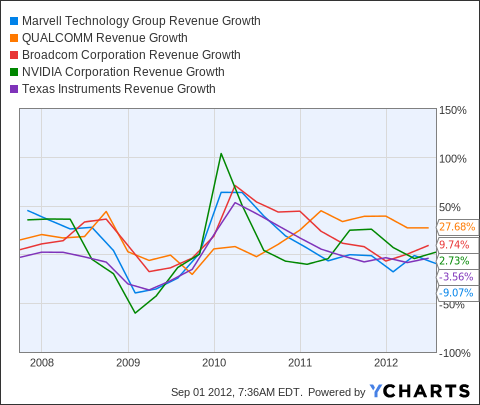 MRVL Revenue Growth data by YCharts
So it seems that the firm is still attractively valued compared to peers.
Return Of Cash To Shareholders
While Qualcomm is primarily a growth stock, the firm still buys back shares and pays a dividend. The yield is nothing to write home about; at 1.63% yield, there are certainly better yielders in the tech sector. However, the company is in "growth" mode, so this is acceptable, even if investors would love to get their hands on the $13.4B that the company has in cash.
Of note is that the company has been increasing dividends steadily, even in "growth mode":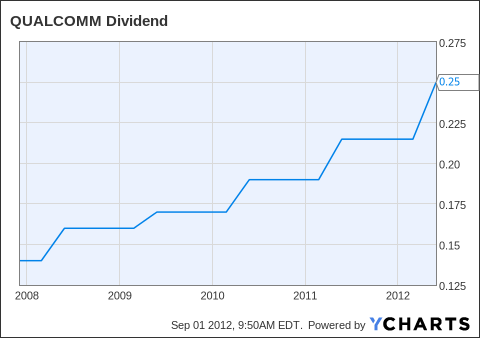 QCOM Dividend data by YCharts
More interestingly though, while the company does engage in share buybacks, the company's share count has actually risen slightly over the last 5 years.
QCOM Shares Outstanding data by YCharts
As the company is in growth mode, share buybacks as well as dividends aren't what investors should be focused on, but as the company matures and growth rate slows, these will become more pertinent to the shareholders.
Conclusion
In short, Qualcomm is very attractively valued compared to peers, especially given its commanding lead in the mobile space. With the majority of the market share in baseband chips, the quickest ARM-based (NASDAQ:ARMH) system on chip designs available on the market, and a rock-solid balance sheet, the company is an attractive long-term investment, and as the firm matures, the company will likely return more cash to shareholders by buying back shares and boosting the dividend. At the current payout ratio of 33%, and with the current double-digit earnings per share growth, there is certainly room for a more substantial dividend as the company matures going forward.
Disclosure: I am long INTC, MRVL, NVDA, and may initiate a long position in QCOM over the next 72 hours. I wrote this article myself, and it expresses my own opinions. I am not receiving compensation for it (other than from Seeking Alpha). I have no business relationship with any company whose stock is mentioned in this article.