I have been a (NASDAQ:JMBA) shareholder since day one(ish). Back in March of '06 Service Acquisition Corp., a SPAC company, announced that it was going to use the money raised from it's IPO to buy Jamba Juice. As a Southern California native I have witnessed Jamba Juice go from a small smoothie shop to a full-blown national franchise. The story was compelling, and I felt like I had gotten in on what could potentially be an exciting opportunity. Boy was I wrong.

One of the worst parts about the story is that I had been averaging down as the stock price went down. Eventually my average price per share came in at around $6.50. The problem all along has been that I have just been married to this stock and the potential for this company. I was infatuated with the idea of owning a company from the beginning and watching it grow up into a big, well known, national public company. Obviously I liked that idea more than I liked to make money, because the company has done nothing but taken advantage of our relationship.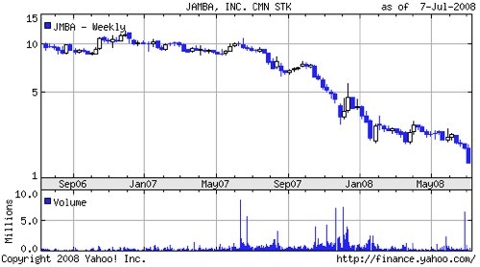 The management at JMBA has never once acknowledged the fact that the company has lost over 80% of its value over the last 2 years. They haven't done as much as to say, "We understand that our shareholders are hurting, and we have a plan to fix it." So, suffice it to say, this has been a one sided relationship, they don't give a damn about their shareholders.
JMBA has never been a large part of my portfolio. I always considered it to be a little gem that I could some day be proud to have been a part of from the beginning. But that small position has gotten a whole lot smaller, to the point where it is embarrassing to even see it in my portfolio.
Everything I have ever said about JMBA still holds true. I still believe there to be a lot of potential in their ready-to-drink line and maybe some day they will grow into a profitable company. But we will never see this as long as the people in charge act the way they do. It is sad to see this position go, but in order to be serious about my new trading strategy I can't have any skeletons in my portfolio.