I had to say goodbye to an old friend on Friday. My investment in Wal-Mart (NYSE:WMT) which I made last August has been very kind to my portfolio, providing a 40% return. However, the valuation has gotten way ahead of its earnings prospects. I had to pull the trigger as I think the stock is dead money for the next year and a half or so. I sold my stake in the world's largest retailer and used the funds to purchase Macy's (NYSE:M) which is selling at lower valuation than when I first made my Wal-Mart purchase.
Wal-Mart Stores operates retail stores in various formats worldwide. It operates retail stores, restaurants, discount stores, supermarkets, supercenters, hypermarkets, warehouse clubs, apparel stores, Sam's Clubs, and neighborhood markets, as well as walmart.com; and samsclub.com." (Business description from Yahoo Finance)
Four reasons that WMT has little upside potential from just under $73 in the near future:
The company's twelve month trailing operating cash flow is actually a bit less than what it was in FY2009 despite increasing revenues and net income.
The company has stiff competition on the low end from dollar stores like Dollar General (NYSE:DG) as well as Costco (NASDAQ:COST) for its warehouse stores. Target (NYSE:TGT) has also been a more effective competitor in the last year.
When I first bought Walmart around this time next year, it was selling at around 11 times forward earnings. It is now selling at 14 times forward earnings. Nothing has changed with Walmart's business model or the prospects for domestic and worldwide economic growth (The environment has probably gotten worse) to justify this multiple expansion. In order for the stock to offer the same attractive entry point I had last year, WMT would have to fall to around $59 a share or at the current rate of earnings growth I would have to wait approximately 18-24 months at this current stock price for the company's earnings to catch up.
Technically the stock looks like it is plateauing after a 40% run over the last year (See Chart).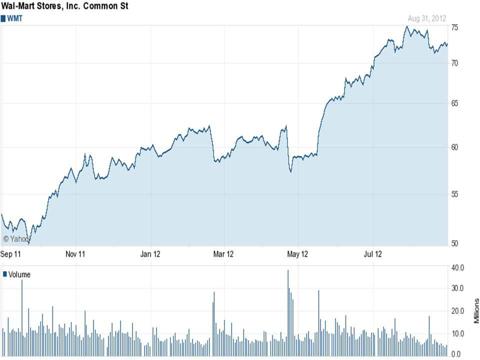 "Macy's, operates stores and Internet Websites in the United States. Its retail stores and Internet Web sites sell a range of merchandise, including apparel and accessories for men, women, and children; cosmetics; home furnishings; and other consumer goods". (Business description from Yahoo Finance)
Four reasons that Macy's offers value at $40 a share:
The company has beat earnings estimates for twelve straight quarters. The average beat over consensus has averaged 16% over the past four quarters.
Unlike Walmart, one of Macy's primary competitors JC Penney (NYSE:JCP) is going through a painful transition with a new CEO and is losing significant market share.
The stock is selling at 11 times earnings and also yields 2%. It also doubled its dividend payout earlier this year.
M is selling at 8 times operating cash flow and a five year projected PEG of under 1 (.92), compared this with Walmart's five year projected PEG (1.75).
Disclosure: I am long M. I wrote this article myself, and it expresses my own opinions. I am not receiving compensation for it (other than from Seeking Alpha). I have no business relationship with any company whose stock is mentioned in this article.