QR Energy LP (NYSE:QRE) is an oil and gas E & P company that operates as an LP. It has already gained the respect of the market with a CAPS rating of 4 stars and an average analysts' rating of 1.9 (a BUY). QRE IPO'd in December 2010 (about 1.5 years ago). Since then it has increased its dividend by 18% to $1.95 (10.94%) per year. QRE had a 3% hike in the latest quarter (QoQ). The distribution coverage ratio was a solid 1.3x for Q2 2012. QRE is riskier than some other stocks with a market cap of only $794.65 million; but it is conservative. It has its oil and gas production approximately 92% hedged for 2H 2012. Plus it is substantially hedged for the years after 2012 too.
QRE closed the $225 million Prize Petroleum acquisition on April 20, 2012. This added approximately 1,200 boe/d to daily production. This led to an increase in Q2 production to 14,505 boe/d -- a 7% increase quarter over quarter. The company recently completed a bond offering of $330 million. It hopes to use much if not all of this to acquire further properties.
The next acquisition seems likely to come from QRE's sponsor/owner (67%) -- Quantum Resources Funds. Quantum Resources Funds have approximately 5,000 boe/d of oil-weighted production properties that likely fits QRE's investment criteria. QRE and Quantum Resources Funds are tentatively planning for a drop down of some part of this production in early 2013.
The approximate makeup of the reserves is shown in the chart below.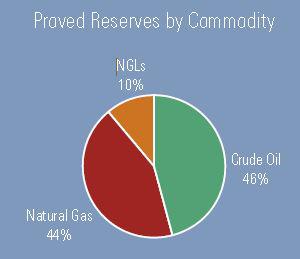 The reserves' makeup approximately reflects the production makeup. The NGL production was only about 14% of QRE total production and only 10% of revenue in Q2 2012. NGLs are unhedged because there is backwardation (future prices are cheaper than current prices) in the NGLs futures market. In many areas the bottom has fallen out of the NGLs market. Fortunately 95% of QRE's NGLs production was from the Permian and the Ark-La-Tex areas. Only 5% was from the Mid-Continent area in which NGLs prices were hit the hardest. Therefore QRE was able to get $42.68 per barrel on average. Oil and natural gas were mostly hedged. They fetched $95.23 per barrel and $5.01 per Mcf on average after hedges.
QRE forecasts Q3 production to be in the range of 14,200 to 14,600 boe/d. Since QRE did not get a full quarter's worth of production from the new Prize Petroleum assets, production is likely to be above the 14,505 boe/d. Further QRE has already completed 29 out of the 35 wells planned for 2012. It should get some production from the newest completions and from those completed in Q3 2012. Net GAAP income was higher than Q1 due mostly to effective hedging by QRE. There was also a 7% increase in production quarter over quarter. The GAAP much bigger net income of $99.1 million was largely due to unrealized commodity derivative gains of $89.7 million. There is no saying exactly how this will play out in future quarters. Still distributable cash flow was $27.7 million. This was a 16% gain from Q1 2012 mostly due to the Prize Petroleum acquisition. Adjusted EBIDTA was $50 million for Q2 -- a 2% increase over Q1 2012.
Cash interest expense was $6.6 million. The distribution to convertible preferred units at a 4% yield was $3.5 million. The cash distribution was $0.4875 per unit to all common and subordinated units. Q2 distribution coverage ratio was 1.3 times. This is close to the long term target of 1.2 times. In all the performance was a very solid showing.
The two year chart of QRE gives some technical direction to the trade.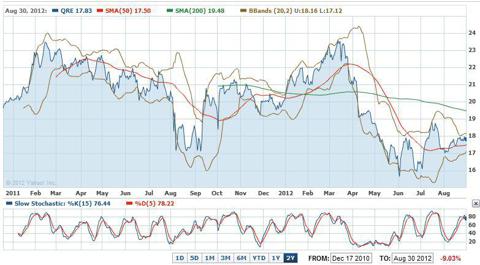 The slow stochastic sub chart shows that QRE is over bought. The main chart shows that QRE has been mostly falling. However, the Q2 result was good under tough conditions, and the stock price is significantly below its 200-day SMA. It will likely move back up toward the 200-day SMA in the near future. Overall with QRE's good hedging it should continue to be able to perform well under these tough conditions. It had only 14% NGLs production, most of which was from the Permian and the Ark-La-Tex areas, which yield much higher NGLs prices than the Mid-Continent. With the excellent natural gas and oil hedges extending far into the future, QRE should continue to perform well longer term. The 10.94% distribution should be relatively safe; and don't forget the new acquisition likely coming in early 2013. That should add to revenues. This should help QRE grow its distribution further. All told, it looks like QRE should be a steady stock to own during the coming tough economic environment. It is a buy for its great return. Averaging in is probably a good strategy with both the overall market and QRE over bought. Alternatively you could wait for a dip to buy your first partial position. Then you could wait until after the fiscal cliff and tax-maggedon resolution to buy the next partial position.
QRE will require a Schedule K-1 for tax purposes. There is a tax information page on QRE's website.
If QRE appeals to you as an investment, you might want to look at similar high yielding E & P LP companies such as: Linn Energy LLC (LINE), BreitBurn Energy Partners LP (BBEP), Energy Transfer Partners LP (NYSE:ETP), and Eagle Rock Energy Partners LP (NASDAQ:EROC).
Note: Some of the fundamental financial data above is from Yahoo Finance.
Good Luck Trading.
Disclosure: I have no positions in any stocks mentioned, but may initiate a long position in QRE over the next 72 hours. I wrote this article myself, and it expresses my own opinions. I am not receiving compensation for it (other than from Seeking Alpha). I have no business relationship with any company whose stock is mentioned in this article.