EMC Corporation's (EMC) efforts to position as a provider of cloud computing storage solutions might be breaking down. In particular, EMC's longstanding alliance with Cisco Systems, Inc. (NASDAQ:CSCO) does not seem to be working as advertised.
The companies set up a joint venture called VCE, which was supposed to provide one-stop shopping for organizations in search of data center solutions in 2009. Despite this venture, which also involved EMC Corporation's VMware, Inc. (NYSE:VMW) software subsidiary, the two companies seem to be moving in different directions.
Reuters reported that Cisco executives are privately mulling plans to enter the storage market and compete directly with EMC. The news service's analysts speculated that Cisco will buy one of EMC's smaller competitors to give itself a storage capability. Cisco might be planning these moves since its executive team is unhappy because VMWare bought Nicira, a private company Cisco wanted to acquire.
The collapse of the relationship with Cisco might spell trouble for EMC because a former partner might become a competitor. That might hamper EMC's efforts to offer cloud-based solutions because its software and server architecture is designed for use with Cisco equipment. That might cause the company to spend money developing alternatives to the Cisco networks.
There might be more to this story than we first expected. Some news sources still identify Cisco as EMC's preferred partner, although the same story in CRN noted that Cisco is still EMC's preferred partner. EMC introduced a new VSPEX reference architecture and stated that Cisco is the preferred partner.
EMC is apparently trying to line up a potential replacement for Cisco. It has entered into a joint venture with Lenovo Group Limited (0992 in Hong Kong) to develop a joint server/storage solution. Lenovo will apparently own 51% of the venture, which will reportedly focus on the NAS storage business. The venture is supposed to help Lenovo implement its PC+ strategy. Lenovo is the company that purchased IBM's (NYSE:IBM) personal computer business.
The joint venture with Lenovo is a smart move for EMC because it gives it another partner. More importantly, it puts EMC in a good position to expand in the growing Chinese market. Lenovo has reportedly been trying to increase its presence in the storage and server sectors, so it needs EMC's expertise. In the long run, the Lenovo move may lead to growth for EMC.
The problem with the report of trouble between Cisco and EMC is that it just is not credible. The Reuters story is based on claims from anonymous sources. Since the sources are anonymous, there is no way to know if these claims are true or just speculation. The best move for investors is to take a look at the charts. The charts, by the way, don't look good for EMC.
Click to enlarge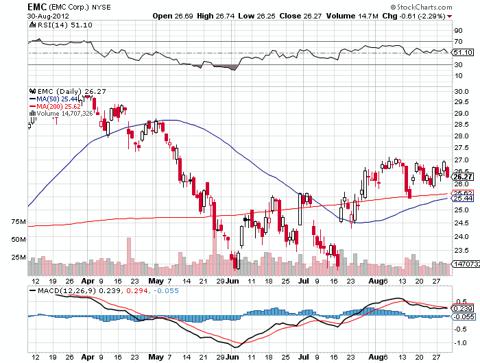 EMC was trading at close to $30 per share in April, but its value as of August 30, 2012, was $26.27 per share. The scary thing is that price is actually rather good for EMC. Twice in the past two months, EMC's share price fell below $22, once in in June and once in July.
That means a change of direction, such as ending the alliance with Cisco, might be well advised for EMC. The company has not been able to maintain share value, despite a net profit margin of 13.5%. It has seen its revenue and earnings per share go up slightly in 2012. Earnings per share ((NYSEARCA:EPS)) grew by 11% in the second quarter, but didn't make up a 32% loss in the first quarter. The EPS for the second quarter was 31¢ per share opposed to 28¢ for the first quarter. The EPS growth rate was rather impressive at 22% for the first quarter and 15% for the second quarter.

EMC Earnings Estimates
The earnings estimates for EMC are pretty good, so this might be an interesting value play. Part of the reason why the earnings estimates are so good is that EMC is expanding its capabilities in other areas. The company is making strategic investments to increase its capabilities.
EMC has reportedly invested an undisclosed amount in Zscaler, a cloud security company. Zscaler just received a $38 million round of venture capital. The San Jose Business Journal reported that a large portion of that money came from EMC. The problem is that the Journal did not say how much of the money came from EMC. The story is less than credible because it is also based on an anonymous source.
EMC is developing a cloud-based security product with Zscaler's help. The product is supposed to check the identities of people logging into an organization's cloud. Zscaler makes an application that scans Internet traffic and checks for compliance with a company's security policies. It is easy to see why Zscaler and its app might be worth a lot of money someday. The app can supposedly enforce a company's security policies on employees' mobile devices if they are connected to the cloud. Zscaler also claims to have the world's largest security cloud.
Despite the reported friction with Cisco, EMC Corporation is still a good value buy. It appears to have increasing revenue and prospects. More importantly, it has demonstrated that it has the ability to forge new alliances to replace failed partnerships. That might be the key to increased revenues and stock value for EMC Corporation.
Disclosure: I have no positions in any stocks mentioned, and no plans to initiate any positions within the next 72 hours. I wrote this article myself, and it expresses my own opinions. I am not receiving compensation for it (other than from Seeking Alpha). I have no business relationship with any company whose stock is mentioned in this article.